Take a walk along the cobblestone path with bookstores, good coffee, art and all things creative at Church Street,  Bengaluru.
It is fanatic to see Bengaluru back to buzzing with activity just like before.  Though most of us are a bit morning conscious of our distances and masks,  it is certainly that namma Bengaluru. One of the spaces that we always took for granted was Church Street. With the current visit, I realise this is a space I miss.  After its facelift in 2019, the more pedestrian-friendly church street has taken a turn from being one of the side lanes to Mahatma Gandhi Road to one that is sought out by many. With MG road now adding on the metro and ongoing construction,  it doesn't look as glamorous as before what better than art, music and literature hub Church Street to take over that role !
Location
The 750m stretch of cobblestoned path changed the experience of busy metropolitan Bengaluru to that envisioned by book and art lovers. This is Church Street parallel to the now lost-it's-glory MG road.  Leading to the famed St Mark's Cathedral, this is a part of knowing your city.  This is the road leading off the Brigade Road to Starla Road and can be accessed through any of these roads.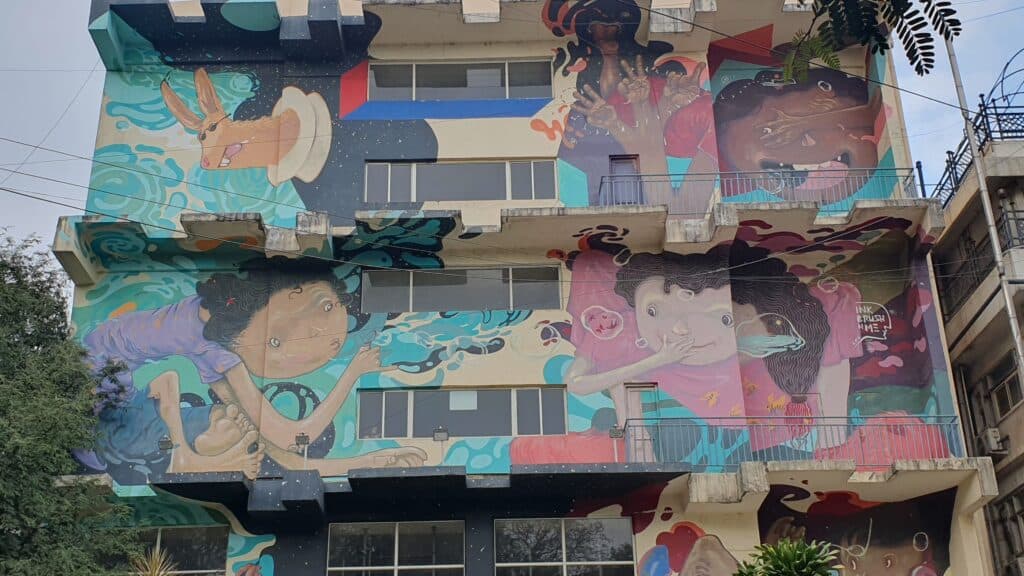 How to reach?
Air travel: Bengaluru International Airport caters to most international routes. Check with the airlines for the recent advisory and check the government website for visa regulations.
Trains: Bengaluru  Junction is a busy area that brings trains across India. Enjoy a unique Indian rail ride based on your location. 
Buses: Both the private and public bus networks are huge.  Alight at Majestic Station and further catch the metro to reach Church Street.  
Metro: Currently the fastest and fuss-free way to travel in Bangalore is the metro train service.  Get down at MG road station and exit via the Church Street exit to be directly greeted by the iconic cobblestone path. 
Cabs and autos in and around the city,  it is easy to hail a can or the ever-persistent autorickshaws. Fix the price before you board. Rather than haggling,  I prefer to use Uber or Meru services. There are multiple varieties of transport that these services provide.  
What to see at Church street? 
The bibliophile's paradise if you are like us,  loving the smell of books and getting so excited by the unlimited number of books, this is your place.  With bookstores that tower taller than any apartments in this area,  you can sure spend a few hours at blossom,  bookworm etc  Enjoy some rare book hunting or just walk into one of these and just settle down along the long aisles of these bookstores.
Street art as soon as you start your walk the colourful wall art will capture your attention.  These beautiful works take your eyes away from the otherwise dusty exteriors and provide that instant smile.  Enjoy these as you walk by and locate the metro station from far thanks to the colourful tall wall art.  
Artists and music:  towards evenings treat yourself to that amazing creative idyll of budding and veteran artists, and guitarists on the sidewalk.  You can spend some time at 
Animation souk for that love of pop culture you need to peek into The animation souk.  The place will satisfy your gift needs with cartoons, superheroes and more.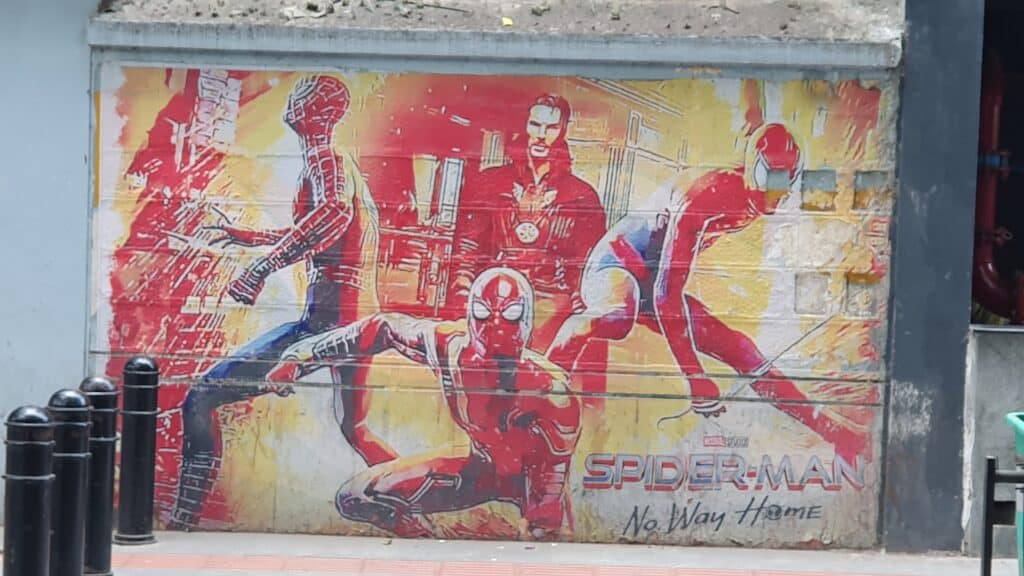 Let's eat
Start off at Church Street with the best coffee at Mateo. As you read and move through the path, there are plenty of places offering world cuisine and pretty much true to the flavours. The street hosts some of the best pubs with live music. Wait till twilight to see this place transform into one of the best night spaces.
I would highly recommend having coffee at Mateo. For the pubs try Chugs or Pegs. For food, I am a huge fan of the Indo-Chinese cuisine in Mainland China but walking up this street is as easy as looking and choosing.  
Climate and costume 
Bangalore can range between hot 30s to cooler 20s. This depends on the season. Check the weather before you plan your day.  Carry a light all-weather jacket towards evening.  Generally, Bengaluru is not too humid,  but it can rain from time to time.  Dress easy if you are heading to just explore or dress to impress for the pub nights, that's up to you.
Stay connected.  
Connecting with the different dimensions of a place you visit gives you an overall idea of life and culture. I find Church street easily does this for me.  The classic temple-rich town transforms easily into a global scene just by taking yourself here. Hope you enjoy travelling to Bengaluru as much as we do.  If you are looking for a unique temple experience try Gavipuram temple with astronomical research history while you are in Bengaluru. If you are planning to travel to Kerala, check out our hiding spot,  Thrissur. Stay on with us as we resume travel and bring more on our India travel. Subscribe to this website or follow us on instagram or twitter

The opinions and guidance is based solely on our experience. The links provided are for reference we would advise you to check before you head to the places.  The information is based on the date of publication and can change,  so refer to the relevant websites for current information.