Squeezing in the scenic rail ride just before we flew back so we could just get a last bit of the rainforest views. Hopped on to the Kuranda railway and said let's see what we find..so a pretty unplanned day. It being the last day of our very active 4 days at North Queensland, Australia, wading through the crowd of tourists and finding a place to eat is not in my agenda of getting things done. Certainly enjoyed the train ride in the very old mountain-climbing train. Once we reached there we were so hungry, for train rides always made me hungry.
There were so many to choose from at the Kuranda village, but we wanted to have something clean and easy as well. A quick 360 turn around the village hub and our eyes caught the coconut and the fruit on the board. Little did we know it was a vegan place, plainly walked in to be pleasurably surprised.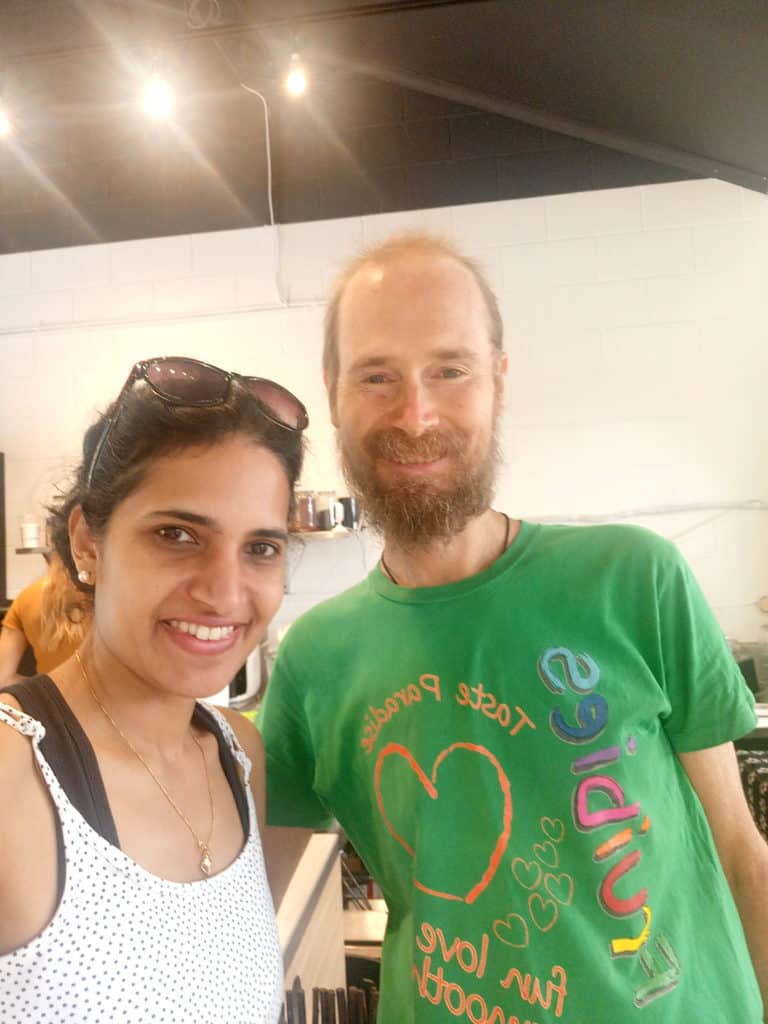 Nick at Fuibies
The unassuming-looking guy behind the counter busily preparing the orders is the brain behind this lovely place. Upholding the vegan label and not plagued by fake meat stuff this place was pure clean eat. Two years into a successful smoothie and fruit bar, Nick has now expanded into a sit-down restaurant.
This simple looking restaurant with pure white walls, wooden tables and the simple decor feels clean and inviting. The minimalistic decor certainly helps us to focus on the menu and its features.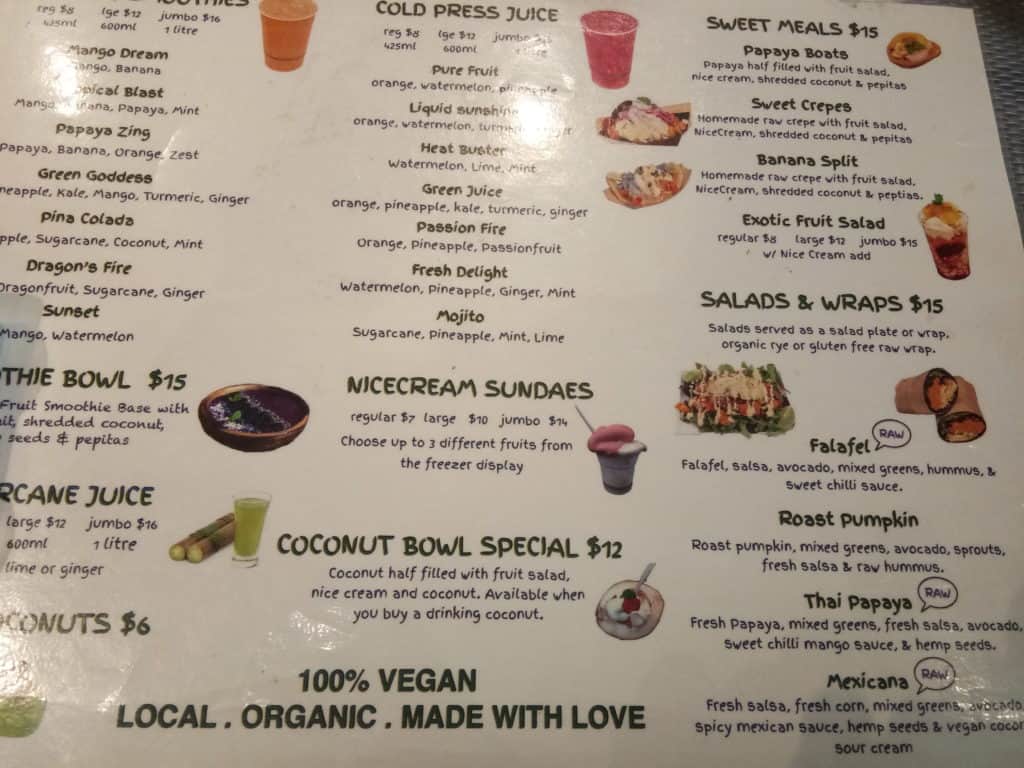 Simple clear menu, loads of smoothies, irresistible nice cream totally yum. What surprised us more was the savoury eats. It was when we asked about them,  that they described them better. Here is what we tried
The smoothie
The dragonfruit mango and ginger smoothie was the most vibrant in colour. The flavour of that mango with a subtle hint of ginger, the bright purple from the dragon fruit made that a thick and filling treat. Guess what, it is flavoured with a touch of locally sourced sugarcane. That was just perfect. The mint, sugarcane and lemon smoothie was much lighter and so refreshing in the heat.
The falafel wrap
Air fried lentil falafels, the crispiest of lettuce a delicious fresh sauce made that wrap so much more better tasting than the ordinary ones. With no refined flour in the tortilla, the flavour was unbeatable.
The loaded burger
The burger was zero oil, sourdough bread sans all the frills with fresh raw sweet chilli sauce, a beautiful air-fried patty loads of fresh crispy veggies and a side of air-fried yum potatoes. That was so filling and deliciously tasty. The only drawback is -pleased don't do a take away as the sauces are fresh, it makes the burger a bit wet and drippy. Have it fresh and have it there.
The ice cream to polish it all off
A generous portion of creamy ice cream with mango, dragonfruit and banana was not the prettiest to look at. But definitely the tastiest, for it dint take any bit long to be tucked in.
It is rare that I see restaurants who live up to the values they project in a small town like Kuranda Village. Very often they get swayed by the crowd adding popular items to the menu, just to keep them going. Talking to Nick certainly proved that he was determined to make it a success. Certainly the food and the menu curated made this absolutely necessary for a lovely shout out. Don't miss to taste test Fruibies at Kuranda village and pass on a good word.
You can catch them from 9 am to 3 pm all days.
Location
1 Condoo Street, Kuranda, QLD 4881
Instagram 
Website
Head over the scenic Kuranda village and enjoy the Fruibies, for clean eating when you take a holiday is nothing better than a relaxed time. Plan in a day of doing nothing but a train ride or a Skyride and roam around in the sunshine with your happy tummy. When you tuck and feel good don't miss to tag us.
If you are in Sydney try these two places
This is an independent review based on our experience. The pics are published with the permission of Nick. If you would like us to review your place email us, the details are in our contact. Check out more reviews in this section