Feeling the weekend is not just by saying TGIF. A well worked weekend deserves a wonderful treat. Very often I am on the lookout for desserts which feel the same. Often we end up with fruit-based desserts. It was getting a bit monotonous.
Cold weekends and inspirations
It was a dull weekend with cloudy skies which was perfect for a cosy corner at the library. I love being in the library and we all have our little nooks in there. I have one right in the aisle which has so many cookbooks.
This time, as I was running my hand along the books, I found one for diabetics. Whenever I see a  cookbook like this the first thing I turn to is the desserts. Coz it is a tough deal to hold the sweet craving and know well enough -How to create one without the glucose spikes?
I couldn't resist borrowing the book to read it back at home and try out some of them. The first one that wanted to try is this bread pudding. I love the way the bread pudding turned out with arrowroot flour and the citrus feel of the silky custard.   I really loved this book with just this one recipe.
Thank god… the sun is back and its Spring, but the love for this recipe continues.
If you are in Sydney and the cloudy weather bothers you with the wind gusts and cold rain showers check out the places where you can be.
This recipe is submitted to cooking from a cookbook challenge. This book was a perfect pick and I am looking forward to seeing more bloggers trying out this collection.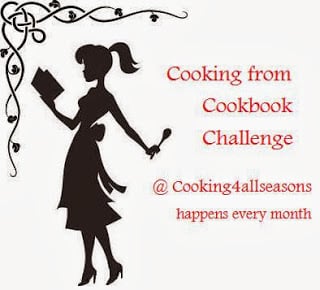 So long then, enjoy the spring and I am off to some garden tricks.
Try this recipe with hot cross buns in the place of bread.
Egg less Orange bread pudding
Super decadent with minimal fuss
Ingredients
For the bread
1

tbsp

butter

or margarine

3

tbsp

orange juice

( fresh and sugar free)

2

tbsp

orange marmalade

( i used a sugar free vesion)

2

slices

Whole meal bread

sliced thick
For custard
1

pinch

vanilla pod

scraped or a touch of the extract

400

ml

full cream milk / plant based milks

2

tbsp

arrowroot powder

1

tsp

stevia

use 2 tsp raw sugar for the regular version.
Instructions
Preheat the oven to 180 degrees ( adjust according to your oven)

Toast the bread slices, butter and apply the marmalade on them

Slice them into triangles and arrange them in your pudding baking pan.

Sprinkle the orange juice on them so that they soak up the custard better. Set aside till the custard is ready.

Remove 3 tbsp of milk for the custard into a small bowl and add the arrowroot powder to it. Mix well and set aside.

In a heavy bottomed sauce pan add the milk and bring it to a boil. I have used almond milk for this recipe.

Now add in the arrowroot powder mixed with the cold milk and keep whisking to form a lumpless smooth custard.

Add the stevia and mix well.

Add the vanilla scaped towards the end and allow the custard to infuse for a couple of minutes

Pour this warm custard generously over the bread to cover it well.

I like the little peeks of browned bread after baking so i dont sink them all don into the custard, go ahead and push them in if you prefer that.

Now you can bake this in the oven for about 15 minutes or just till the ops are browning gently.

Since the custrad is alrady cooked it will be nice and soft.

Remove to a cooling rack for about 10 minutes

Dust a bit of extra stevia on top and serve.

Get your fancy spoons out and dig in...
Notes
I have tried it with soy milk but feel it tastes far better with nut milks.
If using cornflour, you may need to adjust to the consistency of a pouring custard.
You can swap the jam for raspberry or cherry which flavours well too.
Nutrition
Serving:
250
g
Sodium:
227
mg
Sugar:
26
g
Fiber:
1
g
Potassium:
378
mg
Cholesterol:
27
mg
Calories:
282
kcal
Trans Fat:
0.1
g
Monounsaturated Fat:
2
g
Polyunsaturated Fat:
1
g
Saturated Fat:
6
g
Fat:
10
g
Protein:
9
g
Carbohydrates:
41
g