Finally!!
A place that really understands vegetarian food.
Sydney does offer better vegetarian choices than many other locations. Yet, most restaurants have a thing or two on their menu that you are stuck with having. As a vegetarian, this feels restrictive as we too want a wholesome bite and not a stirfry or curry to be happy with! All these were out of the question at Emelia's vegetarian restaurant. That full menu that spoils you for choices is right here.
Finding the place
My work colleagues are super smart and keep their radars on for good places to gather post a hard-at-work season. It was one such scan during the rush of an errand that one of the lovely ladies spotted Emelia's vegetarian restaurant in North curl curl. It took us a month to work around and get ourselves to this place, but the moment we stepped in we regretted not being there earlier.
The ambience
Emelia's vegetarian restaurant is a small cottage-style place with cosy booths and seating. The walls have a collection of string instruments from across the globe (I missed to ask more details… so till next time, or ping me with the significance) and a huge menu board (handy as we did have to put on our glasses). Overall it felt like a local neighbourhood place with good upkeep, straightforward and letting the good food do the talking.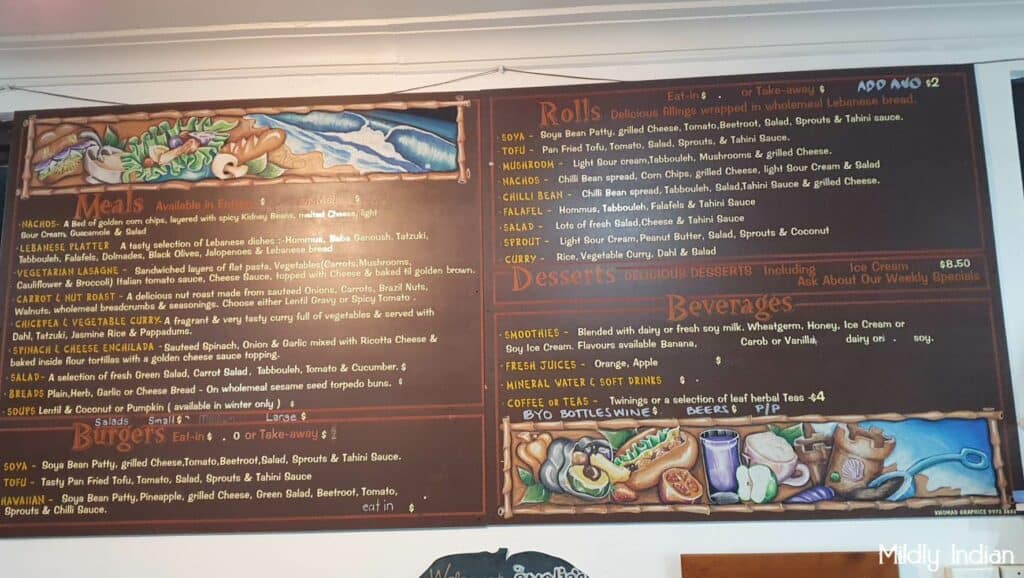 What to try from the menu?
Now we get to the topic!
Emelia's menu is a very smart one. No fusses around appetizers it is straight to meals that you can adjust in two portion sizes. Since we were four hungry souls went for mains. Our choices were based on trying out various items and sharing between us. So here is what we went for. The shared Lebanese platter, enchiladas, lasagne and a bowl of nachos. The Lebanese platter was spot on and delicious with the flavours. It was light and easy with a variety of little bites. Personally, I loved the generous portion and flavour of babaganoush on this plateful. The second best choice was the enchiladas, warm, soft and stuffed to the perfect bite ratio this will be my repeat when I go back. The lasagne was layered well with lots of veggies (a rare occurrence among the many lasagne I have tucked in). By now we were smashed, but very happy indeed. Now the nachos bowl did feel like overkill ( skip the next time, if you are like us). 
A good quarter of an hour of chitchatting got us the prompt from Abrielle to give a look at the desserts. So there we go again. We decided to top our stuffed bellies with honeycomb cheesecake and apple crumble. The honeycomb cheesecake was mind-blowing. Generous portion size for a fabulously made cheesecake got us going with that Ummm and oohs again! The warm apple crumble brought us back to earth with its cosiness and simplicity. I will love this bowl for breakfast lunch and dinner on any given day.
The service
There are not many employees around this place, especially post-pandemic we all have evolved to takeaway or Uber eats. Abrielle who was running the show up in front did a commendable job. She knew the foods, the flavours and the best for the day. Her subtle suggestion of getting the ice cream with the dessert or with the coffee turned out to elevate the dishes. Quick on her feet and with the orders, she was watchful and did juggle her roles well. When we visit again, we will surely ask for her suggestions for mains too.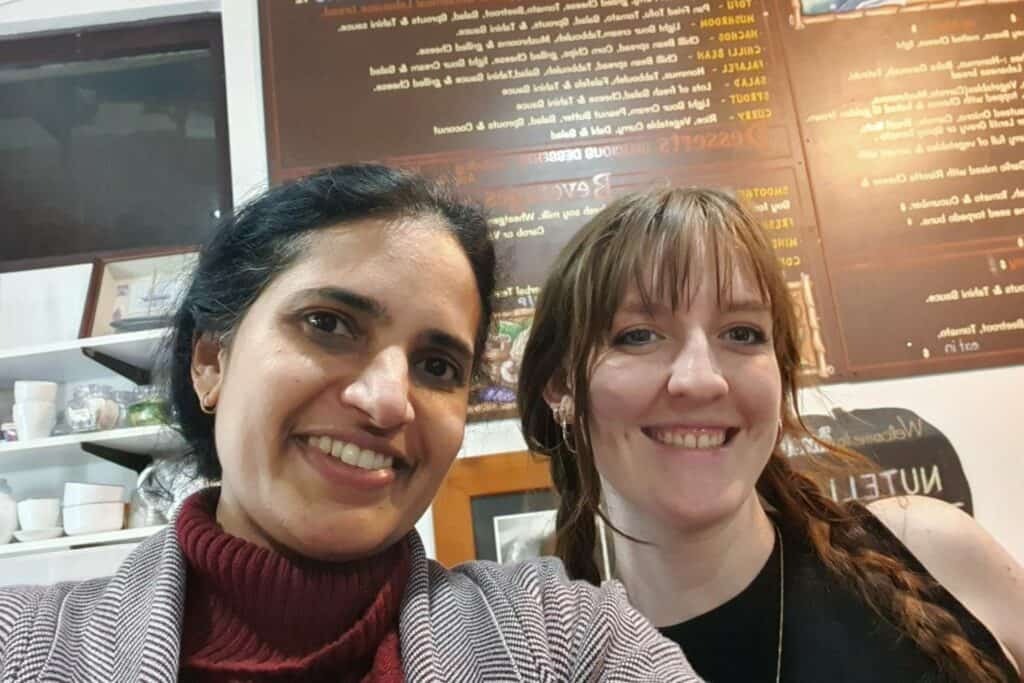 Behind the scenes
Paula and Damien run the restaurant effectively behind the scene. Skilful in putting up flavourful wholesome food and managing the restaurant they are holding up a good bit through these tough times. Five years into acquiring the place,  the locals commend the ability to keep the authenticity of the place alive.
Location
Sitting between North curl curl and Dee why,  Emelia's vegetarian restaurant is by the side of the road and not so hard to locate. Look for a simple way sideboard than a glitzy restaurant looks to spot this place. For your trusty GPS here is the address.
41 Griffins Road, North Curl Curl, NSW2099
Catch them up on Instagram as @emeliasvegetarian
What to wear to Emelia's?
Emelia's vegetarian restaurant does not insist on any specific type of attire to visit their place. Here is what we learned from experience. You will end up being so stuffed with good food that your clothes for the evening out will feel uncomfortable therefore, we had to include this special section to tell you to wear things that stretch. Wear loose comfortable clothes that suit a big tuck-in.
Stay connected
Emelia's turned out to be that place where you know you are so full yet don't feel the greasy heaviness of the restaurant mains. It is a place to appreciate good vegetarian food that can thrive in your neighbourhood without claiming fancy titles. This is what impressed me about the place. I have certainly returned there multiple times, especially for that honeycomb cheesecake and enchiladas. If you happen to be in the neighbourhood, don't miss to drop by.
If you like our reviews, recipes or travel stories, don't hesitate to leave a comment. We will love to hear if you liked Emelia's vegetarian restaurant too so tag us @mildlyindian with your socials.
Special thanks
This place would not have been on my food hunt unless spotted by my colleagues. A huge thanks to the lovely women who keep an eye out and enjoy a happy couple of hours after work just being good company at work and after hours. 
This is an independent review based on our experience. The pics are published with the permission of Abrielle. If you would like us to review your place email us, the details are in our contact. We pay for our food and write an honest report!