The 1- minute express rasam cubes were introduced to me through a friend who traveled to India. Initially I did skeptically keep away from the pack. One fine day, stuck with a heavy headache and a stuffy nose, I just wanted to have something instant… something which gave me the warm cozy feeling of being close to my mom…
In my pantry was this express rasam cube packed individually, well, lets give it a go, anyway all I need is some hot water. So with the kettle bubbling, the steam making me feel a bit better, I cautiously dropped in a cube of the express rasam instantly stepping back as if i have lit a fire cracker. I guess I was half expecting it create a bubbly whiz or a fizz…well it was quiet. Stirring it a bit I took a doubtful sip.. I spun my way back to my mommy instantly… it was a real authentic taste of soupy rasam. I enjoyed my cup that day.
While packing again, for our all girls trip to Mount Kinabalu, looking for some not so sweet easy to eat and carry items… I checked in my package of a couple of these cubes too. Tired and worn out after our climb, not been able to take more sweet stuff with all that altitude and cold weighing up on us… the whiff of this one minute  rasam wonder, set us sipping and happily chatting  and feeling good with the salt, the spices and the familiarity of the flavor engulfing us like a blanket in the dropping temperatures.
Ever since a pack or two of these 'rasam cubes' travel with us in our adventures… with a comfortable feeling to the kids when they have to repeatedly try new cuisines , this comes in as a welcome break. Upon travelling to India, this also was my souvenir shopping for frequent fellow travelers who seemed to also have enjoyed the same.
Product information
Coming from the popular food brand Maiyas Beverages and Foods Pvt. Ltd., Karnataka , India, this indigenous product is preservative free and made of  100 percent natural ingredients. Though the quantity of ingredients are not mentioned,  the ingredient list is clear, with allergy advice and preparation method. the feed back address and the certfications are clearly mentioned in the package.
The Nutritional Information  checks in 296 kcal per hundred gram serving size, with 10.6 g protein and 48.2 g of carbohydrate.
Pricing and packaging
The product comes in a box of 12 pieces, Individually packed   of 20 grams each.  The product is priced at Rs 10 per cake. As a whole box of 12 it costs Rs.120/- the product can be bought as individual cakes/ boxes in the outlets and as a box online.
Personal highs and lows
Preservative free
Natural ingredients
Individual packaging of 20 gm
20g ( one rasam cube) gives 200 ml rasam to have with rice  or 250 ml to have as a soup.
Small cakes, easy to carry while travel and need only hot water.
No greasy aftertaste
No smell or taste of raw spices
Priced very well.
Check well if you have dietary restrictions based on diabetes, water retention or kidney related disorders as it will still qualify as processed food.
100 gram carries 580 mg of sodium which is a bit on the higher side.  so not for an every day indulgence
The content of jaggery and liquid glucose ( quantity not mentioned) should be looked at if you are diabetic.
This unique product will definitely stay with our travels and crazy days for sure. I am yet to try their pepper rasam cubes.. so watch out this space for more reviews and updates. Don't miss to leave your thoughts in the comments, will love to hear your feel of this unique product.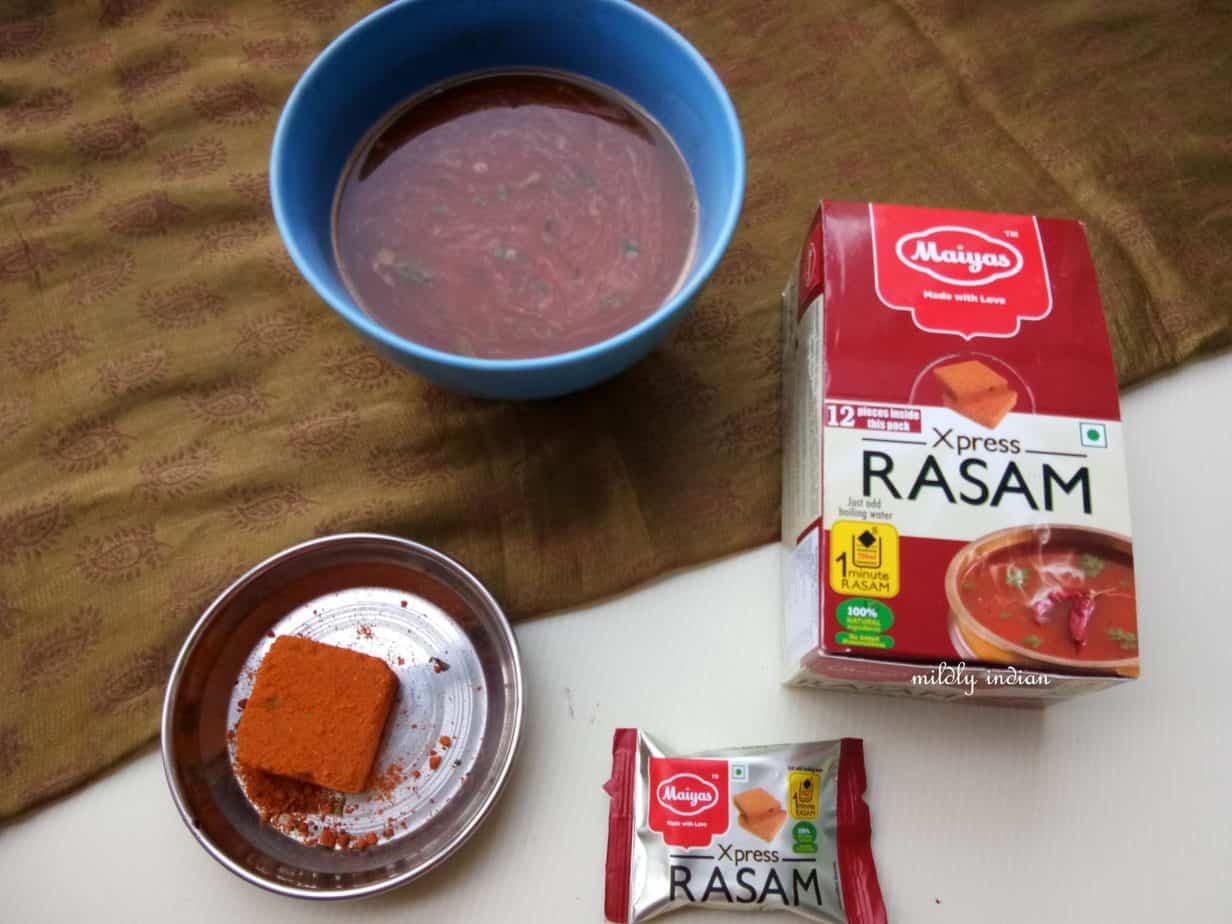 Rasam soup with instant rasam cube
Never been easier
Ingredients
1

nos

rasam cube

Maiyas Xpress Rasam

250

ml

Water
Instructions
Boil the water in a kettle or a sauce pan

Pour the water into a bowl

Drop in a rasam cube into the bowl

Stir it after one minute

Pour into cups and enjoy with family and friends