Easy to assemble desserts are the most perfect ones to any gathering. Since we are having friends over it is stunning to ease up time and have time spend together. With this in mind, we tested out our new try out. which we are going to repeat over and over again.
The pavlova is a new item I have hardly tried out before. Being an Aussie Christmas staple and the store counters lined with stacks of pavlova, I was quite tempted to try one.  I was pretty confident was not going to whip up a batch once I googled up the recipe.this is because of the very reason that the effort goes way beyond its time frame of existence( gobbled up in minutes) and I am not sure if
i
want to try it out now. So we went for the easier option. We picked up a small box of mini pavlovas to try.  They are unique. They have a crust with a uniquely sweet soft marshmallow-like centre.
 We may have liked the texture, but the sugar was overwhelming, anyway, pavlova has to be topped with all things nice…
So we decided to craft it into an enjoyable dessert with minimum fuss, balanced sweetness and very summer friendly for the season.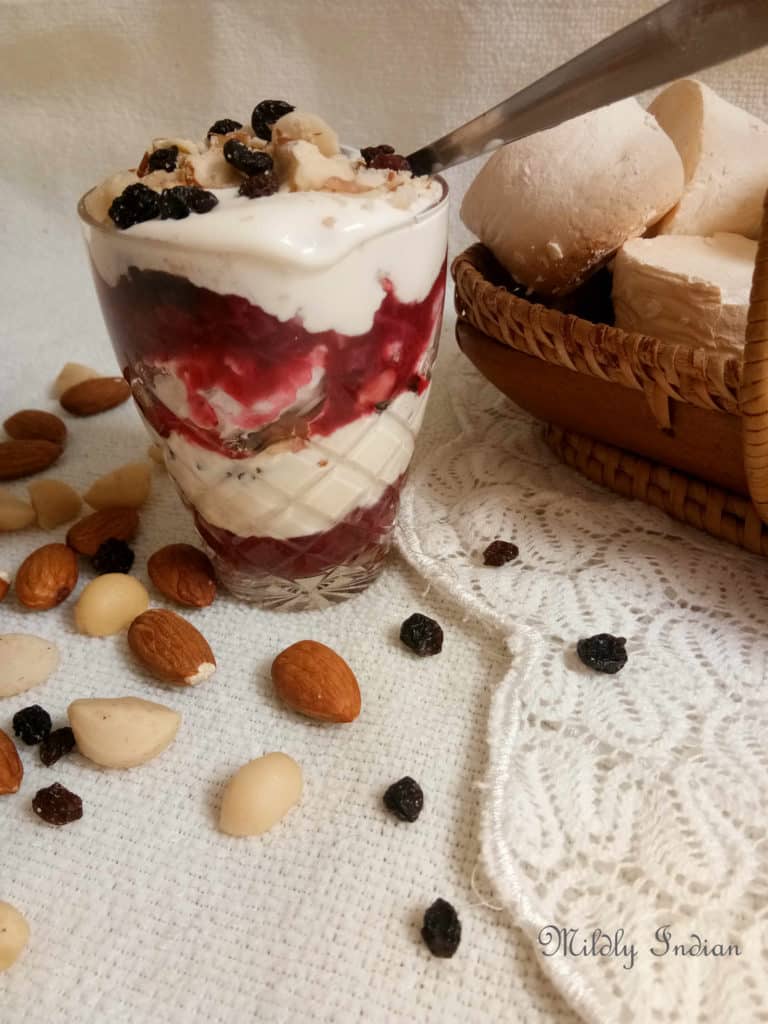 In this dessert
The Greek yoghurt cuts of the heaviness of the usual double cream and further takes up better to the apple cranberry compote (I have used the same recipe but did not thicken it much as a jam)well.
The dry fruits add a beautiful textural variation, a nut crunch and a chewiness from the fruits dried. I have added macadamia nuts, crushed almonds, dried blueberries, cranberries and black currants. Vary it as per your at hand ones or favourites,
Here is the recipe for the cranberry apple compote, Just in case you are fond of white wine, make the compote with white wine, it makes a brilliant flavour.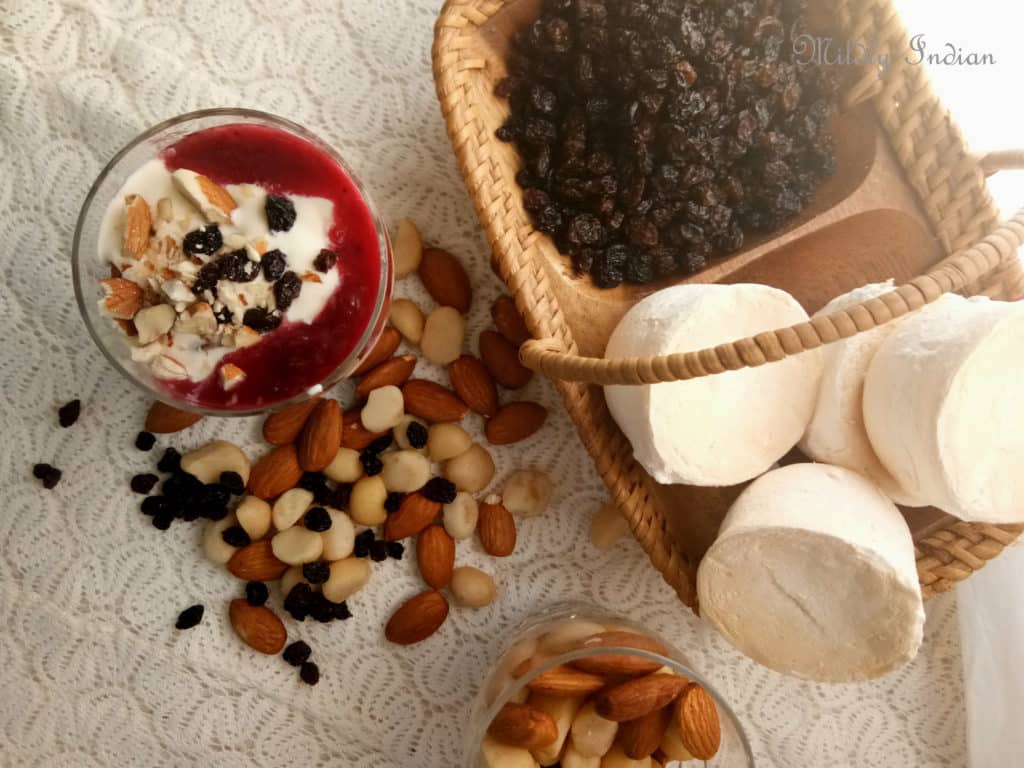 Enjoy the dessert with friend and family this Christmas. When you try out making pavlova or using a pavlova, save a few bits for this recipe and tell me how you like it.  Hope you enjoy this pretty one for the season of gathering. This can also be a perfect post-Christmas leftover dessert.
This recipe is added to the #nuttynut@HW collection at the Healthy wellthy group. Here are some more from them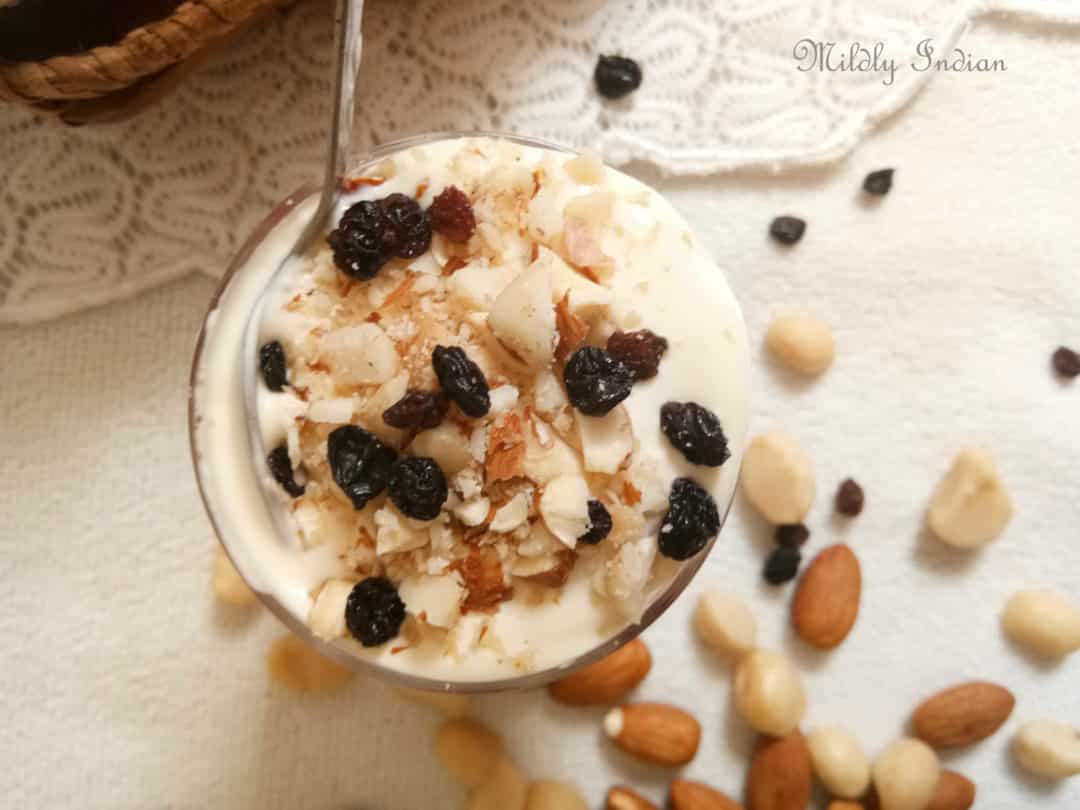 5 minute Pavlova parfait. 
with yoghurt cream and nuts
Ingredients
To assemble the parfait
2-3

pavlova

( I have use mini pavlova

5

tbsp

apple cranberry compote

2

tbsp

almonds

crushed

2

tbsp

macadamia nut

1

tbsp

blueberries

dried

1

tbsp

black currants

1

tbsp

cranberries
For yogurt cream
1

cup

yogurt

full fat, as we are not adding any cream to it. Use prechilled.

1

tbsp

honey

I have used Manuka.

1/4

tsp

orange zest
Instructions
Whip together with the yoghurt, honey and orange zest till if forms soft fluffy peaks.

Crush the pavlova into bits

Into serving cups or glasses add the compote followed by crushed bits of pavlova, nuts and dried fruit and yogurt cream.

Repeat this layering the same way and top it off with more nuts and dried fruit.

Serve Chilled.
Notes
If not fond of yoghurt,  use cream to form the layers
Vary the nuts and dried fruits as you like.
If you don't get Pavlova, try crunchy cookies like a ginger snap.