Finally.. It is here cranberry apple jam
Every time I begin to write about the cranberry apple  jam I feel a real writers block (not much of the writer… But the block is true!!). The recipe is real special and I do rarely share this precious beauty as it comes from the yummiest batch of freeze dried cranberries from my cousin. Thankyou Nara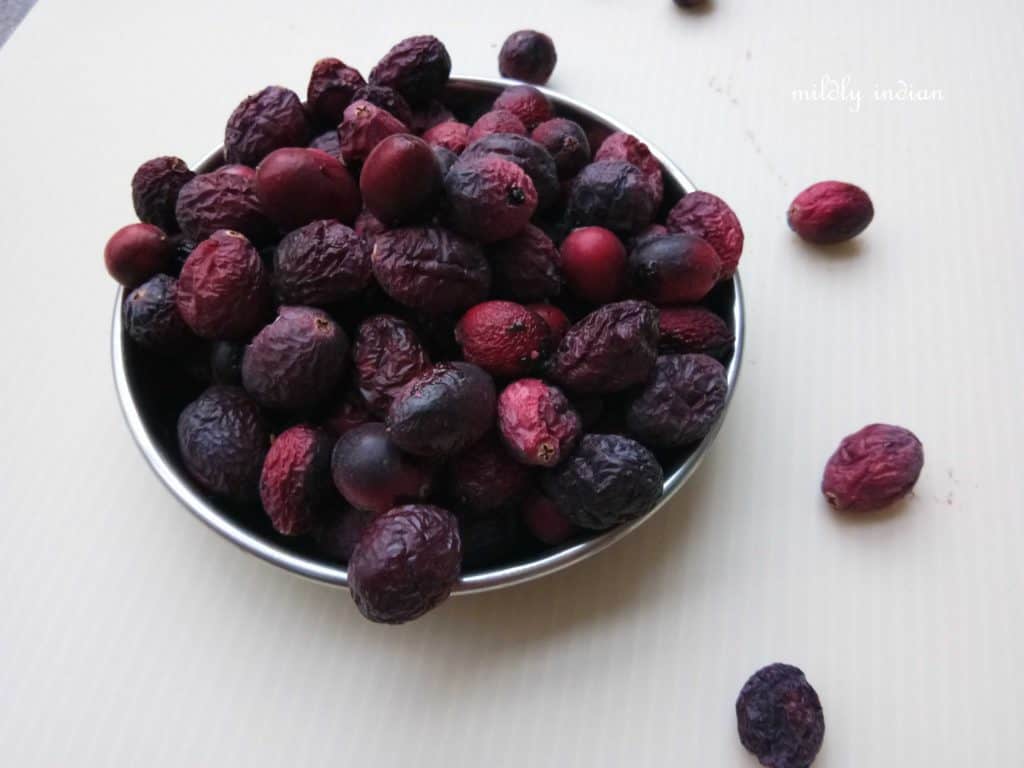 Also,  I love it so don't think it lasts any long in the fridge hence the shelf life I never got to calculate coz we are always having a dig at it.
Discussed in the cranberry tea post is so if the benefits of cranberry. This batch of jam is going to make it even better.
How to use this jam ?
The jam on a simple toast or scones

Sandwich  jam cookie

Yummiest smoothies

Topping for frozen yogurt or cream cottage cheese.

A tbsp into soda water for a refreshing 

Sherbet style drink with a wedge of lime

Overnight oat or chia topping

Or for jam swirl muffins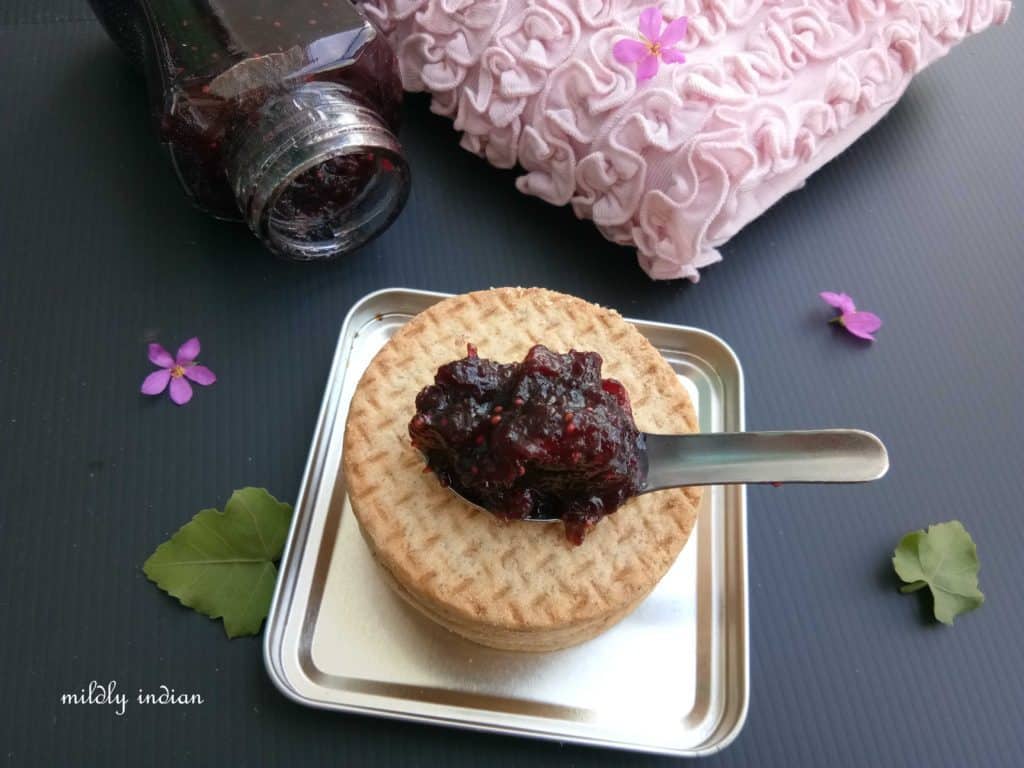 Unlike the store bought jams this one has no pectin added.  The pectin naturally found in the apples  and cranberry is enough to give a smooth texture. Pectin is a polysaccharide which  with sugar and a bit of lemon  forms a gelling agent for the jams. Fresh or freeze dried  a hand full of cranberries to the boring looking apples make it exciting and colorful.
Enjoy happy breakfast.
If you looking for more cranberry recipes.. try the  absolutely tropically influenced salad
cranberry salad with passion fruit vinaigrette
Check out the recipe for strawberry preserve also….
Most importantly, don't miss to follow or subscribe…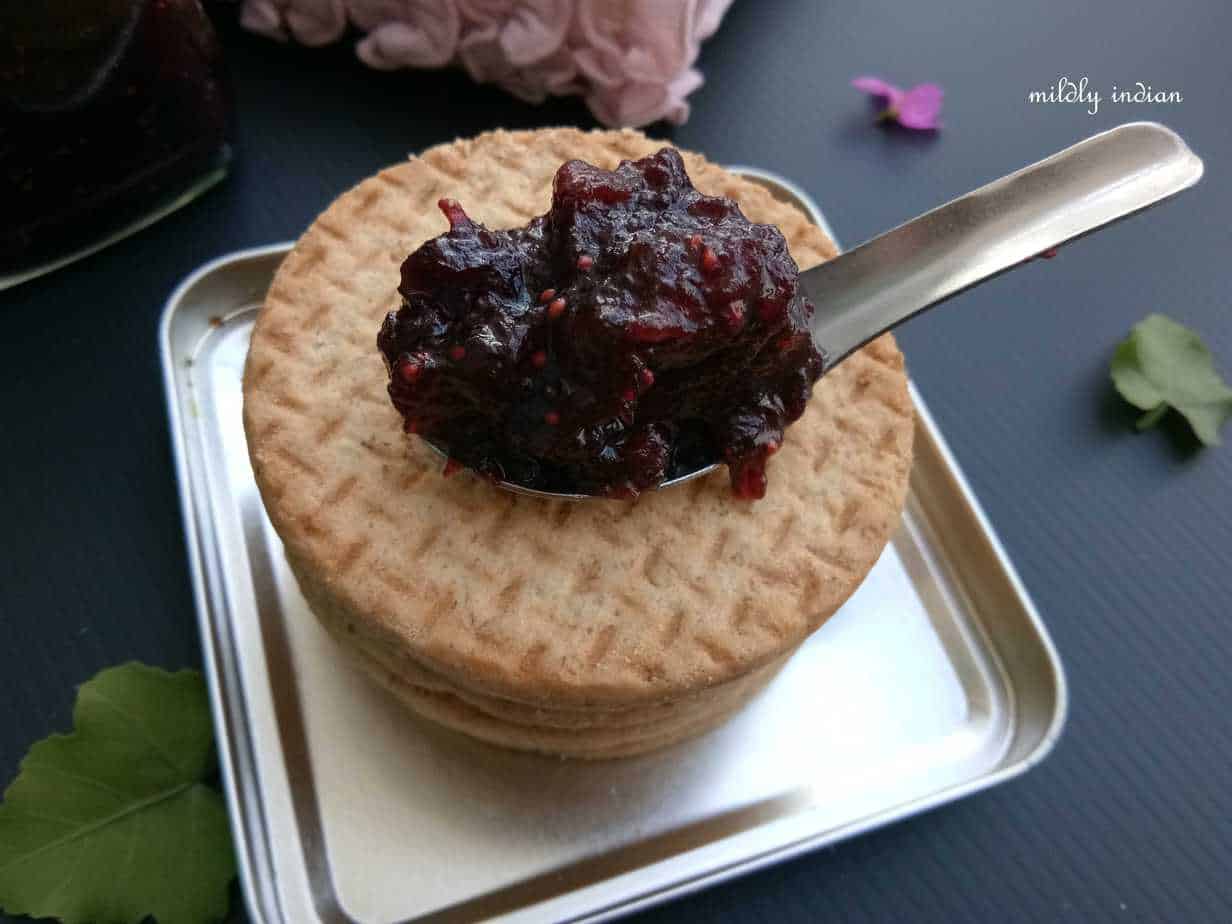 Cranberry apple jam
no pectin peserve
Ingredients
1

cup

apple

diced

1/3

cup

cranberries

fresh or freeze dried

1/2

cup

brown sugar

adjust based on the sweetness of the apples

1/3

cup

apple juice

a pinch of

nutmeg

a pinch of

dry ginger powder
Instructions
Soak the cranberries in apple juice for 20 minutes

Clean and core the apples. Dice them with the peel if not waxed.

Add the apples into the cooking pot followed by the soaked cranberries.

Let that come to a simmer and add the sugar

Keep scraping the sides when the fruit bubbles up gently

Add in the nutmeg and dry ginger powder and simmer till the fruits breakdown and form a lovely glossy texture.

Store the jam in clean sun dried or oven dried bottles
Notes
You may need a bit more cooking time if using fresh cranberries.
Remember to use a clean dry spoon to take the jam.
The quantities can easily doubled up if you are making a bigger batch.