As we all look for ways to prep sustainable colour-free DIY Ganesh ideas during this Ganesha Chaturthi, here is one from everyday vegetables. This cute project is perfect for little hands adding to the enthusiasm and involvement in the festival making easy Ganesha idols.
Once we started up with these DIY projects, there is no stopping. When it nears the time for Ganesha Chaturthi, there is a lot of buzz on what is this year's easy Ganesha going to look like. The key idea is to use basic ingredients you can easily source, easy to disperse after the event and add to no bit of pollution. Our cute handmade chocolate Ganesha stole the hearts of many readers last year. This year, let's attempt a bit of colour, natural and fresh DIY Ganesha to sit at Vinayagar Chaturthi.
Gathering the vegetables
The easy Ganesha is made with vegetables that you commonly come across. We have gone in for the ones that we sourced from our local supermarket. As far s we can think at this spot we have added ideas for vegetables that suit the Vegetable Ganesh idea. 
For the body: A rounded vegetable is preferred for the body and head of this vegetable Ganesh. These can be stacked one on top of the other to create the body shape. Some of the vegetables I can think of for the body are turnips, beets, potatoes and red radishes. For the larger ones winter melon, tiger melon or pumpkin,
For the limbs and trunk: Slightly elongated vegetables look great as limbs in this stacked sculpture. Pick the ones with a curve so they stay close to the body and easier to keep the idol together. Sweet peppers, okra, turmeric, chillies, sweet peas, beans, broad beans etc work well. For the larger structure, choose a bottle gourd or Ridge gourd.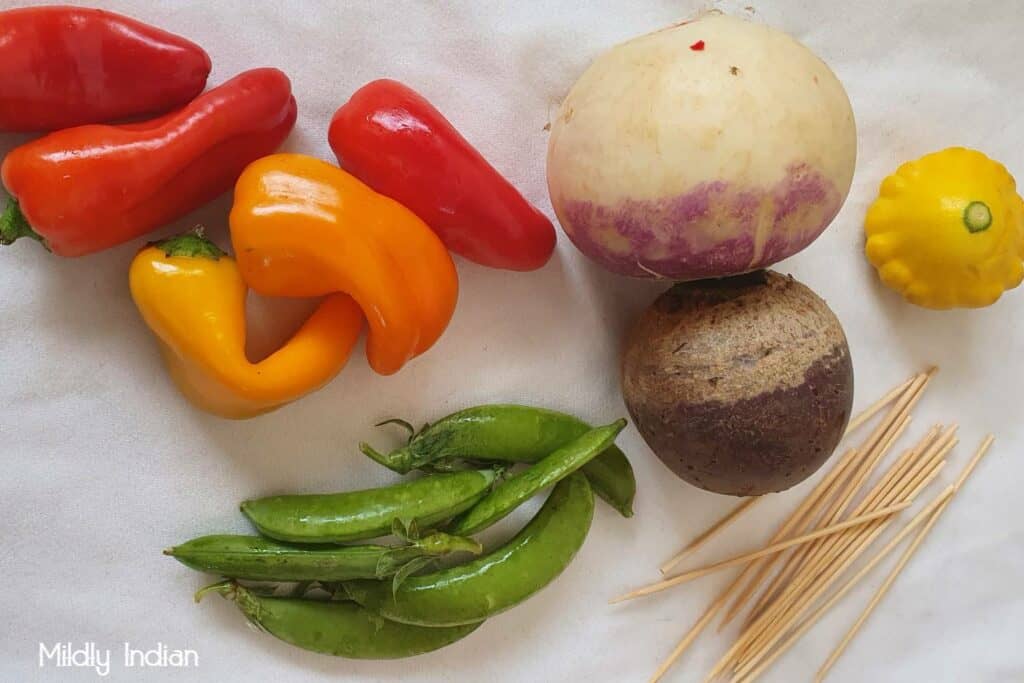 For the modak platter: We went for the simplest idea we could think off here, Sliced carrots for a plate and blueberries stacked as modaks. 
For the pet mooshak (the little rat image)- The body of the rat is best made with vegetables that have a conical end, say strawberries or baby corn. Get the tail on-  garlic scapes, pumpkin tendrils etc work well.
Finishing touches – Let's get the vegetable Ganesh glamed up!! First, we need the eyes ears etc 
I have used split lentils and mustard seeds to make eyes. for years, trusty curry leaves were light and flappy! we strung up some of the beads from the sweetpea to make him a necklace. and a patty on squash as his crown. It is fine to add more or less here. If you want the crown to stay flatter cut the base and place it well. Secure with sticky tape or toothpicks.
Toothpicks: so to hold these vegetables in place secure them with toothpicks. The thinner ones or two will keep the vegetables in place. For larger vegetables like pumpkin or wintermelon, use long bamboo skewers.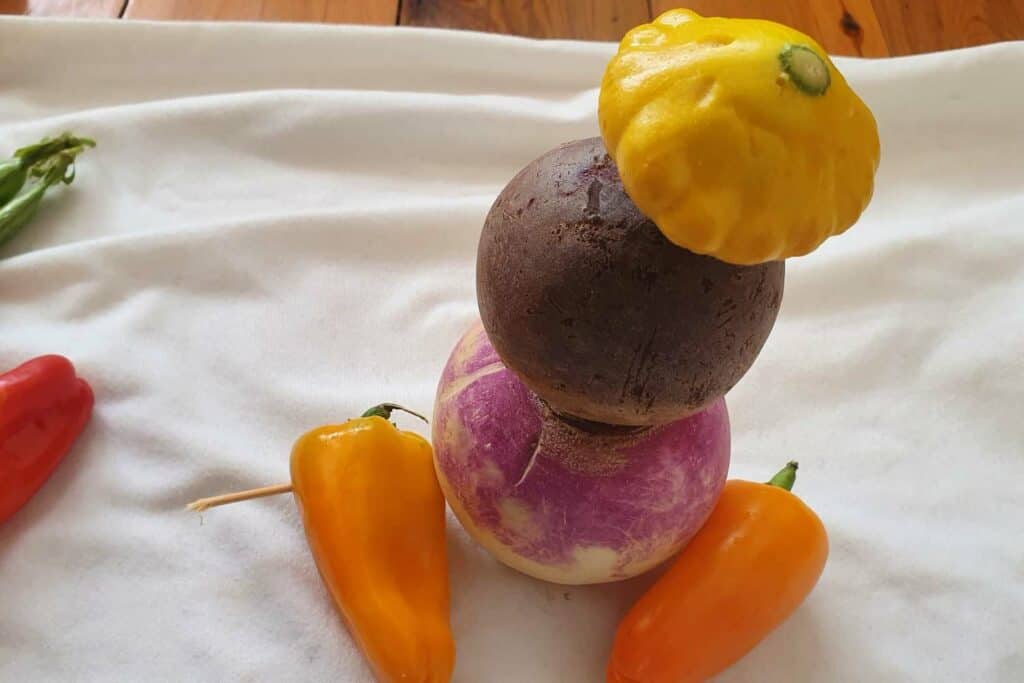 Let's get making this vegetable Ganesh
It was an absolute fun time making this easy Ganesh idol this time. Since it is not a traditional form of Ganesh idol, it is totally up to your creativity and going with the flow. The whole idea is to have memories made and add some new family traditions to add value to your life. If you have kids in the house, get them involved, careful with the toothpicks and sharp objects. Stack up the vegetable for the body using the toothpicks. then using the toothpicks position the limbs ad trunk. Press in the eyes, I have used sticky tape to fix the ears. String the peas for necklaces and just have fun as you go. 
How long does the Ganesha stay good?
Since they are fresh vegetables, the easy Ganesha idol stays good for 3 to 4 days. The softer fruits get damaged a bit but the whole ones do OK. Since it is still a bit cold for us here in Sydney it was easy to keep it for 5 days. If you brush over with a bit of oil, the spoilage is a bit slower.
Stay connected
What do you think of our DIY Ganesha projects? The idea was inspired by a vegetable carving done during the Ganesha Chaturthi in a temple in Bangalore, some 10 years back. Share with us in the comments as we attempt these quirky ideas. If you happen to put together one using this vegetable Ganesh idea, let us know what you used and rate the idea. Tag your creations for us to see @mildlyindian or #mildlyindiankitchen. Creativity is what comes to your heart and devotion is doing the same with your whole heart. Hope you are enjoying our blog and like our creations and recipes. Subscribe to our content and enjoy the blog regularly.
Happy Ganesh Chaturthi!