The best of melt in the mouth diwali ladoos is nei urundai. Made with split yellow moong this is a perfect one to share during Diwali. 
My first attempt of this ladoo recipe is while living in Malaysia. During Deepawali, nei urundai or pasiparippu ladoo is one of the first things that is made in the Malaysia Tamil homes. I guess the sweet aroma of ghee mixed with the sugar sets that ball rolling for the Deepawali festivals. I learn this recipe from one of my friend's mother who meticulously manages to host a Deepavali open house each year. This friend has been like a sister to me and their family recipe is what I make each year. I value these attachments and the joy of people opening their hearts and minds to let you in with the warmth of love.
What is nei urundai?
As the name suggests" nei" stands for ghee and "urundai" for a ball. Essentially, Nei urundai is a pasiparippu ladoo. it is a little ball of sweetened roasted dal mix that is perfect as a jar snack. The best part of pasiparippu ladoo is it can be meal prepped and it stays good for a couple of weeks with no refrigeration. 
Ingredients you need for the neiurundai
Moong dal : Moong dal or pasiparippu is split green gram that has been skinned. This yellow dal is the one commonly used in the dal recipes or used in kootu recipes. 
Sugar: Powdered sugar is the sweetener used in this recipe. I have used unrefined cane sugar here. You can use coconut sugar or palm jaggery to make this recipe as well. 
Cardamom: The fragrance of most Indian sweets is green cardamom powder. If you are not a fan of it, you can change it to one-fourth teaspoon cinnamon powder.
Ghee: one of the main ingredients that make and holds this ladoo recipe together is ghee ( clarified butter). This is also the flavour in this recipe.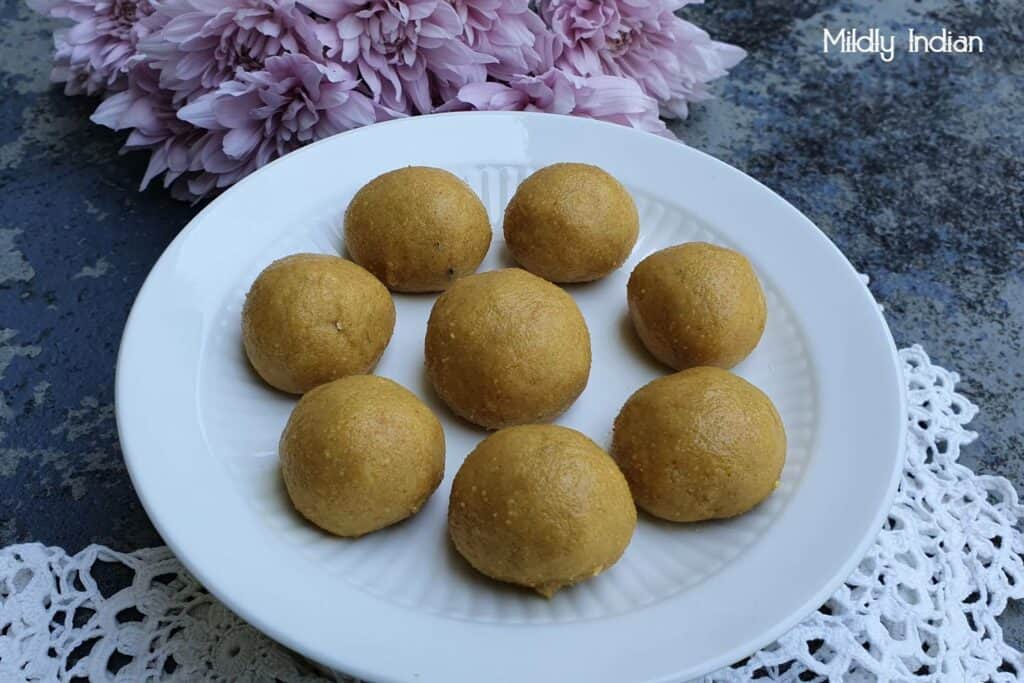 The details of the ingredients and quantities are in this recipe card.  
Nei urundai
Pasiparippu ladoo or nei urundai is a simple nut free, gluten free recipe that is popularly made during Deepawali.
Equipment
frying pan

Mixie or fine grinder
Ingredients
1

cup

Moong dal

skinned green gram dal /pasiparippu / cheruparippu /hesarubele

3/4

cup

unrefined sugar

3

pods

cardamom powder

1 /2

cup

ghee
Instructions
In a heavy bottom pan dry roast the moong dal till the roast aroma rises and the beans are showing golden speckles. This will take about twelve to fifteen minutes on a low flame.

Cool it to room temperature.

Powder it in your spice mill or mixie into a fine powder.

Sieve this powder to remove the coarse powder.

Powder the sugar with the cardamom pods.

Melt the ghee on a low heat and add the moong powder and mix them well together.

Then add the sugar powdered and mix them well.

Cool this mix the mix till you can hold it.

Shape small lime-sized balls of ladoo.

Let the nei urundai cool further.

Store the nei urundai in an air tight box.
Tips to make the ladoo hold well
Less ghee – if the ladoo is made with lesser amount of ghee it will not hold well. the mixture will be very crumbly. So  keep some melted ghee on the side and add if necessary.
Excess ghee – If you added a bit of excess ghee the laddo will become very soft. the ladoo will form shape but will not stay so. The best way to solve this is to add a a bit more of the roasted moong dal powder a tablespoon at a time. 
Rice flour variation – Nei urundai also can be made with a mix of roasted pasipairppu ( moong dal ) and short grain rice. You can use up to 1:1 ratio of rice to dal mix to make this. 
A few more diwali recipes that you may want to try
Kaju katli – one of the most sought out recipes for cashew thins. 
Papaya halwa – Soft papaya halwa is best had warm and is one of the easiest recipes to make.
Methi matri – namkeen that you absolutely need for every diwali platter. 
Bombay halwa – Chewy cornflour halwa is the kids favorite on the diwali platter.
Paal payasam – Pink kerala payasam is one you domt want to miss during the deepawali celebrations. 
Stay connected with us
You will find us on most social media networks as @mildlyindian. Subscribe, follow  or view our posts as often as you like.
We are working on getting our youtube channel with more recipes and learning experiences. Here is one of our latest videos. Kindly encourage us by subscribing, liking and sharing the videos as well. Stay safe and keep in touch.
Do tag us #mildlyindian when you make this kondakadali sundal recipe and leave your thoughts in the discussion below. Here are two useful recipe collections if you are celebrating Diwali – Naivedyam thali.
We love to hear about your experience of making this pasiparippu ladoo recipe. Don't forget to share and subscribe to this blog so you can get updates when we publish new posts.
Stay safe and keep in touch.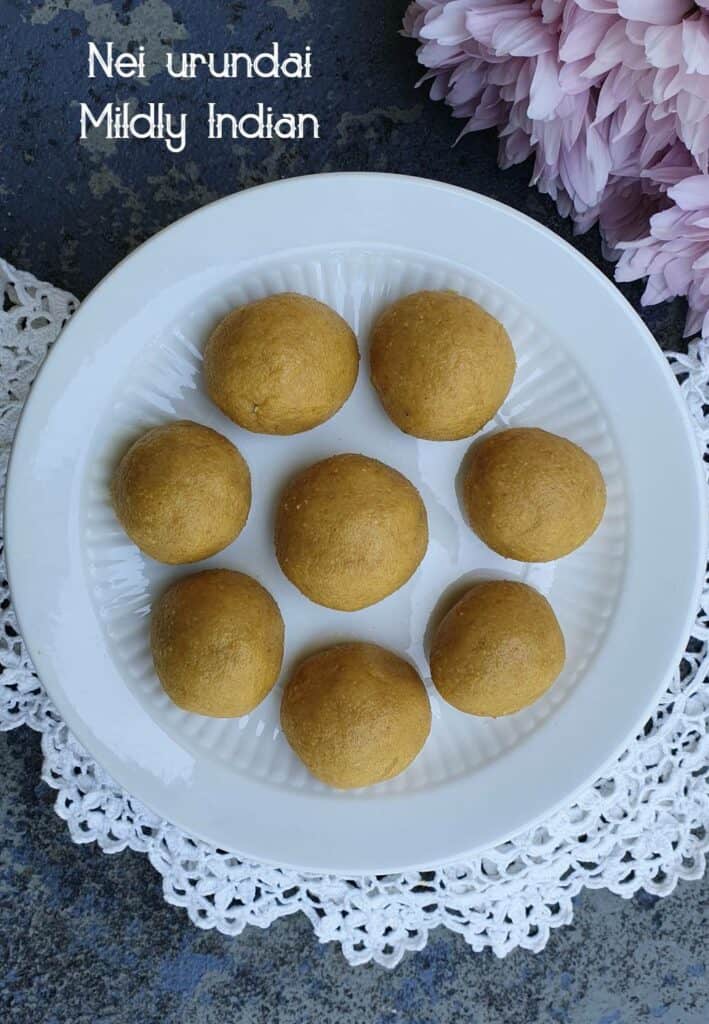 Adding this post to Foodies redoing old posts. As you can clearly see the images and the content are updated from the original old post. Hope you enjoy this new version.