I hardly do mock meats or TVP on our menu. There is no particular reason other than it is a processed food that  I find it a lot easier with whole beans, lentils and legumes to be cooked at home. While travelling or with friends, I have tried out the mock meats a couple of times.
Since we were experimenting with the extraction of Gluten from wholewheat flour, the extracted gluten is the base of what is commonly marketed as seitan or vital wheat gluten. Once we had the product literally at hand, there was no point wasting it. So we proceeded to make it the best edible form we like to try.
Flavouring and further processing the gluten to seitan.
While making homemade seitan it is important to remember it is like a blank canvas and the flavours you like to infuse are the ones it will take up. We went for Asian flavours as that is what we are used to.  If you add chicken flavouring, beef flavouring or Turkey flavouring you are changing the seitan to whatever mock meat flavour you want to create.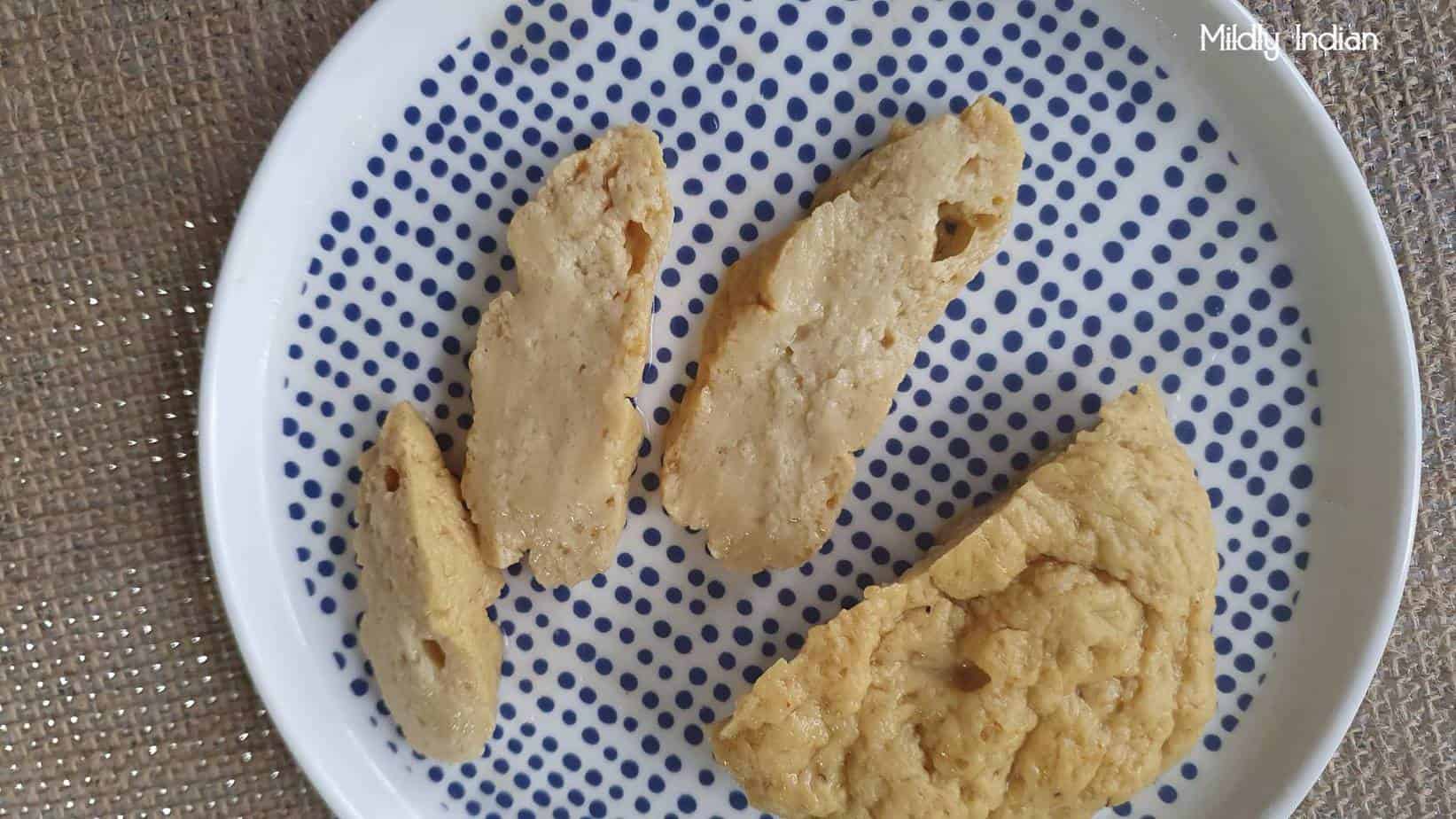 There are ways to steam, bake or boil the seitan. The gluten we extracted felt very strong and it would have become very tough if I baked it. So the easiest technique is to boil it in broth with cumin, coriander, lemongrass, ginger etc. The recipe details are in the recipe card below. The outcome was very soft and tender seitan that we could slice thin. At this stage, you can shred it to add to your sandwich, mince it and make meatballs, slice and roast or have some gravy.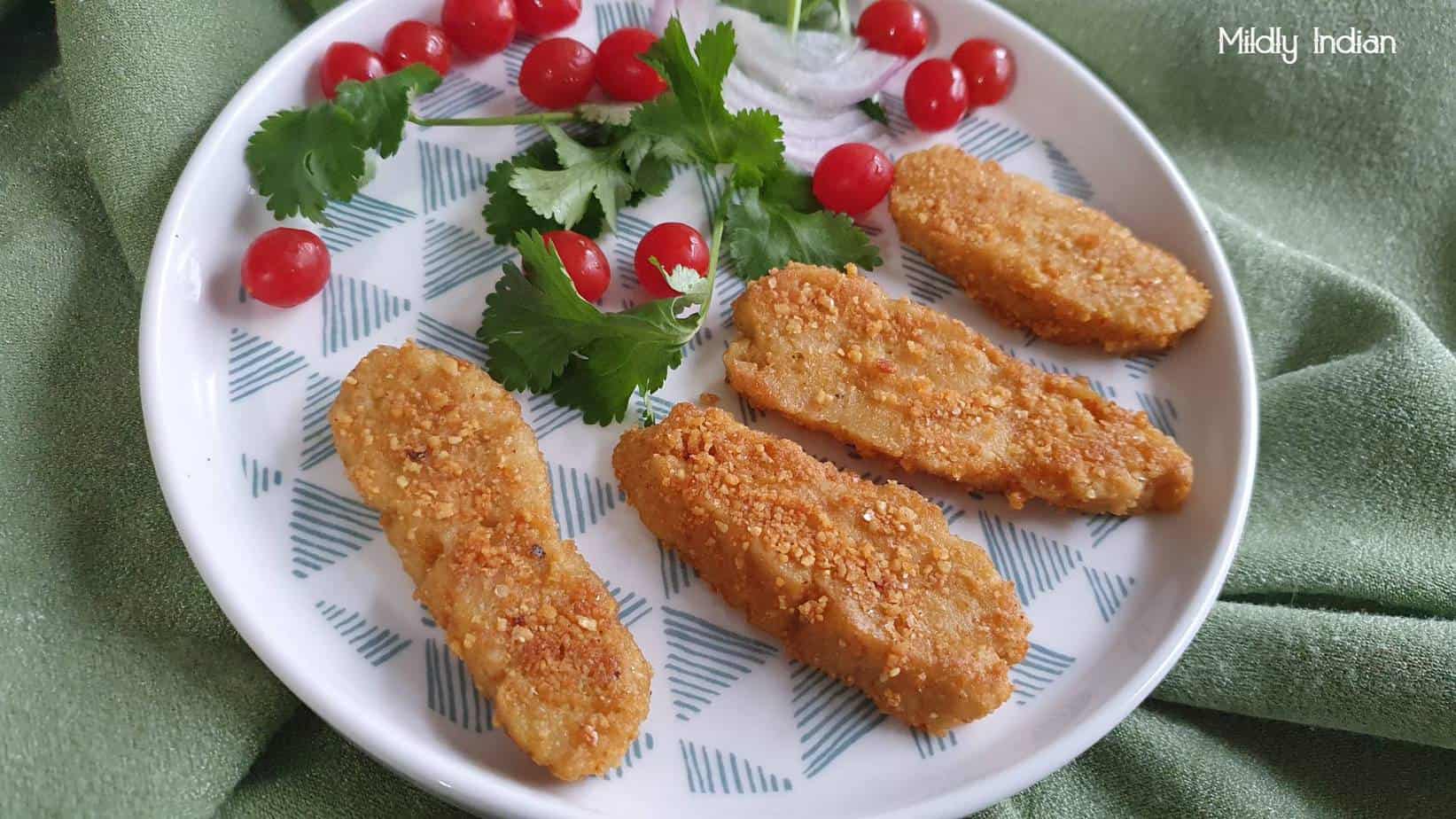 Pan roasting for the second layer of flavour.
Though the boiled seitan had a lot of flavour upon tasting, it was not a hundred per cent appealing. So coat it, crumb it and roast. The actually made a huge difference to the way the seitan was presented. The crumb coat with roasted chickpeas was a perfect textural contrast.
What we will do differently?
Next time I will perhaps work with double the quantity of flour as the vital wheat gluten yield will be a bit more. Secondly, the shape. I did not realise that we have to shape the gluten before boiling it, so next time tie it with some butchers thread to create interesting patterns. These are the learning from our current session. Hope you will join us for more fun experiences like these. Don't miss to subscribe to this website to get the updates in your inbox. However, if you don't feel so, tag us #mildlyindian on your experiences based on this seitan extraction idea.
Stay safe, keep active and read on. 
Pan roasted seitan
Vegan mock protein made from scratch, crumb coated, pan roasted to perfection is a delightful addition to protein in the diet.
Ingredients
To flavour the gluten protein
30

grams

seitan

2

cups

vegetable stock

1/2

inch

fresh ginger root

1

tsp

soy sauce

1/4

tsp

roasted cumin powder

1/4

tsp

coriander powder

1/2

tsp

crushed black pepper

1

clove

garlic
for pan roasting
1/4

cup

breadcrumbs

1/2

cup

roasted chickpea

powdered

1/4

tsp

red chilli powder

( optional)

3

tbsp

cooking oil
Instructions
Add the seitan and the vegetable stock into the saucepan.

Into the saucepan, add crushed ginger root, garlic clove, soysauce, cumin powder and coriander powder.

Bring the whole liquid to simmer for 20 minutes.

Remove the seitan from teh broth and rest it for 10 minutes.

Heat up a flat pan, brush with oil.

The chilli powder, breadcrumbs, roasted chickpea flour and mix it all together.

Slice the cooked seitan, crumb coat it with the mix.

The mix will stick as the seitan is still wet.

Place the slices on the pan, roast it on one side.

Flip over and roast teh secod side

Remove the roasted seitan and serve with a salad.