Under 15 minutes, you have a lunchbox-perfect, gluten-free, tomato-free, and nut-free khumb mattar poha recipe. Try out this well-balanced peas mushroom poha to keep you going at work or for a satisfying breakfast.
Morning scene
Some mornings in my house are chaotic. Today was one of the worst! I woke up in the morning believing that it is Sunday bang in the middle of the week. The feeling was so hard to shake off that I went back for an extra half-hour snooze! Before I knew it, we are all late. Argghhhh,  scramble run and we have about 40 minutes to be out of the door. Having no prep done yesterday,  lunchboxes were going to be either cold sandwiches or something I can think of in the spur of the moment. When I  peeked my head into the fridge, Thank God,  I had bought some mushrooms. Alright, peas and mushroom poha it is.
Here is the recipe for you just in case you have a moment like me!!
Ingredients to gather for khumb mattar poha
This easy-to-make work lunchbox perfect poha comes together with just a ingredients
Poha – aval, avalakki, pinipig or poha is the flattened rice. this is quick cooking and can just be soaked for a couple of minutes and added to stirfry or other recipes. Due to this versatile poha, we used it often at home. In fact, we created a whole collection of recipes based on poha, so check that out too. 
Mushroom-We have used a couple of variety of mushrooms on the blog, like the oyster mushrooms for curry and cremini for pilaf.  However, the easiest one available is button mushrooms or simple white mushrooms. these are the ones we have used today to make this poha. These mushrooms have not much of flavour, just an earthy neutral taste and take up the flavours of pepper and other spices really well. The mushrooms in this recipe work also to keep the poha soft in the lunch box. The mushrooms also help to keep it low calorie and filling. 
Peas- Frozen peas or mattar is not only a handy ingredient but also a good one for protein and fibre.
Tempering and spices– the smokey flavour of the roasted cumin seeds and curry leaves make a distinct aromatic mix. To this, the roasted shallots add sweetness and the chilli and black pepper to the heat. Tempering is the best way to flavour the oil that coats the poha. 
What if I don't have poha?
Plenty of options here to vary the grain. If you are in a hurry, use couscous as an option. If you are a bit planned, cooked quinoa millets or rice make this perfect. Yet another option is to use instant rice vermicelli as this just cooks in hot water and is perfect to stir in.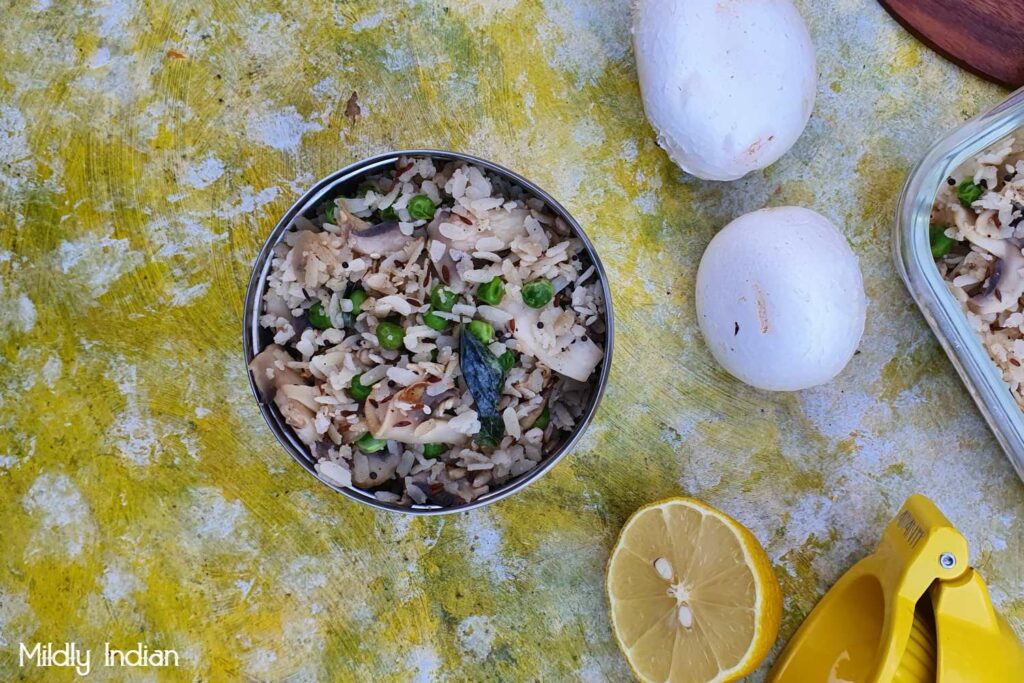 Why does this recipe work?
The classic combination of mushroom and peas is perfect. Having them with quick-cooking poha (flat rice flakes) cuts down a lot of the cooking stress. The recipe is mildly spiced with black pepper making the mushroom flavour come through easily. Since the number of veggies added depends mainly on how much time you have to chop them up, it is variable. The poha stays soft in the lunch box and therefore perfect for work or school. Hope you like it for the same reasons too.
mushroom mattar poha
Under 15 minutes, you have a lunchbox-perfect, gluten-free, tomato-free, and nut-free khumb mattar poha recipe. Try out this well-balanced peas mushroom poha to keep you going at work or for a satisfying breakfast.
Ingredients
For tempering
1

tbsp

cooking oil

1/2

tsp

cumin seeds

1-2

shallots

4-6

curry leaves

1/4

tsp

fresh ginger root

minced

1

green chilli

slit
Vegetable mix
1

cup

mushroom

sliced

1/2

tsp

frozen peas
Flavourants
salt to taste

1/2

tsp

crushed black pepper

1

tbsp

Lemon juice
Instructions
Place the rice flakes or poha in a colander and wash it well for a few minutes.

Let the poha swell, so set it aside for 10 minutes.

Meanwhile wipe down the mushrooms, slice and set them aside.

Peel and mince the garlic and chop the shallots.

Wash and set aside the frozen peas.

In a kadai or frying pan, add the oil and roast the cumin.

Add the ginger, curry leaves, shallots and slit green chilli.

Saute the shallots till translucent.

Add the mushrooms and peas and saute well.

Sprinkle the salt and black pepper and saute well till the mushroom are well reduced and take up the flavours.

Now add the poha and mix well.

there is no need to cook through the poha as it will become chewier.

Remove from heat and stir in the lemon juice.

Keep the poha covered and serve immediately.
Meal prep and storage for mushroom poha.
This mushroom poha recipe stays well in the fridge for 2 to 4 days. Store in an airtight container. I don't recommend freezing this recipe as it is faster when made fresh and tastier.
Looking for more 15-minute recipes?
Experience has taught us that some crazy mornings like today give you 15 minutes. For these, I love to keep some quick recipes. Here are my top picks
Work sandwiches
You can search more by what you have in the fridge. Type in the ingredient into the search bar an.d see what options we have ready for you.
Stay connected 
You will be amazed at how easy it is to get this dish from start to finish. Now, let me also tell you it finishes as quick as it is to make it. I hope you have subscribed to our blog to receive regular updates. We thank you for staying with us and encouraging us at every step. We would love to have you visit the Youtube channel that we recently updated. Please subscribe, like and share these videos and recipes and let us know what you like and dislike about them. Here is a snippet of one we did with poha too.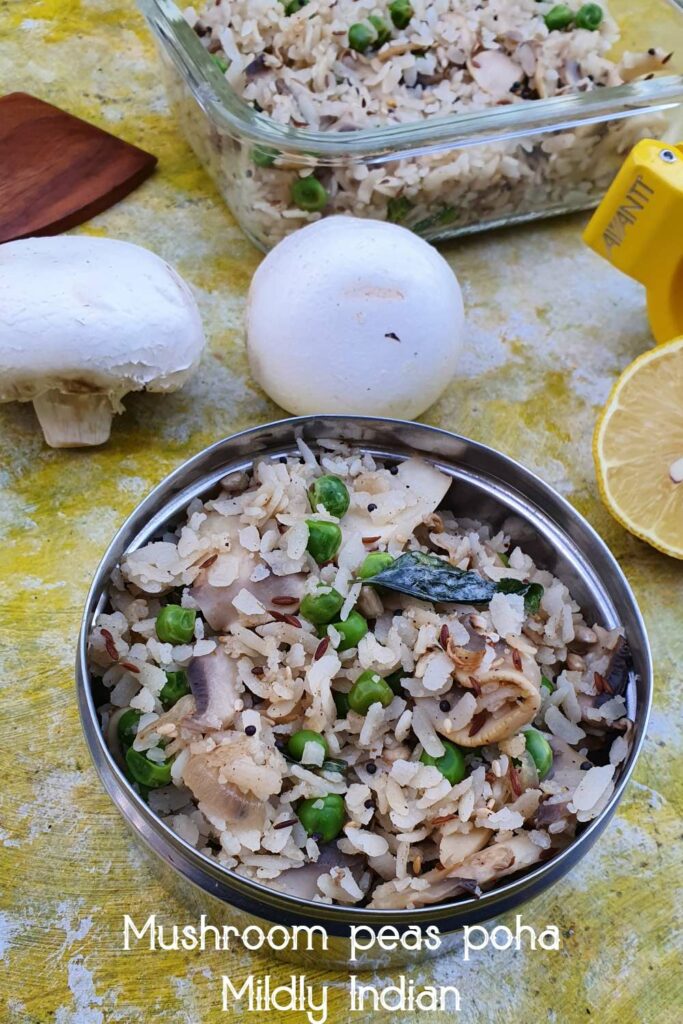 Stay with us on the blog as we attempt new recipes or try some traditional ones. Peek over to our travel section to see what we are up to at times.