As we reach the end of the week in a lockdown period,  my veggie basket looks like it is below the poverty line. A couple of coloured capsicums, an onion or two and pretty much that's it. What do you do in this situation? I go straight to some comfort eats. How does quick curry noodles sound? Perfect for that Friday night stay in and hug the pillows. The bottom line is this noodle recipe is DELICIOUS!!
Why do these quick curry noodles work?
If are loaded with veggies or have minimal, you can achieve this dinner with just a few ingredients from an Asian pantry.
Noodles: this is the best part. No doubt noodles are comforting, you can adapt this recipe for any type of noodles you have at home. I have tried this with rice noodles,  soba, linguine (yes pasta works perfectly), angel hair pasta, pad Thai noodles or any other variety you have around. cook as per pack instructions. 
Veggies: pretty much any vegetables that are quick-cooking and crisp go well. So whatever you add to a stirfry, cut long and thin works. Try peppers, carrots, cabbages, broccoli, bokchoy, choisum or zucchini. They all add variety
The curry paste: most of us have some sort of curry paste that we keep. I tend to keep some store-bought green curry paste as it is one of the quickest ingredients you can flavour dishes with. At the end of a long day, I love the smell of ginger, galangal and lemongrass.
Coconut milk: this is the creamy bit of the recipe. Use fresh, canned or Powdered. They all provide the necessary creaminess to the dish.
Lime or lemon: Right, the dish will not work if you don't have the acidity to balance it off. So some fresh or frozen lemon juice is necessary.
Adding protein: your choice of protein works well with this. Fried tempeh, shredded tofu or bean sticks do perfect justice to the recipe.
Building upon the spiciness
If you are a spice lover, slice in some birdseye chillies during the stirfry or sprinkle the red chilli flakes at the end and toss them up. Before you scroll down, did I tell you this curry noodle dish comes together in 10 minutes after you have prepped the veggies? That is the fastest I have made any dinner. With the amount of versatility that this recipe can offer,  try it vegan, gluten-free, paleo and let us know if you enjoyed it.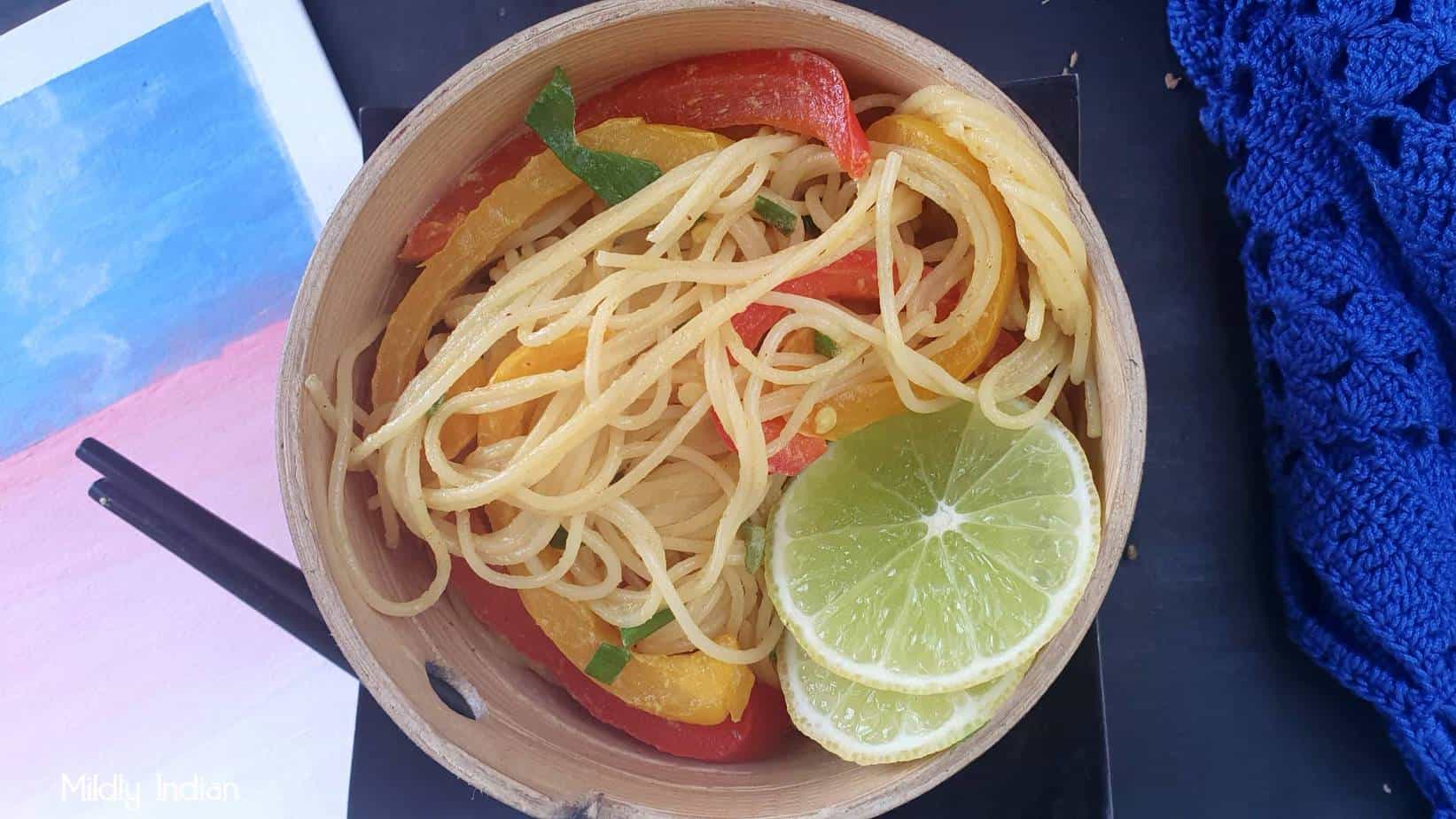 My dinner is ready, how about yours?
When you give these quick curry noodles a try, please tag us #mildlyindian using any of your social media platforms. We will love to hear your comments on what changes you made and how they worked for you. While you are here check out this recipe for a quick Asian style broccolini recipe too that you could pair with steamed rice. 
Quick curry noodles
thai inspired flavours in this quick and easy curry noodles recipe.
Ingredients
4

oz

pasta

use Angel hair.

3

cups

drinking water

1

tbsp

peanut oil

1

tbsp

thai green curry paste

1

large

red bell pepper

capsicum, sliced

1

medium

yellow bell pepper

sliced

1

medium

green bell pepper

sliced ( i did not have any)

1/2

can

coconut milk
Instructions
Set the pasta pot with the water to boil.

Once the water boils, add salt.

Gently ease in the noodles or pasta into this boiling water.

Follow th pack timing for cooking and mixing.

Once the pasta is cooked ( test by biting through a strand), drain and set the pasta aside.

Save some of the pasta water.

Wash, clean and slice the bell peppers and keep them aside.

Into a hot wok add the peanut oil and the green curry paste.

Allow this to stir around for a moment and the add the sliced capsicums.

Saute the vegetables and add the coconut milk.

Add a couple of tbsp of pasta water to make the mix thinner and stir this mix around.

Now add the cooked and drained pasta and Toss well so the curry coats the pasta well.

Squeeze half a lime and remove the pasta from heat.