Every Karthigai season a special type of puffed rice appears in the South Indian grocery stores. The delicate yet crunchy avalpori is what we used to make the Karthigai pori.
What is avalpori?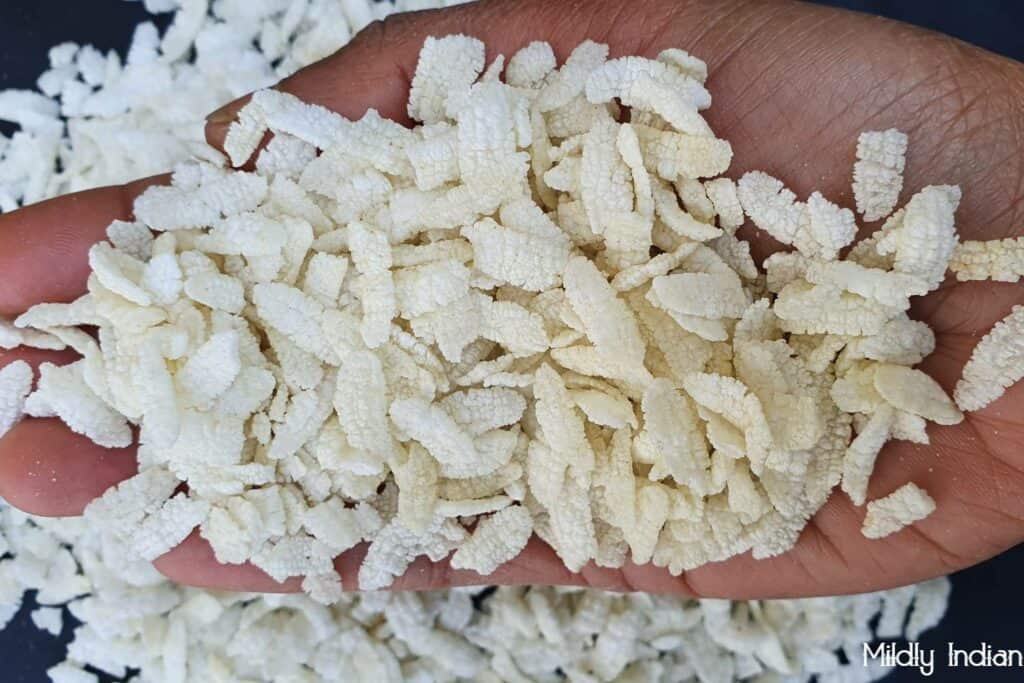 The journey of the special pori ( puffed rice) starts with aval which is flattened rice. The husked rice grains are flattened by pounding this gives poha or aval. The aval is then dry roasted,  in huge iron pots to make avalpori. Since it is a double process, the availability of avalpori is limited and a bit more expensive. Pick up from your local farmers market and support them directly if you can.
If you are like me and the pori travels across the seas to reach you it would have lost its crispness. Dry roast on low heat to get the crispness back again.
The catch points to this Karthigai pori.
The Karthigai vellam avalpori recipe we have here today has one critical point that needs to be practised to get the perfect solution. This is the tempering of the jaggery syrup. The jaggery syrup consistency is measured not by a candy thermometer, by relative standards and visually taught from generation to the next.
The jaggery syrup starts off a bit watery and then as the water boil turns to honey consistency (then pagam), then it boils down further to thakali parameters or soft tomato consistency. The testing of these are done by dropping about half a teaspoon of the jaggery syrup into a small bowl of water and gathering it using your hands.  From this stage to stone or kallu pagam it takes just a few seconds. The stage we need for this karthigai pori recipe is the tomato one.
Here is the detailed recipe with step by step instructions and images. Most importantly advice, before you start, is to gather the ingredients and don't move away from the stove.
Vellam avalpori
Ingredients
for jaggery syrup
1/4

cup

water

1/2

cup

jaggery

crushed or powdered.
to make the avalpori
3

cups

avalpori

1/4

tsp

green cardamom powder

3

tbsp

coconut

sliced and cut into bits.
Instructions
Into a saucepan add the jaggery and the water.

Set it on a slow simmer so it can dissolve the jaggery and form a syrup.

Strain the jaggery syrup and set it aside.

Set a frying pan to warm up and dry roast the avalpori till it is crispy.

Remove the avalpori and set it aside.

Pour the jaggery syrup and bring it to a boil.

Never leave this mix and keep stirring.

Keep a small bowl of water ready and test the consistency occasionally once the jaggery syrup thickens beyoundhoney thickness.

Once it reaches soft candy texture ( thakali pagam) add the dessicated coconut and keep stirring till the jaggery syrup.

Now add the cardamom powder and mix well.

Add the crunchy avalpori and mix well till the pori gets coated evenly with the jaggery syrup.

Remove from heat and keep mixing till they stop clumping.

Once it cooled down, store in an airtight container.
Commonly asked questions.
Can I make this with other puffed grains?
The same recipe can be made with murmura (we used these ricepops to make chocolate murmura), Newport (puffed paddy) and popcorn.
What jaggery to use?
I have used cane jaggery as it is the one that I sm used to when it comes to detecting the stages of tempering. You could get a special softer variant called paagu vellam from the Indian grocery that actually tempers better.  You could use palm jaggery as well or sugar. The colour will change accordingly.
What if the jaggery consistency is not correct?
Well, if it is any below the tomato consistency the pori will go soft and it will become soggy. In case it gets to stone-hard consistency, it is tough to mix the pori in. Yet, with a lot of patience and quick hands you can get them to be coated. It will be a bit harder coat of sugar on it.
Is coconut really necessary?
Not really! For long stay ones mum never used coconut. The combination of fresh coconut bits coated with jaggery along with the crunchy pori is actually very tasty.
Do we add sesame seeds?
There are many variations based on the households. Adding sesame seeds to it is another change of flavour. It is up to you. We are used to the one without it from childhood, hence stick on to the idea.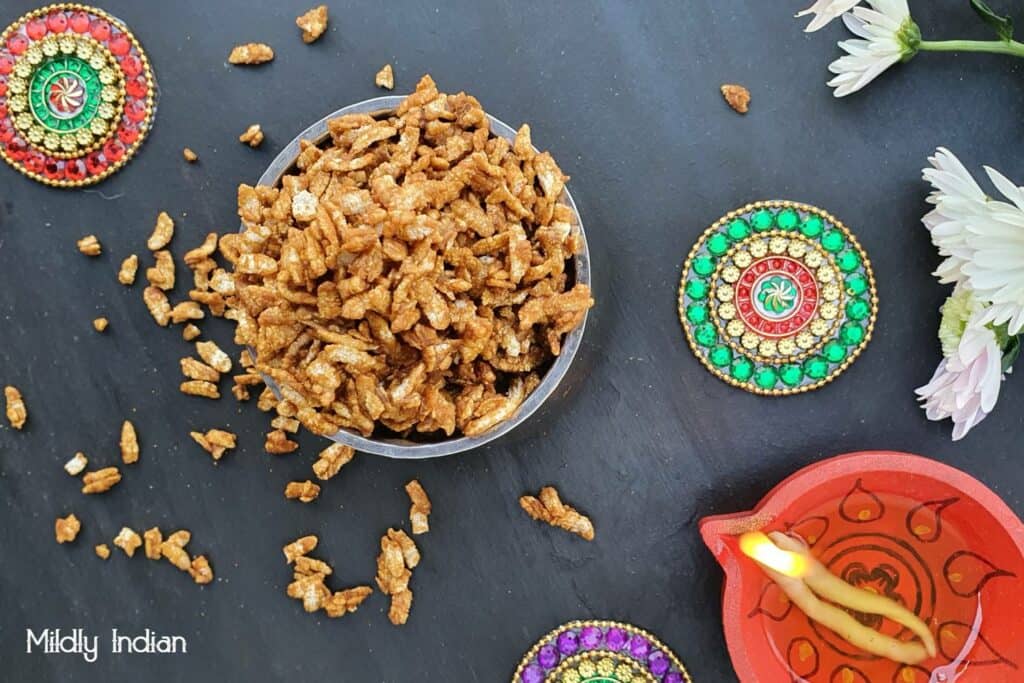 What will I do when the mix sticks together ?
Patience and quick hands are your best buddies for this recipe. Yes, the Jaggery syrup is very sticky and will clump the avalpori. Remove the mix from heat and keep mixing and moving till they separate out. Eventually, it will stop clumping and separate.
Can I shape it into balls?
Yes, the most traditional recipes will show balls of vellam avalpori. It is slightly  difficult for beginners. Make the pori a couple of times and you will figure out easily that at the thakali paagam stage if you add pori and mix it around it will form balls. Dip your hands in roasted rice flour, take a small portion of this pori jaggery mix and press it down to a ball shape. Please be aware it will be hot, be careful.
Can I use the vellam avalpori in otherways?
The vellam avalpori naivedyam is pretty much like crunchy granola. So sprinkle on your morning yogurt with some fruit. It tastes amazing.
Stay connected
We have a lot of aval recipes on this blog. Here is a quick collection for you to browse through.
For Karthigai deepam let's make the vellam avalpori naivedyam with Trimaduram or Panchamritham, Karuppu ulundhu milagu adai. For lamps we also light homemade kozhkattai maav deepam. I hope you have subscribed to our blog to receive regular updates. We thank you for staying on with us and encouraging us at every step. We would love to have you visit the youtube channel that we recently updated. please subscribe, like and share these videos and let us know what you like and dislike about them.