Did you look up at the title again to make sure I wrote Pegan… Haha, so did I. My autocorrect kept going bonkers till I really added the word in. Now, that's the theme, Understanding Paleo Vegan cuisine. I am sure you have attempted both separately, but never thought of them together. Me too never knew hadn't done enough reading till Veena (click here for her blog) suggested to rein in some of those recipes.
Being a Pegan
Combining the best of both vegan and paleo diets is the main idea behind this diet. Introduced by Dr Hyman, this diet form aims to reduce inflammation and balancing blood sugar.
Read here for more details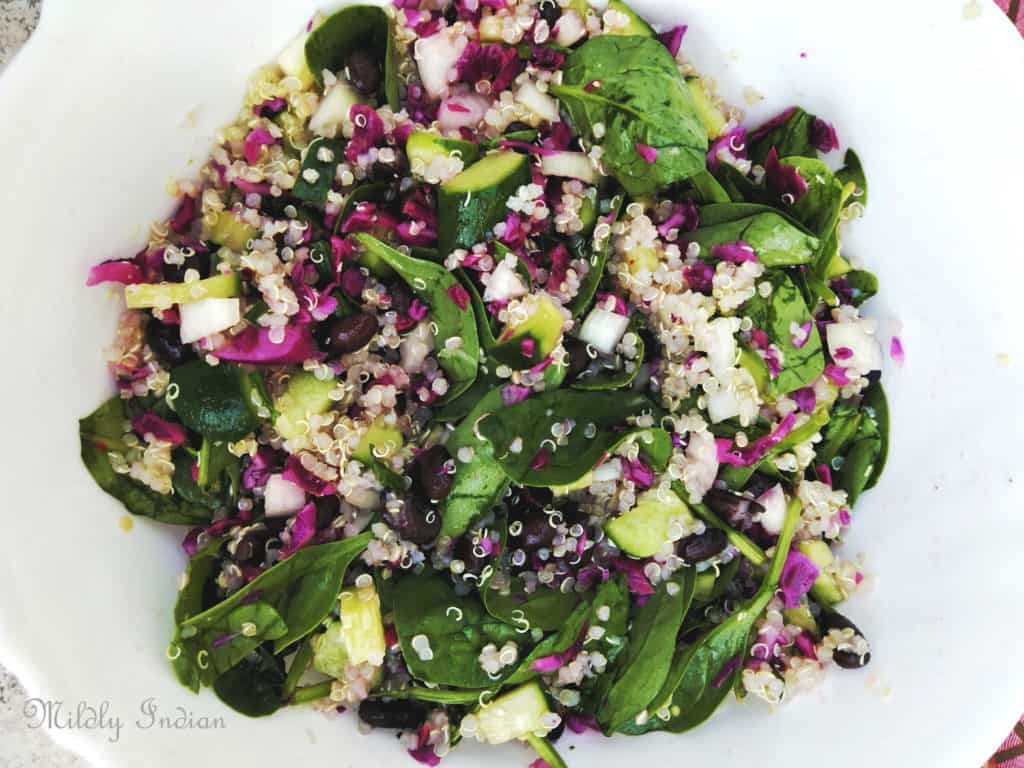 My takeaway
Essentially, my take away from quite an elaborate read about Pegan diet is to avoid any kind of processed food, remove the dairy and bring in more wholesome ingredients without a carb load up. Ideally, this is what I will like to achieve too, reduce the carb load. I am not entirely sure if I will work this diet on a daily basis, but the following recipe is an eye pleaser along with being light and easy. Hence if I can round up some more of these, oh should be happy to follow them as a trial.
This quinoa-based salad bowl is a quite pegan friendly for the following reasons.
It has no grains (reduced carb load), quinoa being a seed will contribute to the protein content.

Plenty of organic low-calorie nonstarchy vegetables

A small portion of beans (allowed quantity)

A tiny portion of avocado oil used
This actually makes a flavourful light salad perfect in the lunchbox and quite a riot of colours when you need a pop of energy. So don't miss trying it. Here is an image of it all tossed up.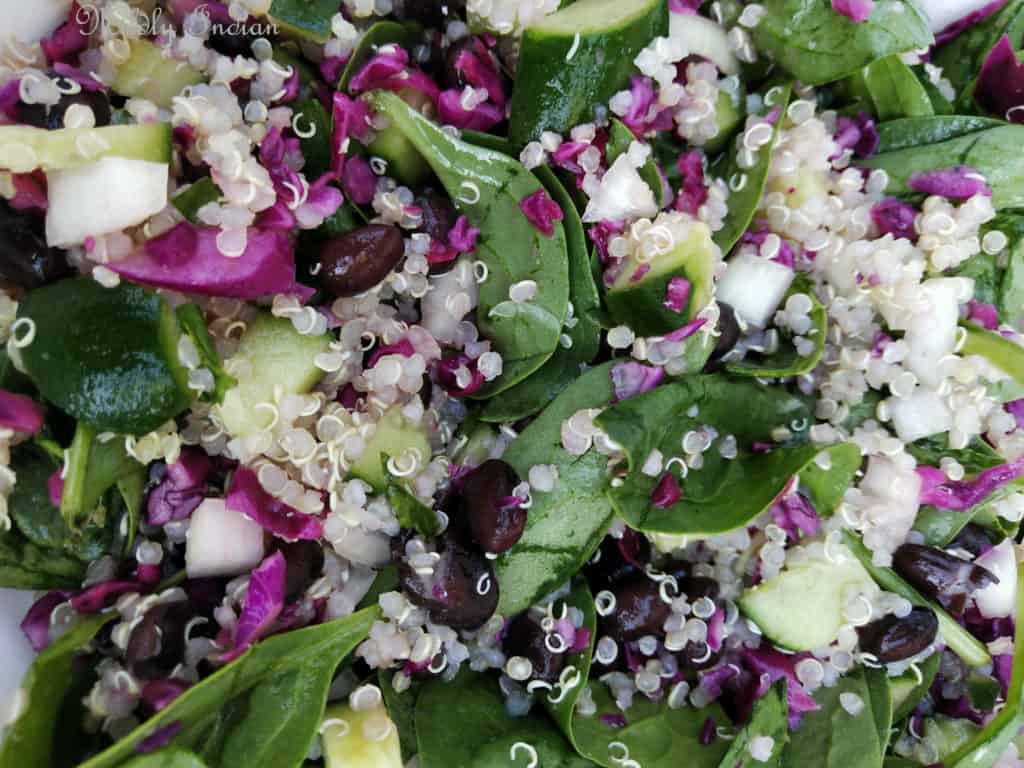 There are more recipes from my blog itself that I am sure you can use for a Pegan Diet. So don't miss to browse for some more on the main page. For our latest updates do not miss to subscribe ( we do not ask for any credit card details) or follow us on Instagram@ mildlyindian .com
Enjoy your time and see you soon.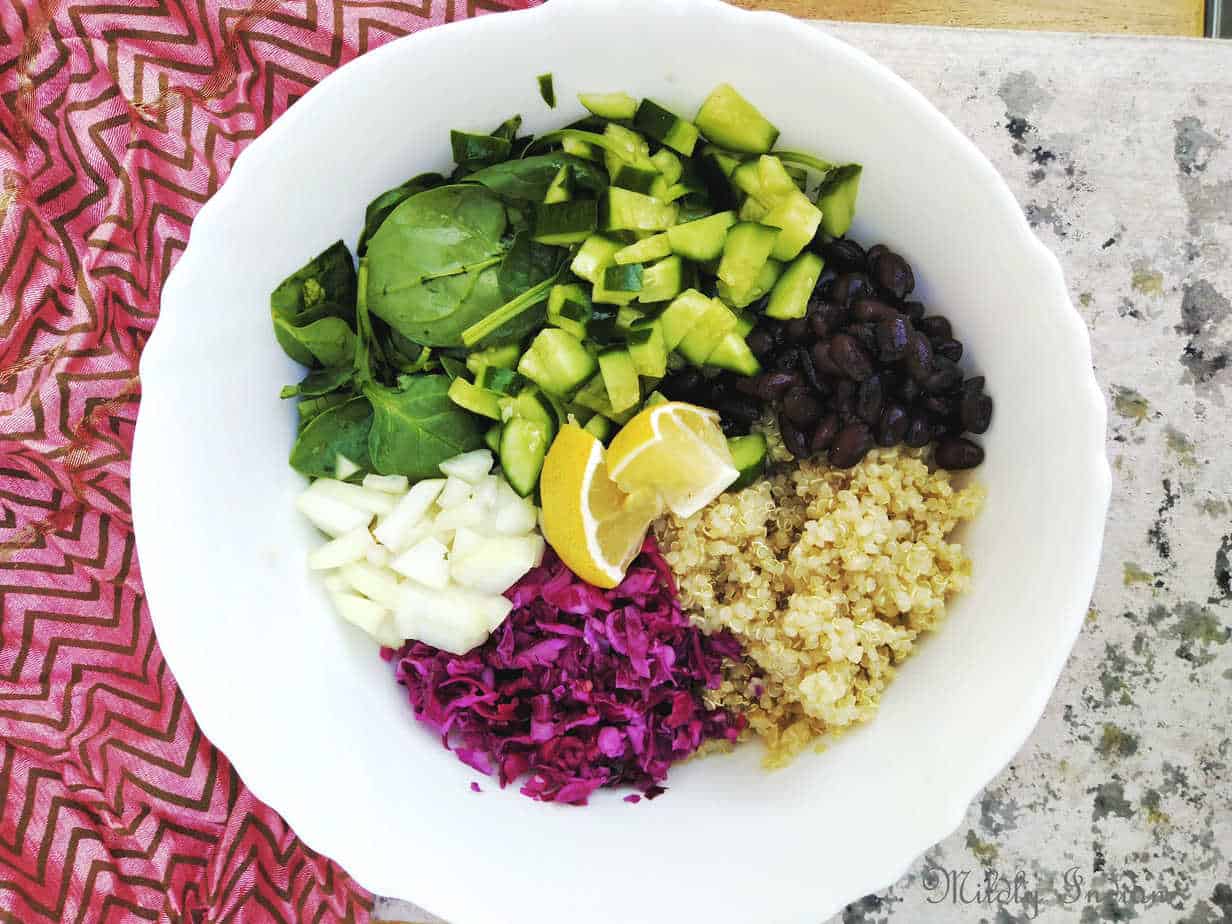 Quinoa pegan salad bowl
Ingredients
For the salad
1

cup

Spinach

baby leaves, packed

1/2

medium

cucumber

1/4

cup

Onion

chopped

1/2

cup

Cabbage

purple/red, shredded

1/2

cup

black bean

cooked and drained

1

cup

quinoa

cooked
for the dressing
1

tsp

miso paste

( gluten free)

3

tsp

Lemon juice

black pepper powder

to taste
Instructions
wash and cook quinoa to get 1 cup of cooked quinoa

Fluff and set it aside to cool.

Collect the ingredients for the salad, wash and drain all.

Chop the onions, cucumbers and shred the cabbage.

Add these to the salad bowl arranging them on the different sides of the bowl.

Drain and add the black beans to the bowl.

Add the now cooled quinoa.

Whisk the miso, the lemon juice, the salt and pepper together to form the dressing.

Pour the dressing over the salad, toss if desired and enjoy.
Notes
To cook black beans, soak overnight and pressure cook for 4 whistles. Allow the steam to escape naturally and drain the liquid off to get the cooked beans. The cooking liquid is perfect for kneading dough or for use in the place of stock.
Nutrition
Calories:
269
kcal
Carbohydrates:
50
g
Protein:
11
g
Fat:
4
g
Saturated Fat:
0.04
g
Polyunsaturated Fat:
0.1
g
Monounsaturated Fat:
0.01
g
Sodium:
180
mg
Potassium:
267
mg
Fiber:
7
g
Sugar:
2
g