Once we had gotten through some soup recipes last week, the taste buds needed a  gentle wake-up. Yet we are not up to the stage where stronger curries and foods can take over and run as a usual week. That will need a bit more time and getting back up to. Meanwhile, we have some veggies in the fridge that need to be used up. Here is a very easy shalgam ke baaji recipe made with fresh turnips. This dry turnip curry is vegan, gluten-free and free of nuts and coconut. Try out the shalgam ke baaji with fresh rotis and salad.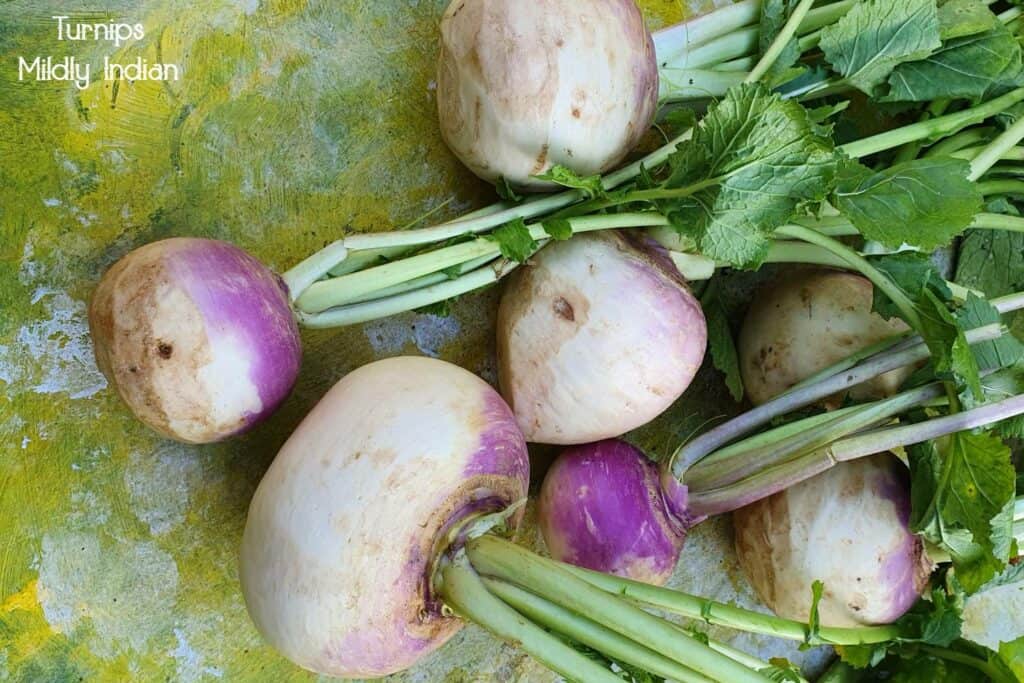 Understanding Turnips
There were two turnips I picked up with my grocery list. Turnips or neep are tap root vegetables with pale white skin or a green /pink top. They resemble beetroot in shape. Both the leaves and the bulbous root are edible. A fresh batch of spring turnips is delicious as salads similar to radishes. However, as the season progresses, I prefer cooking them to bring out the sweet flavour. To use the root, peel them and separate them from the greens. Chop up into pieces or wedges and proceed with your recipe.
What do turnips taste like?
Though the turnips look a lot like white beetroot, they taste a lot closer to radishes. Raw turnips have a characteristic crunch and a mustard green-like flavour. This flavour vanishes upon cooking replacing it with a mellow sweet flavour. 
Turnips in Indian cooking
Turnips are not alien to Indian cuisine and are called shalgam. Typically this is grown in colder regions where you will find it more popular in cuisine than in the hot humid regions. Turnips in curry, stirfry or grated as a salad. Today's recipe is a semi-dry preparation called shalgam ke baaji.
Masalas and ingredients for this baaji
Shalgam/ turnips- Fresh turnip roots that are peeled and diced are the ones that are needed to make this turnip dry curry. A peeler will work to get the peel off n then dice the flesh. You can use the turnip greens in this recipe. Wash and clean the leaves. Strip them off the stalk and chop them to add along with the diced root.
Onion- a small bit of onion sauteed adds so much flavour to this dish. I have used half a small white onion. If you have shallots, use that for extra flavour.
Spices – two levels of flavour are created in this simple recipe. One at first by tempering the fenugreek seeds and the carom seeds. For the second layer of flavour, salt, turmeric powder, roasted cumin powder and curry powder ( like Ken's) is all you need. This curry powder can be sambhar powder, rasam powder, garam masala or Kitchen king masala.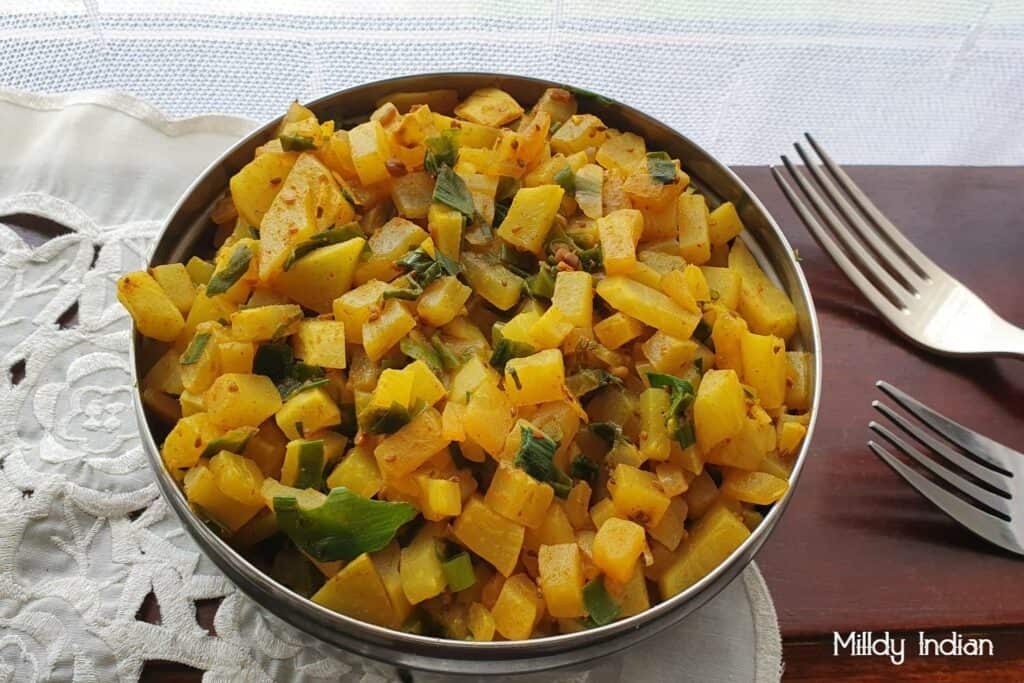 The recipe card below gives the step-by-step details to make this recipe. Pin it onto your board from here for later use. 
Shalgam ke baaji
Equipment
frying pan

chopping board

Knife

ladle
Ingredients
for the vegetable
1/2

small

onion

3

medium

turnip
for tempering
1/2

tsp

carom seeds

10-12

fenugreek seeds

1

tsp

cooking oil
spice powders
1/4

tsp

turmeric powder

1/4

tsp

roasted cumin powder

1

tsp

curry powder

1/4

tsp

red chilli powder
garnish
1/2

cup

spring onions

chopped
Instructions
Wash and trim the turnip greens.

Peel the turnips and chip them into small pieces or strips.

Chop the spring onions and set aside till needed.

Chop the onion and set it aside till needed.

Into the frying pan, add the oil, carom seeds and fenugreek seeds.

Once the seeds crackle add the chopped onions and saute well.

To this add the chopped turnips and saute well.

Add the red chilli powder, turmeric powder, roasted cumin seeds curry powder.

Mix well, sprinkle water and cover and cook.

Remove and check if fork tender.

Add the spring onions mix well and cover and cook for another two minutes.

Once it is cooked mix well.

Remove into serving dish and the dish is ready to serve.
Putting together a meal
Shalgam ke baaji on a cooler night with a couple of phulkas sounds like home. Leftovers find themselves comfortably hidden in a curry bun or a sandwich for lunch the next day. These are the easiest ways I have tried with the turnip dry curry. As we were unwell, we had it with payaru kanji.
Meal prep and saving the leftovers.
Usually, I prep and chop the turnips on the weekend to help my day at work. The prepared baaji will stay well for 3 to 4 days in the fridge. I have never frozen this shalgam ki baaji. If you have success with this please let us know in the comments.
Stay connected
Shalgham ki baaji is a very basic side dish recipe, best enjoyed warm. When you make this, write a comment with a rating. Share this recipe with friends and family who may also enjoy some turnips.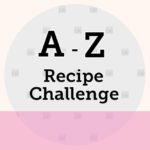 We have added this post to the A-Z recipe challenge,  ingredients in Hindi. Shalgam or turnips are one among the many ingredients which start with S. 
Stay connected by Instagram, Twitter or Facebook to know what new we have been cooking.
Stay safe and see you in the next post.