The turmeric roots from my garden produced some wonderful aromatic and pure, organic turmeric powder.  This gets regularly added in food at home.  And very often as golden milk.  Now it's no longer fun. It is holiday time and we are hungry all the time…this leads to new experiments like the turmeric arrowroot custard flavored with cardamom
On the other hand the summer heat has begun to show its colours and the bright sun makes me crave for something cold yet sweet. Something like a creamy custard I can sneak into for their middle of the night too. My better half said middle of the night hunger pangs are because you eat early… Well I would say he doesn't know a food bloggers head… It just runs back to food anytime it's awake.
Now, midnight hunger need not have unhealthy stuff, so here we go with a  lusciously smooth seductive  turmeric cardamom eggless custard with with berries nuts and edible flowers.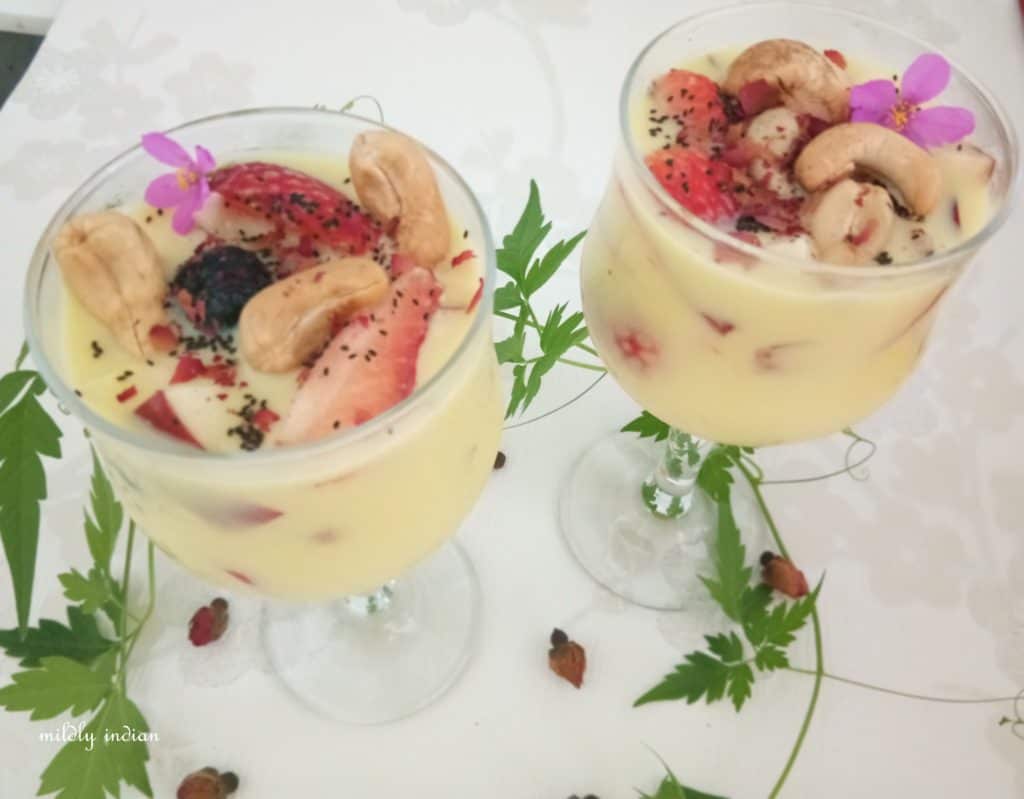 Oh.. So yumm yummm
You have got to try this one.  For the creaminess that an arrowroot custard has is unimaginable.The lightness is added by the berries and edible flowers, so to it don't have a weighted down custard dessert.
The recipe is perfect for sit down dinners, elegant evenings and even for a simple family get together with kids running in for second and third helpings. The left over of this recipe is all for the stealing in midnight's… Or the early morning  quick spoonful… So make extra.  Scroll down for the recipe below…
But, before you go, don't miss the updates. Get regular updates by subscribing  to us -(honestly don't believe in spamming you so keep cool and subscribe ).
You could also follow us on instagram @mildlyindian
Don't forget to check out recipes which are quick and easy to serve during the holidays
Leaving a few links to lead you on…
 Now off to the recipe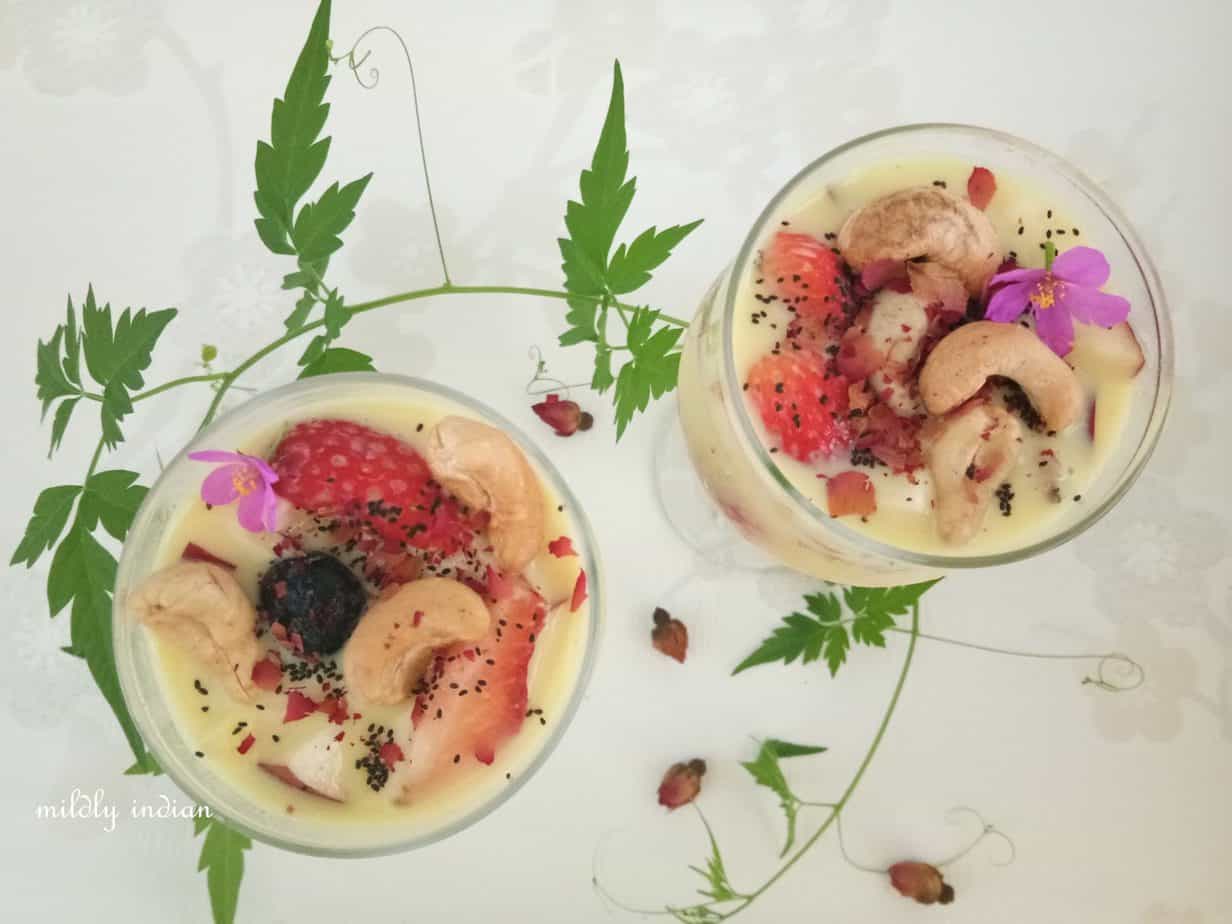 Turmeric cardamom custard.
Eggless smooth dessert , perfect for sit down dinners.
Ingredients
2

tbsp

arrowroot powder

heaped measurement

1

litre

low fat milk

4

tbsp

unrefined sugar

increase as per your sugar intensity.

1/2

tsp

turmeric powder

1/4

tsp

green cardamom powder

1

cup

apple

chopped, sweet red

1

cup

strawberry

chopped

1/2

cup

blueberries

1/2

cup

Assorted nuts

1

tsp

edible flowers
Instructions
Take the arrow root powder in a small bowl , add a five to six tbsp of milk and mix it up wwll without any lumps to form a pouring consistency. add a bit more milk if too thick.

Pour the rest of milk into a deep saucepan and slowly being it to a boil.

As you see the milk bubbling up stream in the arrowroot slurry slowly, stirring continiously so that no lumps are formed.

Add in the Turmeric powder

Keep stirring and assure that it doesn't catch the bottom.

On a low heat cook this milk mixture and you can see the milk getting a bit thicker.

Keep up for 7 minutes, dont miss to keep mixing.

Add in the sugar,cardamom powder and stir in well.

Remove from the heat and set aside to bring to room temperature

Into a mixing bowl, add in the chopped apple, strawberries, blueberries and half of the nuts. Toss well

Pour in the cooled down custard to the fruits and mix well.

Cover the bowl and chill for one hour

At this time you can move them to individual serving containers also and then chill

To serve, ladle in the chilled custard into tall glasses, top it up with a few more nuts, and decorate with edible flowers.

Serve up and enjoy the smiles.
Notes
Corn flour is  the common custard thickener, but the arrowroot powder gives a more luscious feel to the custard.
For a bit of something extra i have used a few basil seeds and dried rose buds crushed.. You can play around with these or more.
Nutrition
Serving:
70
g
Calories:
10
kcal
Carbohydrates:
2
g
Protein:
0.4
g
Fat:
0.1
g
Saturated Fat:
0.1
g
Polyunsaturated Fat:
0.004
g
Monounsaturated Fat:
0.03
g
Cholesterol:
1
mg
Sodium:
4
mg
Potassium:
17
mg
Fiber:
0.1
g
Sugar:
2
g