The two-ingredient uppu manga condiment, most overlooked in a home-style Kerala meal is not just a memory. It is a tasty accompaniment that makes the meal come together. Check out this easy, vegan, low-effort, salted mango pickle recipe.
Amma being a practical woman instils to date that anything she grows should not go to waste. On her birthday I knew she would say she wants nothing. She will cook a simple meal that is suitable for appa and her. Though staying far away I wanted to replicate a meal that she probably will have. While doing so I remembered her particular affinity for uppu maanga. These salted mango pickle pieces always accompanied her meals. Though a basic recipe it tasted amazing with this simple meal. If you are curious about what other pickles you can make with mangoes, check out the mangavattal, nurukku maanga achar and menthiya manga oorugai.
Ingredients for this salted mango pickle. 
This is a two-ingredient recipe. So it is literally mango and salt.
Mango: raw mango is what we use to make this pickle. Choose the fresh picks of absolutely sour mangoes to use as the slightly ripe ones will not hold up to the salt.
Basic seasalt: with all its minerals seasalt will be perfect here. You can use pink rock salt too. However, not black salt.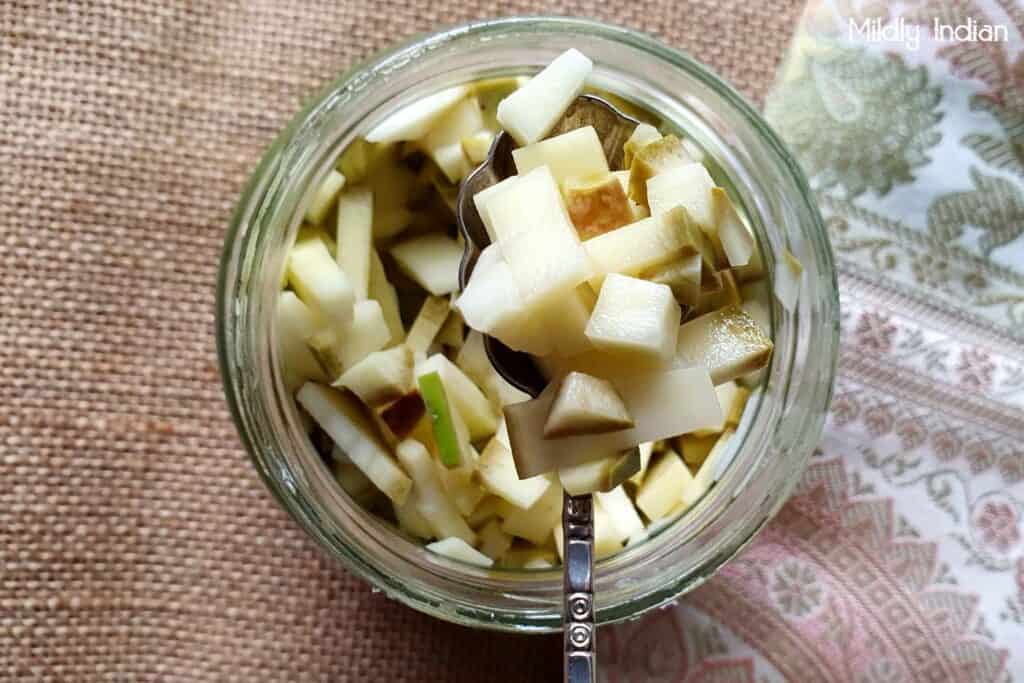 Do you need to add vinegar and chillies?
The version of uppu maanga that you pick up by pieces from the small vendors around Kerala has a bit of vinegar and birds' eye chilli marinating in the liquid. This is made quite differently. Here water and vinegar at a ratio of 1:1 are boiled with salt. The cooled liquid is then poured over the sliced mangoes along with slit bird's eye chillies (kandari molagu). The mango used here is not the sour kind but the kind called kilichundan  or thothapuri (birdbeak).
This preparation tastes lightly different and stays a bit longer without refrigeration.
How to use this salted mango pickle?
The uppu maanga is a perfect side to the South Indian thali, a simple millet platter or even with porichakozhambu.
Just like maanga chammandi you can grind this with coconut and green chillies to make a delicious chutney as a side for kanji, dosa or idly.
You can further transform this into the mango achar by tempering it with mustard, curry leaves in oil that has spicy chilli powder added to it.
Uppu maanga
Equipment
Cutting board

Knife

glass bottle
Ingredients
1

medium

mango

raw green mango

1

tsp

Sea salt
Instructions
Wash and pat dry the mango.

Slice and chop the mango into small pieces.

Add it to the clean dried glass bottle.

Cover the bottle and leave it for a few hours.

The salt will draw out the juice from the mangoes.

Shake the bottle once every two to three hours.

The mango is ready after about 8 hours.
Some easy salted pickle recipes from our blog.
Simple non spicy pickles are such a lovely taste add. Here are some from my pickle collection.
Pickled cabbage
Turmeric root pickle
Pomelo pickle
Young ginger pickle
Stay connected
Choodu choru, papadam,  uppamaanga (steamed rice, papad and this brined mango,) are still a favourite combination for us. However, I have put together a platter similar to what amma would. If you haven't checked us out on Instagram, here is the reel link.
Stay subscribed to this blog as we explore these homestyle lesser-known recipes before they vanish totally. Hope you can make a bit of this to try. When you do, rate us and let us know what you think of this recipe in comments and by rating. We love interacting with you, so stay on and enjoy more posts.
Catch you later.