The winged beans, said to have originated in New guinea is often seen on the cuisine in South East Asia. It is named in a lot of local remedies and as my favorite wet market green grocer lady informs me…."very good health lah". Predominantly seen as fresh salad or sauteed with a chili based paste the young pods seem to be the favorite. The entire parts o the plant are edible- the leaves, the tender pods, flowers, the mature seeds and the root tuber are used. Sauteed, steamed,grilled, roasted or fried this is common ass street food all around the region. The flower is used to color rice or rice based desserts.
Psophocarpus tetragonolobus  is known by its multiple names, Dragon bean, four cornered bean,Char Phakiya, Chathura payar, Asparagus beans, Princess Pea, Sigariliyas,Kachang botol,or Goa beans.
This easy to grow legume is well known for its nutritional value and low calorific value. 100g affords for around 50 k CAl.  Now this is a happy news for most dieters and for those who want to lose  weight.
Fresh tender pods of Winged beans are well known for the high amount of folates. Highly valued for pregnancy sustenance and recommended by locals for prevention of birth defects.
As a protein source the young pods can provide approx 12% of the recommended daily allowance, the tubers too are known for a protein content much higher than tapioca or potato.
  Winged beans builds immunity as it's rich in Vitamin C and some of the B complex vitamins.
Also some caution
The winged beans are rich in oxalic acid and hence be consumed by people known to be prone for kidney stones with caution.
Check out the salad with the dipping sauce here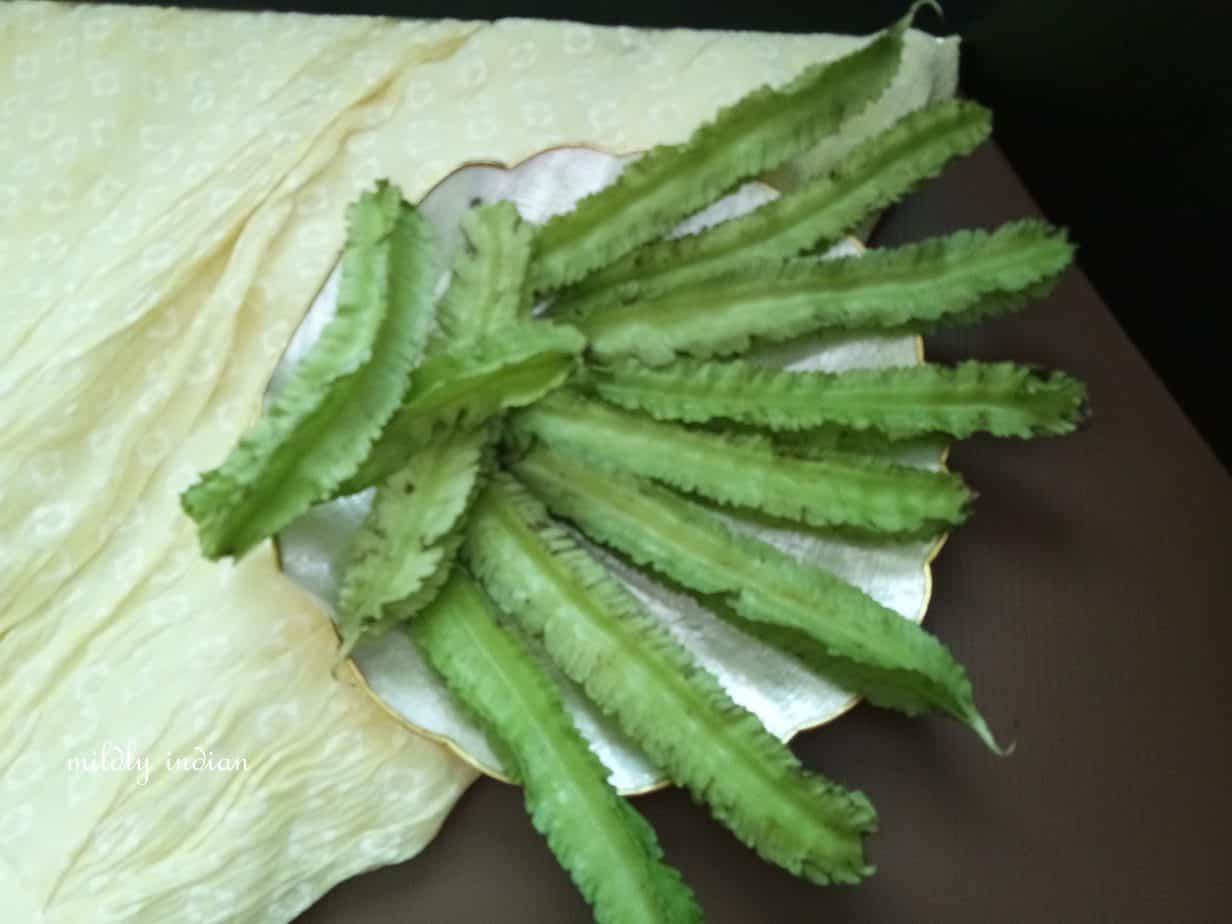 Winged bean
Nutrition
Sodium:
2
mg
Potassium:
56
mg
Calories:
13
kcal
Monounsaturated Fat:
0.1
g
Polyunsaturated Fat:
0.05
g
Saturated Fat:
0.1
g
Fat:
0.2
g
Protein:
2
g
Carbohydrates:
1
g