Every woman should take in some solo travels. This boost confidence and understanding of who you are. Though I had taken up a couple with my kids, being entirely on my own was one I explored a couple of years ago. The spot I chose was Japan. Without a doubt, culture and food inspire me. Thus trip was an exploration of the same and test my metal out.
Vegetarian food during Japan travel.
It is slightly difficult if you are looking for vegetarian options on a quick basis when you are in Japan. Of course, there are plenty of vegan cuisines to sit down eats, but my thoughts were more on the travel and I was most happy to rest my feet for the evening, than classic dinner outings. The Convenience stores in Japan are some of the best equipped to cater to most needs next best to the vending machines. They package cute settings of food that you can pick up to have and putting them together it became a sumptuous meal. Pretty much most of the travel days, I loved this experience. What you need is just a little bit of insight into easy to eat vegetarian foods that are available in the cuisine and the willingness to try some. 
It was during this time I spotted the onigiri and loved it. A pack or two of onigiri, a small salad and fresh Edamame was my kind of happy meal. Top it up with a cherry blossom daifuku, so good I loved every bit of this.
Bring back the onigiri
Once back, I was so eager to share this onigiri secret. Since rice was the key ingredient, it was quick and easy to make and fit perfectly in the lunchboxes. Slowly and steadily we explored various fillings and worked on getting that triangular shape perfect. That is still a work in progress,  but the onigiri sure hung on.


Making the onigiri
Onigiri us a homestyle prep that helps to keep rice fresh without refrigeration. We have onigiri withHiyayakko and Sunomono.
Freshly cooked rice
The key to getting a good onigiri that holds shape is sticky rice. Among all the different types, I love the sticky black rice one. Since it is not polished rice the germ and bran still intact adds to the nutrition.  The rice in onigiri is not seasoned, unlike sushi.
Wet hands to shape
To get the triangular shape it is best to keep your hands wet. In this way, the sticky rice will not stick to your hands making it easy. I make a ball firest before I shape it out. 
Just a touch of salt.
Rub a touch of salt on your hands whole making these. These help to flavour the onigiri.
Filling
I am not the most explorative when it comes to filling these. Mainly, this is because I am still learning to get the shape right and ut us harder with the filling. I love avocado, crushed chickpeas or some edamame to start with. Follow the pictoral and let's get making these cute shapes.
Making these black rice onigiri is a fun and creative day in the kitchen.  Add ing nori, sesame seeds et and making cute little faces in them is totally up to you. Hope you and your family have a fun exploration of Japan through this. Stay on with us this week as we bring forth explorative adventures from around the world to you.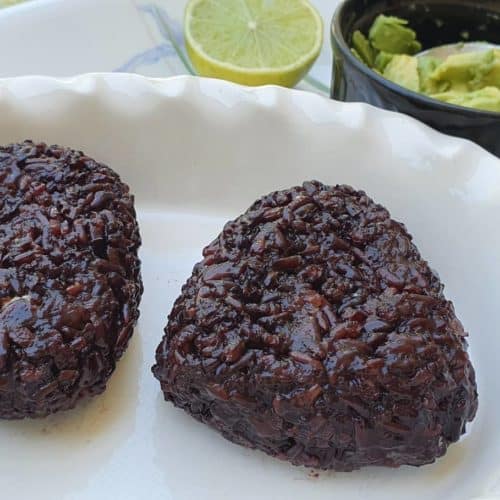 Black rice Onigiri with avocado filling.
gluten free, vegan onigiri parcels filled with avocado
Equipment
Rice cooker

mixing bowls and spoons.
Ingredients
For cooking the black rice
1/2

cup

black rice

1.5

cups

drinking water
For the avocado filling
1

small

avocado

1

tsp

lime juice

1

pinch

salt
For making the onigiri
1

small bowl

drinking water

4

pinch

salt
Instructions
Wash the rice and soak it for 10 minutes with the 1.5 cups of water.

Transfer this to the rice cooker and set to cook.

Meanwhile wash, cut and scoo the avocado flesh and chop it into small pieces.

Add it to the mixing bowl with lemon and salt and mix well.

Once the rice is cooked scoop it out and cool it for a whilte till it is warm.

Once the rice is come to a warmtemperature that you can handle, wet your palms and sprinkle a bit of salt on them.

Now scoop out a handful of rice on to your palm and make a small depression in the centre.

Cover this up with the rice and make it into a ball.

Now shape this ball to form a triangle.

Place it on a plate and proceed with the rest of the rice.

Wrap with a cling wrap if keeping for later so the rice does not dry out.