We have been a bit on the down side of health. Now trying to nourish ourselves up. During these times, easily digestible simple meal stay be what our tummies need .
A porridge and  or a gruel has been an everlasting comfort to nourish back to health.
Here is one I like from the Chinese cuisine.
Being predominant rice eaters the tradition allows for this simple soup to be served at breakfasts and to convalescent. Plain brown rice congee  can be pretty boring to taste. this is  pepped up often. Usually it is served up with an array of veggies and condiments to mix and match as per your palates demand. Many a times this is a preparation with meat cooked into it, therefore if you are vegetarian , you may want to ask for a vegetarian version of you are eating at a restaurant/ hawkers. They often oblige too.
The preparation of which is really simple .. so save the recipe for those days when kitchen is not your favorite place and if unwell. This recipe serves well and is filling for  the babies and toddlers too as it is easily digestible and quite well mashed. Choose your accompaniments wisely  and you have a refreshing gluten free rice soup  for the diabetics too.
In this picture the accompaniments are soy sauce, sesame oil…a few drops adds a bit of nutty creaminess, sliced spring onions, roasted sesame seeds
Further more you can try , Stir fried greens, Chill oil, Pickled jalapeno, Mushroom stir fry,  chili in vinegar and the list goes on. I sometimes see my kids add in some maple syrup and slurp away too…
 You can come up with more interesting combos with your trials, the basic  congee is all what you need.
Check out more simple one pot preparations of similar kind listed here
So here we are with the simple recipe. Prepare it and ping back as to which are your favorite combinations.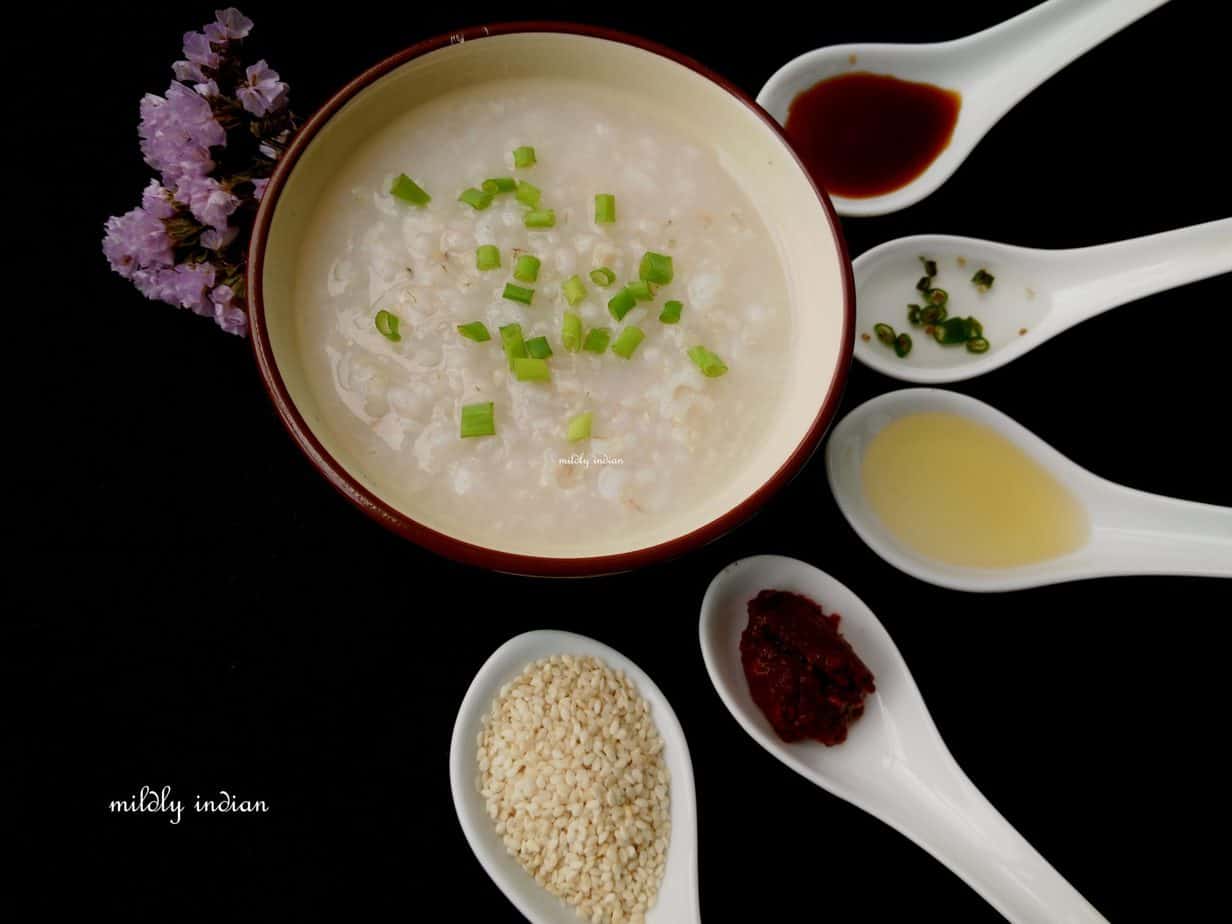 Brown rice congee
Chinese cuisine basics
Ingredients
1

cup

brown rice

short grain

9

cups

drinking water

1/2

tsp

grated ginger

optional
Instructions
Pick wash and clean the rice.

Place the rice and the water into your rice cooker.

Set the timings, or monitor around twenty minutes.

Gently mash the rice after twenty minutes and continue bubbling away..till it is scoop able and not watery. 

Serve this hot with the accompaniments
Nutrition
Serving:
100
g
Calories:
37
kcal
Carbohydrates:
8
g
Protein:
1
g
Fat:
0.3
g
Saturated Fat:
0.1
g
Polyunsaturated Fat:
0.1
g
Monounsaturated Fat:
0.1
g
Sodium:
101
mg
Potassium:
14
mg
Fiber:
1
g
Sugar:
0.1
g