Cranberry  tea or flavored tea is very popular. Walk down the aisle  and you will see plenty of flavored cranberry drink very many propagated as a super food. Cranberry can be considered a super food based on the number of health benefits.
the  proanthocyanids in the cranberry prevent adherence of bacteria to the walls of the gut and urinary bladder there by removing some chances of UTI.
the same effect helps in cleaner teeth, there by better oral hygiene.
 it is rich in fiber and hence aids digestion
the polyphenols are a immunity booster
while it reduces the development of atherosclerosis.This is due to the content of flavinoid. Thereby,  becomes heart healthy
With all these great benefits I am sure you are looking forward to the tea on the aisle.
Back to the aisle, have you take a look at the amount of other ingredients in the same cranberry tea you buy off the shelf. It always set me wondering, a couple of bottles a handful of cranberries and a few teabags could actually do me better than pay for this colored water off the shelf.
The unpleasant truth
While sugar is generally added to mask the tartness of the cranberry. The dyes are added to enhance the color. You may find allure red or erythrosine as dyes.  These chemicals  are called out for some health risks and behavioral disorders . So, the health benefits have already been taken over by the sugar and the added colors.
There fore upon getting a pack of freeze dried cranberries, this is exactly what I do.  Gobble up  a few per day or  make tea. Consequently the tea is  definitely cheaper  and evidently more effective and best of all; no sugar and fizz.
Therefore, this ruby colored tea, without  any caffeine can keep you  hydrated through the day. The mild sweetness from the cinnamon is refreshing. However, this is not a cure for urinary tract infection as it is popularly known.
Check out this tea recipe  below or more beneficial spiced tea recipes here:
https://mildlyindian.com/recipe/licorice-root-tea/
https://mildlyindian.com/recipe/corn-silk-tea/
https://mildlyindian.com/recipe/sulaimani-the-malabari-tea/
Dragon eye longan tea with Oolong.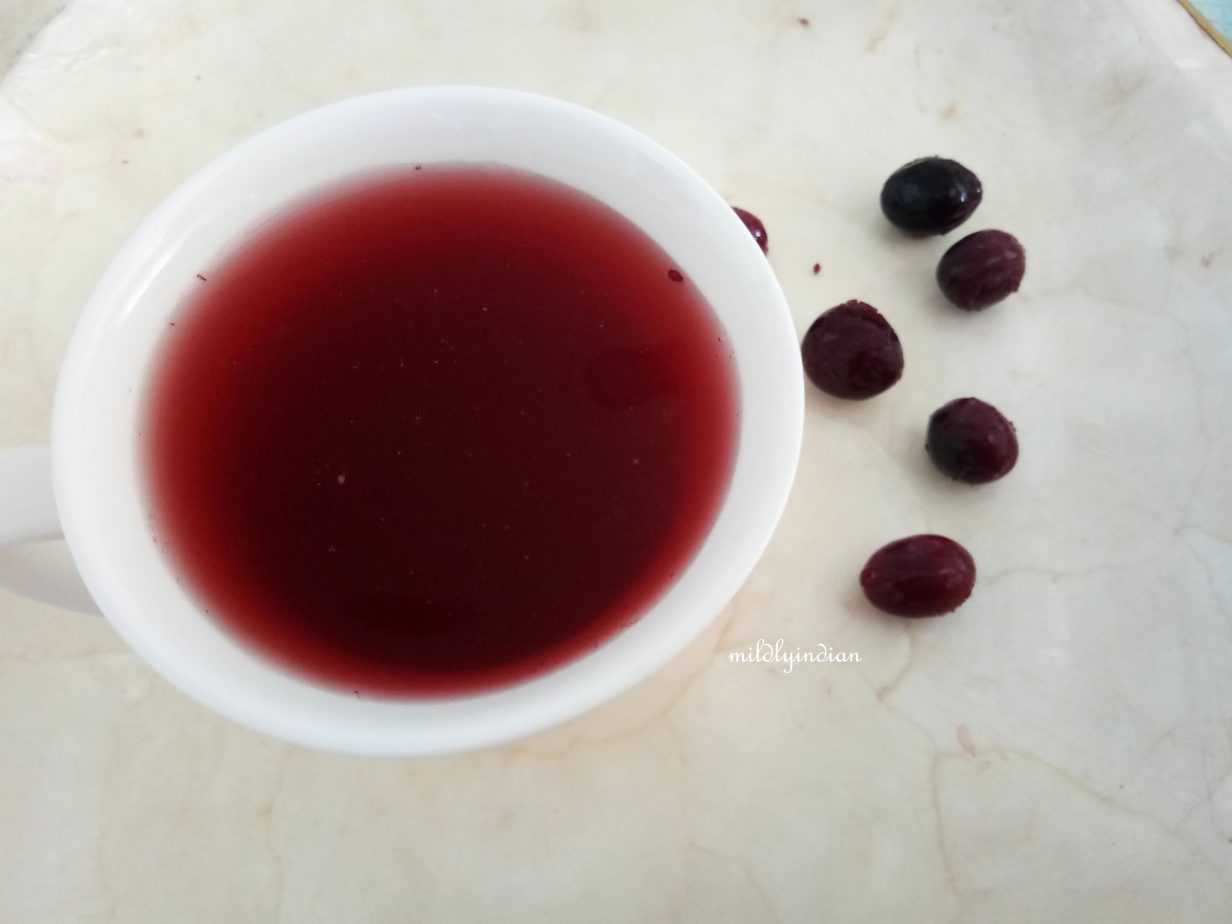 Cranberry tea
Superfood infusion
Ingredients
2

tbsp

cranberries

crushed, fresh or frozen

1

teabag

green tea

6.5

cups

drinking water

1

cinnamon stick

2

cloves
Instructions
Boil the water in a kettle

Add the cloves and cinammon

Seep the tea bag into it for two to three minutes

Add the crushed cranberries

Stand the tea for a while and enjoy.
Notes
You can vary the spices as per your choice, try some cardamom, star anise or even a pinch of pepper.
Nutrition
Serving:
100
g
Calories:
2
kcal
Carbohydrates:
1
g
Protein:
0.02
g
Fat:
0.01
g
Saturated Fat:
0.001
g
Polyunsaturated Fat:
0.003
g
Monounsaturated Fat:
0.001
g
Sodium:
6
mg
Potassium:
4
mg
Fiber:
0.2
g
Sugar:
0.2
g