Ever since the coronavirus discussions have been on, I seem to be digressing from the fact that I have a blog to write. It has definitely taken over my daily thought process. my microbio background instinct has kicked in. All I can think of is clean, sanitize and immune system. I seem to be functioning like a robot than being that normal self. Today was the point of self-realization that maybe I Am going a bit overboard with this. Thankfully I have not done much panc buying, so hopefully will stay a bit sane.
Returning back to being myself
The key factor to resisting any viral attack on the respiratory system is our immune system. There is nothing more important than self-care at this point. Good levels of nutritious food, fresh fruits and veggies are the best to get us through this period of the pandemic. Stay calm as there is no use to all that stress.
I couldn't think more than getting the vitamin c levels on the check as the first set of preventive, just good old wisdom and can't think of anything better than the citrus fruits. So,  gathered up all those tangerine at home. Then just true to myself as an Indian mom, I get that bit of turmeric out… can't get that habit out of me!!! Now to make it exciting, probiotic-rich natural yoghurt and a bit of sweet squishy frozen banana. Tada…. you have it all set. Now Whizz away
This tangerine shake is light, refreshing and exciting at the same time. It has a few touches of being close to a creamsicle and yet not weighing us down with all that cream.

Let's just enjoy the stresses away. The world is going to go on and learn new ways, keep hopeful and count your blessings.
Here is more
If you are looking for a dairy free smoothie, here is one
Pear Orange Smoothie – Easy and Nutrient rich recipe
If you have more citrus lying around, try this
Keep in touch.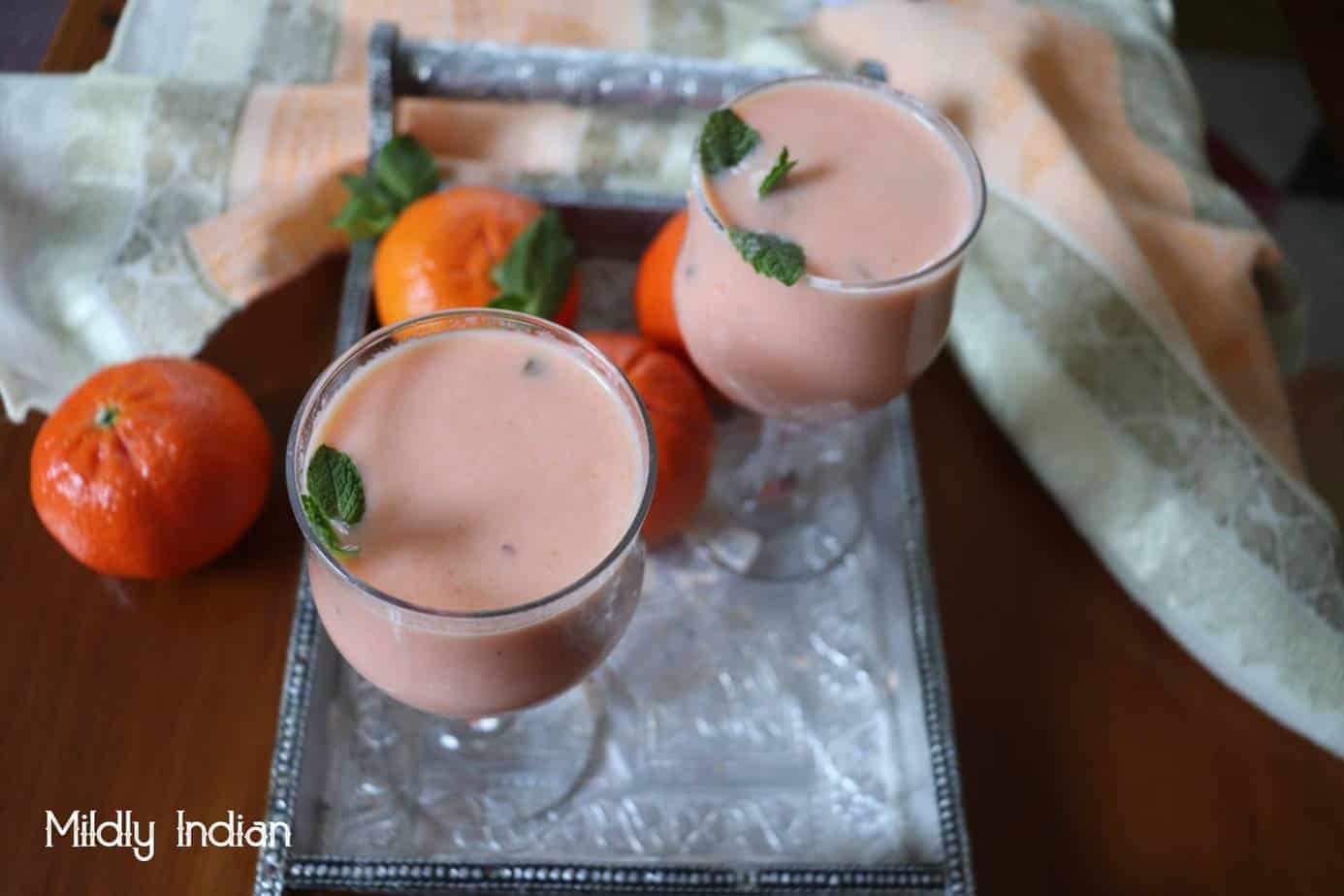 Tangerine shake
with turmeric and yogurt
Ingredients
3

large

tangerine

( can do with oranges)

1

inch

turmeric grated

1/2

cup

Banana

frozen

2

cup

low fat yogurt

1

cup

crushed ice

2

tbsp

honey
Instructions
Peel the tangerines remove the seeds and add the flesh to the blender

grate the turmeric and add to the blender.

Add honey, frozen banana and crushed ice and blend well with the turmeric and tangerines.

Add the yoghurt and give a quick whizz

Serve immediately in tall glasses

The recipe cannot be kept for long as it slightly turns bitter. So enjoy it immediately.