Though it was the fag end of summer in Sydney,  the first realisation of the climate in Australia was that it was cold. We moved from hoy humid South-East Asia and were unprepared for chilly evening winds. With our stuff expected to come after Easter, pretty much we had to find ways to keep warm in the new rental place. One of the best things to do was to eat! Certainly, calories keep us warm!!
Anzac biscuits were one of the first baked goods I bought in Australia. It was from the nearest  "woolies "bakery. Nothing fancy. It was a small box we munched through quietly, on a cold night watching the clear sky studded with literally the whole milky way.
A little about Anzac biscuit
The earliest published record of these historically significant, the biscuit is from world wartime. At the time when treats have to endure long travel and wait, edible soft treats could get spoilt. These wartime bakes were not for delicate teatimes. They are a hard biscuit, know for their buttery caramel flavour. They are also hard biscuits and in no way a cookie. Sometimes so hard it goes well to dunk in some tea or even grated into the tea. By calling it biscuits I need to add in that it is not like the American style biscuits,  now that similar to a scone. It is one that kept a lot of men alive by letting them know their loved ones cared for them from back home.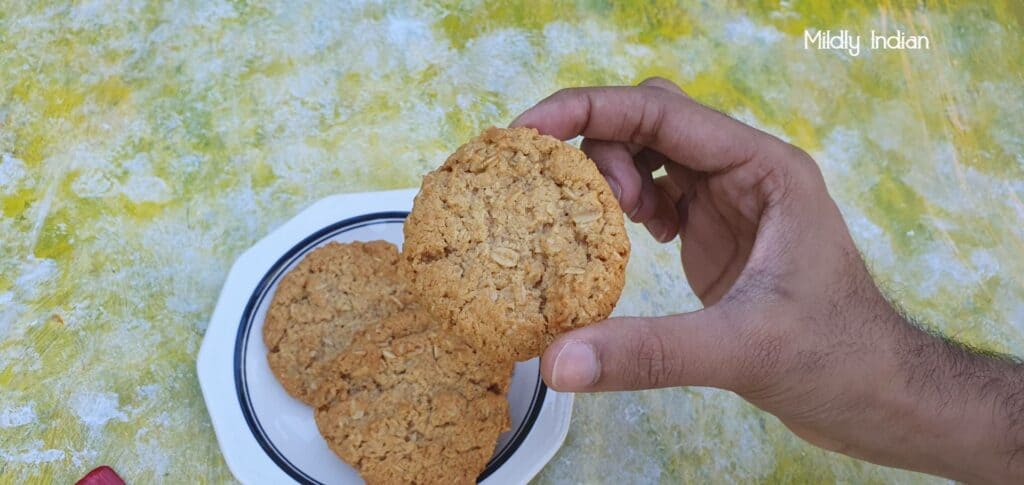 Don't mess around with the Anzac biscuits.
Being a national pride the recipe is not for much tweaking. Pretty much it is a straightforward long stay recipe so why mess with it!! Anzac biscuits are never to have chocolate chips in them. That takes of the whole historical significance of it. Crispy or chewy, that depends on the thickness of the cookie. Now, mine turned out to be crisp and not chewy. Well, I am still figuring out how to get the chewy one going next time around. If you have a clue of how this can be achieved, I will love to hear the idea in the comments.
Scroll down for the recipe, pretty much relying on the recipe I could find closest to the best recorded one- source. I am sure you may have your version of it in your family. If you do please share it as I will love to try them. Leave the contact or recipe in the comments. 
Anzac biscuits
World wartime Anzac biscuits are pride of Australia and Newzealand. Here is a humble attempt to try the recipe.
Equipment
mixing bowls and spoons.

saucepan

measuring cups and spoons

baking trays
Ingredients
Dry ingredients
2

cups

oats

rolled oats, not instant oats.

1

cup

all purpose flour

1/2

cup

unrefined sugar
Wet ingredients
1/2

cup

butter

2

tbsp

golden syrup

(Bought from the baking section)

2

tsp

hot water

1

tsp

baking soda
Instructions
Preheat the oven at 180 degrees

Into a large mixing bowl add the dry ingredients and mix well together.

In the sauce pan add the butter and set it at medium heat to melt.

As it melts add the golden syrup and stir it in well.

In a separate small bowl, mix the baking soda with the hot water.

Now pour this into the bubbling mix of butter and golden syrup. Mix well.

The wet mixture will now be bubbly and frothy. This is what you need.

Remove from heat and pour into the dry ingredients.

Using a spoon, genly mix the dry ingrendients with the wet ones.

The mixture will be hot so be careful.

Spoon small portions on to a cookie tray ( baking tray) and press down gently with the back of a spoon.

Leave enough gap between the cookies as they spread while baking.

Bake at 180 degrees for 12 minutes.

Remove and rest the cookies to cool.

The cookies are perfect with a cup of Earl grey tea.
Notes
In most of my recipes, you will not see the use of All-purpose flour. Here I did not want to mess with history. The Sugar used is unrefined granulated sugar and golden syrup a generic one from the baking section of the local supermarket.