When you serve biryani in Malabar style there are a few condiments served along with the main dish. The bowl filled with deep pink achar is a real treat to the ones who have tried it. This is beetroot and dates achar or biryani achar
Where did I learn this pickle?
Biriyani was not one that was made often at home. At times, mum gets me a pack of the fabulous Thalasherry Biriyani. Wrapped in banana leaves, the biriyani came with just a tablespoon of the deep pink sweet biryani achar on the side of the pack, a papadam, chammadi and a small pack of the raita salad. I don't think anything mattered to me more than the mild biryani and the pickle on the side.  For years I have been playing around with beetroot pickle to get that flavour perfected. Finally, it is spot on so here it is for you.
The taste of this biryani achar
Sweetness is the first taste that hits your tastebuds with this achar. Then comes a complex sour and spicy hit. This is the best I can describe this pickle. But it is much more than that, there is garlic and ginger too!! So enjoy as the layers of flavour unfold in your tastebuds. Close your eyes and make a memory.
Ingredients for this pickled beetroot recipe.
Beetroot- the root vegetable, garden beets are loved for this fibre-rich sweet tasty. Pickled beets are one of the best recipes.
Dates – from the Arabic trades dates find a comfortable place in the Malabar cuisine. The dates are the sweetness factor in this pickle.
Garlic- it is a complex flavour with the roasted garlic in this recipe. But don't skip, it is not the same without it.
Ginger – creates a lovely flavour with the garlic and when pickled tastes amazing
Chilli flakes– of course, you need the spicy kick to any south Indian achar that comes from chillies. you can use chilli powder if you don't have crushed chillies.
Salt- flavour and preservation come from salt. I have used crushed rock salt for this recipe.
Curry leaves and mustard -the tempering of curry leaves and mustard adds another layer of flavour to this recipe.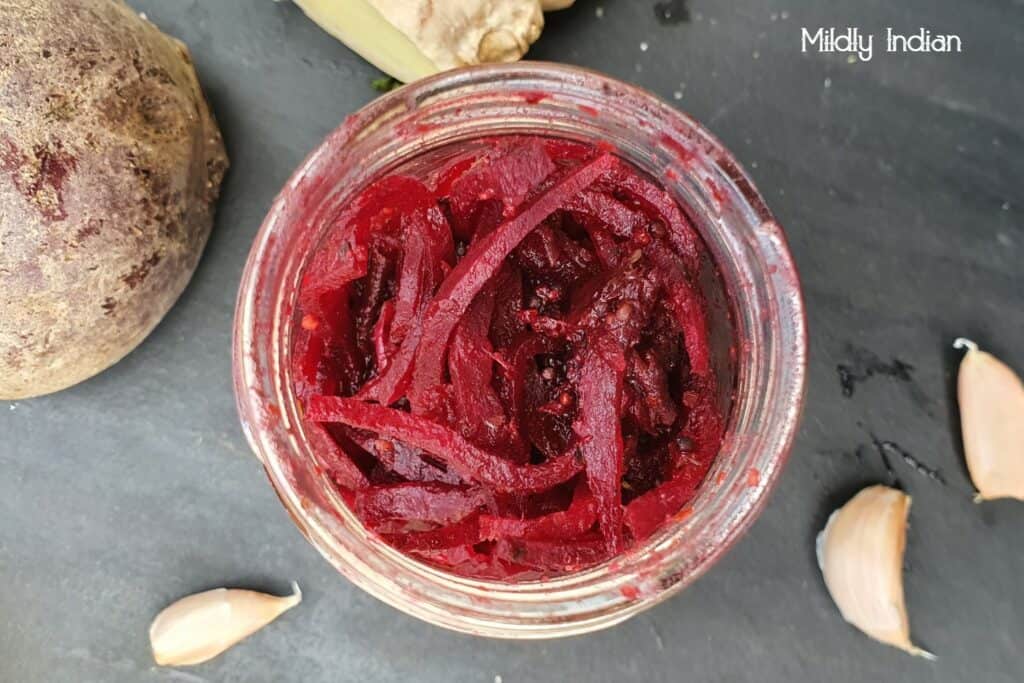 Biryani achar.
Malabar style beetroot and dates pickle served with biryani.
Ingredients
1

cup

beetroot

julliene

1

inch

fresh ginger root

julliene

5-6

cloves

garlic

sliced

4-6

dates

pitted

1

teaspoon

cooking oil

5-10

curry leaves

I have used 1/2 tsp dried powder

1/2

teaspoon

mustard seeds

Rock salt

1

teaspoon

red chili powder

2-3

tablespoon

vinegar
Instructions
Prep the ingredients
Julliene the beetroots, ginger, garlic and set it aside.

Pit the dates and slice them.

Brush the frying pan with oil, Srt on medium heat and add the mustard seeds.

As they splutter add the ginger, garlic, curry leaves and saute well.

After a couple of minutes add the beetroot.

Just as the beets start to sweat remove from heat.

Add the dates, rock salt, redchilli powder and mix well

Add the vinegar and mix well.

Spoon the mix into a clean dry glass bottle.

Let the mix cool well and then cover and set aside for a day.

The pickle will be ready the next day for use.
Serve this pickled beetroot and dates with a few combinations
Malabar biriyani combo- Biriyani and mixed vegetable raita. Don't forget for the best Malabar experience  you need papadam and semiya payasam to complete the meal. We have even paired this with Tender jackfruit biryani or the Chettinad style Kalan biryani. Both have been super hit combos when we had guests over.
Neichoru combo – just as much as you will love this with biriyani, neichoru with mushroom curry also makes its best with this achar.
Wraps and burrito – not a classic flavour, but scramble tofu wraps do well with this pickle.
More pickle recipes on this blog
Green Apple pickle – South Indian flavoured instant green apple pickle is a treat when you get no mangoes.
Quick Pomelo pickle – Save up a little bit of the pomelo pears as you have got to try this. 
Mango fenugreek pickle- A long-standing pickle with mangoes flavoured with fenugreek and achar masala. 
Pickled peppercorn- Tender green peppercorns in lemon brine is a long-standing pickle that needs no other masala added.
Young ginger pickle- or pink pickle is one for the sushi or Indian home meals. It is a simple vinegar free recipe.
Have you visited our Youtube Channel?
We are always all ears to hear your reviews, twists and turns. While you are here, do subscribe to get updates as regular as we can post them for you. Tag us @mildlyindian or #mildlyindian with your version of this pickled beetroot recipe on all your social media accounts.
See you at the next post.