I love fenugreek leaves and am so excited as I see more of that here than before. Added to that since I can manage to make the micro fenugreek greens like a pro now, methi is my go-to green whenever I feel like.
Methiyakeerai saadam,  mixed rice recipe is one I learnt from a sister of my dads. She had a collection of unique recipes she had collected from friends and neighbours since her move to Bangalore.
These hand me down recipes are gems. The other day as I was making her "
vangibath
 "mix, I remembered she had given me a recipe for a rice with greens. I really had to do a bit of digging up for the old book where I wrote all that, but seeing the recipe and tasting it, all the dig up was worth it.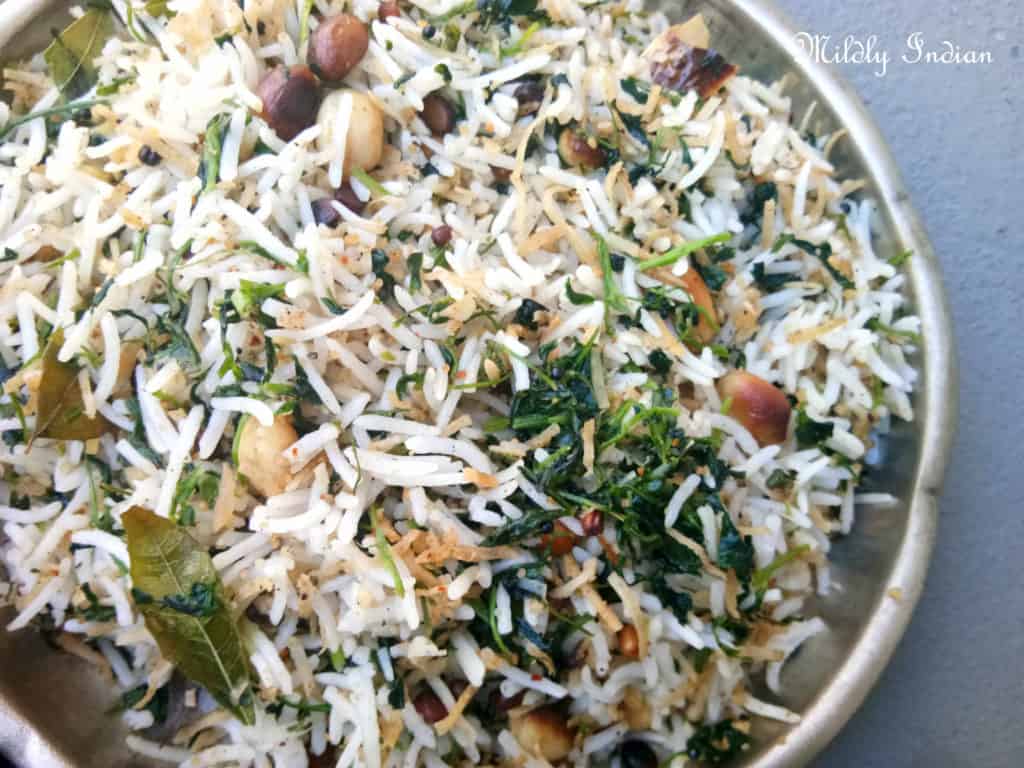 This easy to keep recipe uses a good amount of greens and is a great one in the lunchbox. The recipe can be successfully swapped for most Asian style greens based on what access you have. I do find the best is with the faint bitterness of methi and the opposing nuttiness of the coconut.
Why do we like fenugreek so much?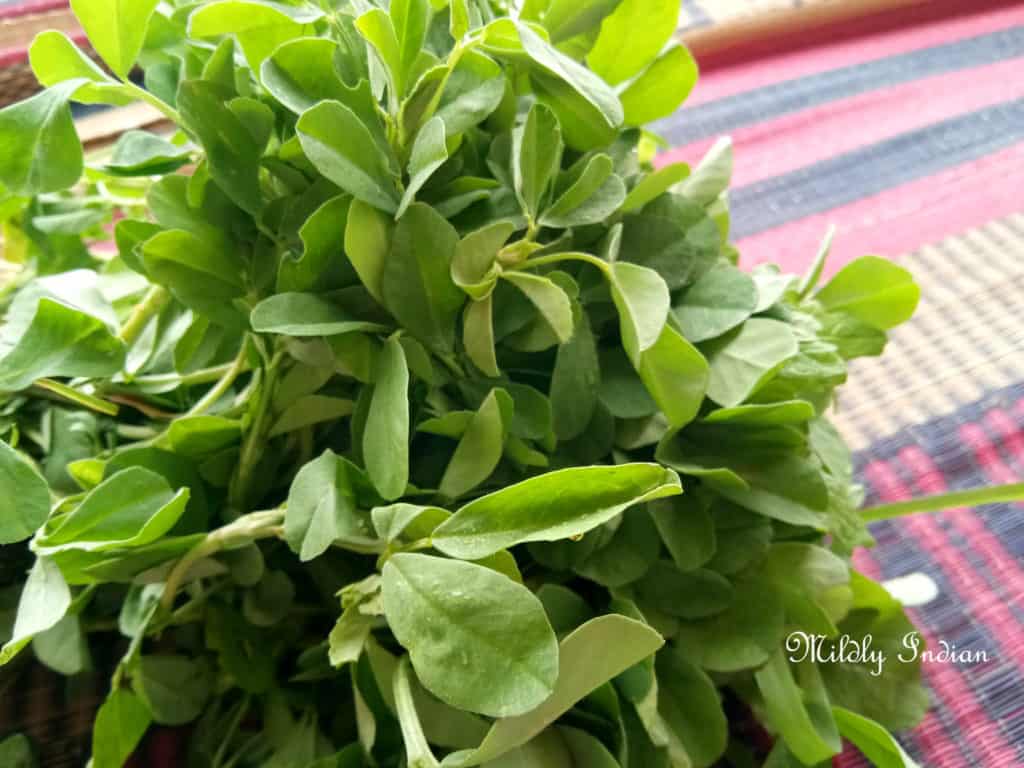 Fenugreek has equivalent benefits to cinnamon for a diabetic

With a great affinity for the reduction of cholesterol consumption of a small quantity per day is highly recommended

Since it is recommended in blemish removal treatments and wrinkle reduction, it should be very effective upon consumption too.

It is a leaf and therefore has a good amount of fibre needed for an effective gut

Yet again it is one that belongs to the dark leaves, with a good iron content which you may not want to ignore.
I guess I have given you a good amount of reasons to have this recipe for lunch soon. I am hoping to see some reflections and variations that you have brought about to this recipe to make it your own.
Meanwhile, keep in touch via Instagram or StumbleUpon.
Pin the recipe for later or save to your yum box, either way, it is one I highly recommend.
Here is one more fenugreek recipe
Try these rice based recipes too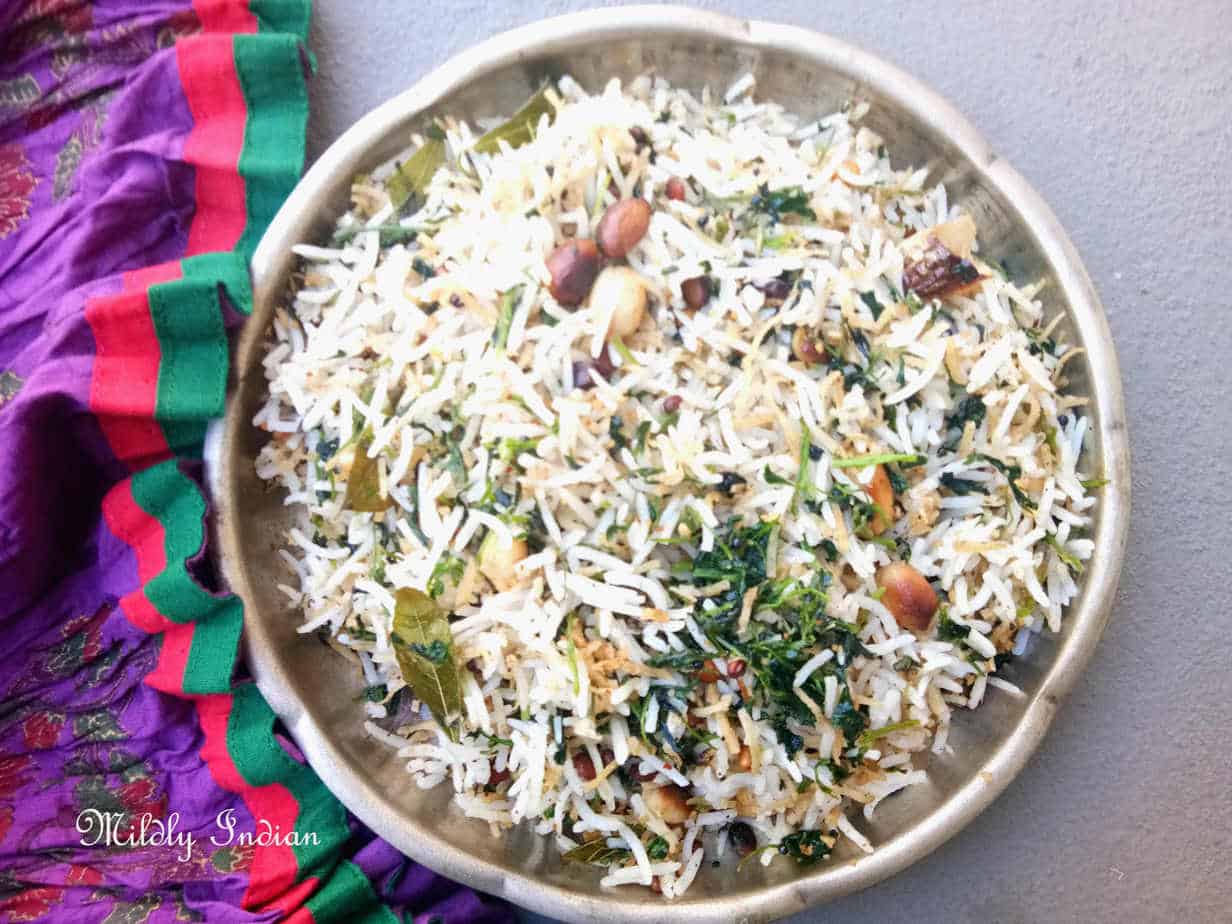 Mendiyakeerai saadham
mixed rice with fenugreek leaves
Ingredients
for the rice
2

cups

rice

long rice variety (white brown or red)

3.5

cups

drinking water

( follow the pack instructions based on the way you are cooking)
for the masala
2

tbsp

Urad Dal

black gram dal

2

tbsp

Channa Dal

bengal gram dal

1

tsp

sesame seeds

1/2

tsp

peppercorns

1-2

cloves

1

tsp

coriander seeds

1

tsp

cumin seeds

10 -15

curry leaves
the fresh produce
2

cups

fenugreek leaves

fresh, separated with tender stalk

3

tbsp

grated coconut
for the tempering
1

tsp

cooking oil

1

tbsp

ghee / clarified butter

( can replace with any oil)

1/2

tsp

mustard seeds

1/2

tsp

Urad Dal

1/2

tsp

Channa Dal

5-7

curryleaves

1-2

dry red chillies

2

tbsp

peanuts
Instructions
Clean and seperate out the leaves for the fenugreek with just a bit of the tender stalk

Wash them as they may have mud. If you use microgreens grown in water, you can rinse and chop the whole little plants. and set aside

Grate the coconut and keep ready

Cook two cups of long grain rice, fluff and set aside to cool so it won't break as you toss the rice later.

In a flat pan, roast the urad dal, channa dal,sesame seeds, coriander seeds, cumin seeds, pepper corns, cloves and curry leaves till crisp.

Cool this mixture and powder this masala coarsley and set aside.

Into a pan add mustard seeds, urad dal, channa dal, curry leaves, peanuts, dryred chilli ( I have used yogurt cured chillies, just because i had them),

Add the ghee and oil and saute.

As the mustard seeds splutter and the peanuts roast well, add the chopped fenugreek leaves.

Add salt needed

Saute well for two minutes and add the coconut.

Saute well and cover and keep for another 2 minutes

Now add the powdered masala and mix well.

Add in the fluffed rice and mix well, Check for salt levels.

Serve hot with a wedge of lime
Notes
You can use sambhar powder in the place of the masala too. Try this sambhar powder
Homemade sambhar powder
You can make this recipe in the instapot or pressure cooker too.Sprinkle the masala powder in the end and saute.