There are not many Bengali dishes on my blog. Predominantly this is because I did not think of the combination of panchphoran and mustard oil to create that phenomenal flavouring that my family will accept with ease Plus some of these ingredients did not feature into my long regular grocery list from the Indian store and hence never made it in my basket. This time around I was determined to make shukto and handed over the regular, South Indian dominated list to my husband to tackle and set out to find the ones I wanted to hold on precious, like radhuni (wild celery seed). I did manage to find quite a lot of stuff, but some of them still evaded me. Yet, the curry was brilliant and lip-smackingly good. So I do finally have somethig from the western side of my country into the blog as well. 
Hold on there is one  Bengali recipe on my blog…
The discussion with Priya Iyer who is my partner for the West Bengal challenge at  Shhh cooking secretly blogger group about Bengali food stems the idea of shukto.  this recipe is been on my mind for a long time now But I never got to it… This Indian store visit I couldn't be more determined. I also wanted to make something that complimented the tomato dates chutney she was preparing so together we could offer you a unique Bengali platter to serve with Rice or soft puffy Luchi.
Now to the shukto
Every Bengali knows how to make shukto… Now that's how the saying goes. So I decided to try my hand at this very essential recipe. To be honest, I don't think I would have read so many recipes for any other curry I made. This is because each one I read was different. So here is a mish-mash of them all with the ingredients I finally sourced. Hey, but I did not skip the absolute essentials, my secret ingredients panchphoran and bitter gourd. Of all the recipes I read, I realised the flavour profile develops from the locally grown vegetables and the combination of mustard and poppy seed masala. Brinjal, the raw  banana, moringa,  bitter gourd, ridge gourd, plantain stem, potatoes and sweet potato are the common vegetables that feature in sukto. So I collected whatever I could to feature it for you. When you get some of the vegetables and spice, don't miss to try this soothing stew.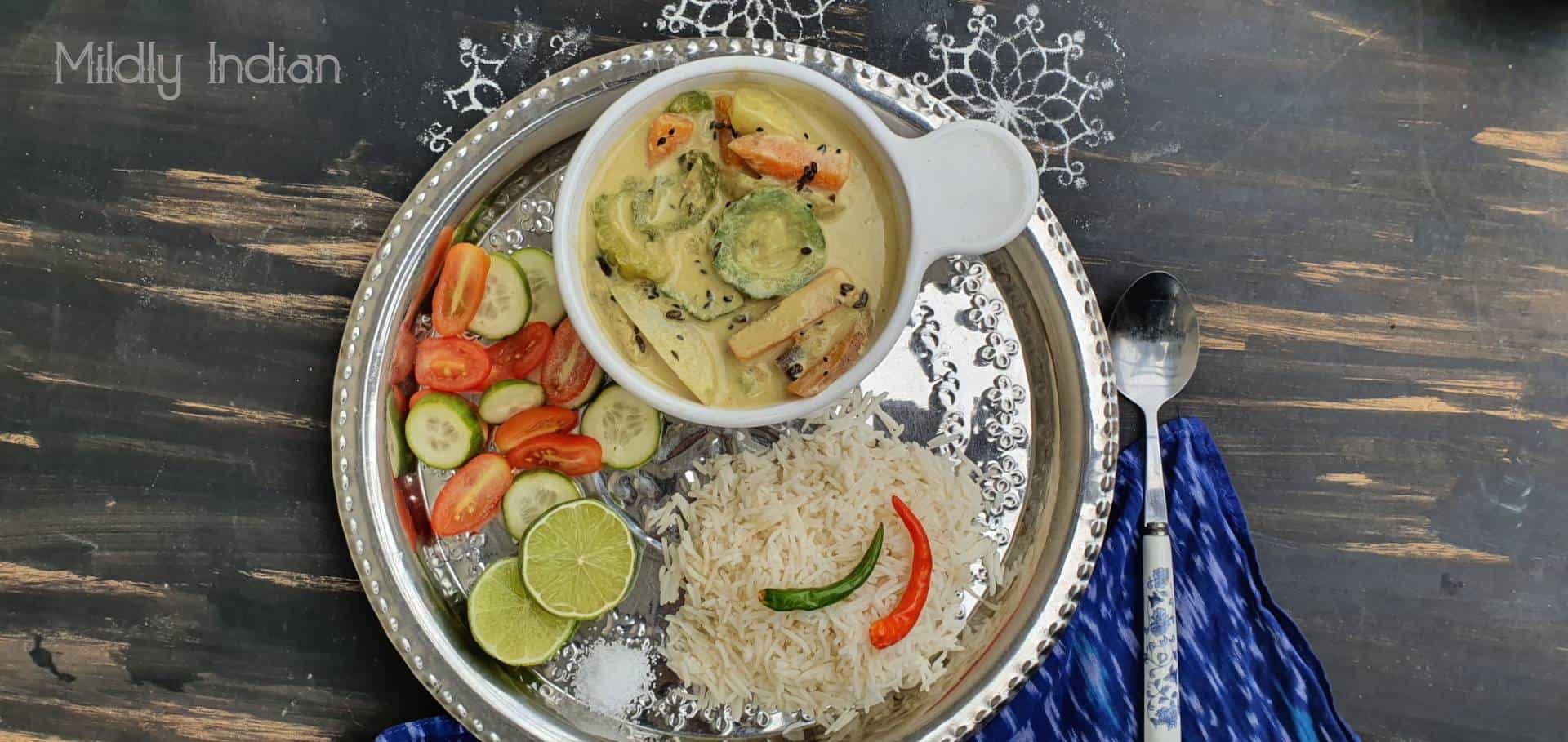 So let's move on to the recipe…
I found this such a comforting recipe and I guess I will keep repeating this recipe now that I am a fan of it. Next mission, I need to get some expert Bengali person to authenticate it. So try it and let me know if you can authenticate it. If I need to change it a bit… Share that with me and I will be glad to try it out.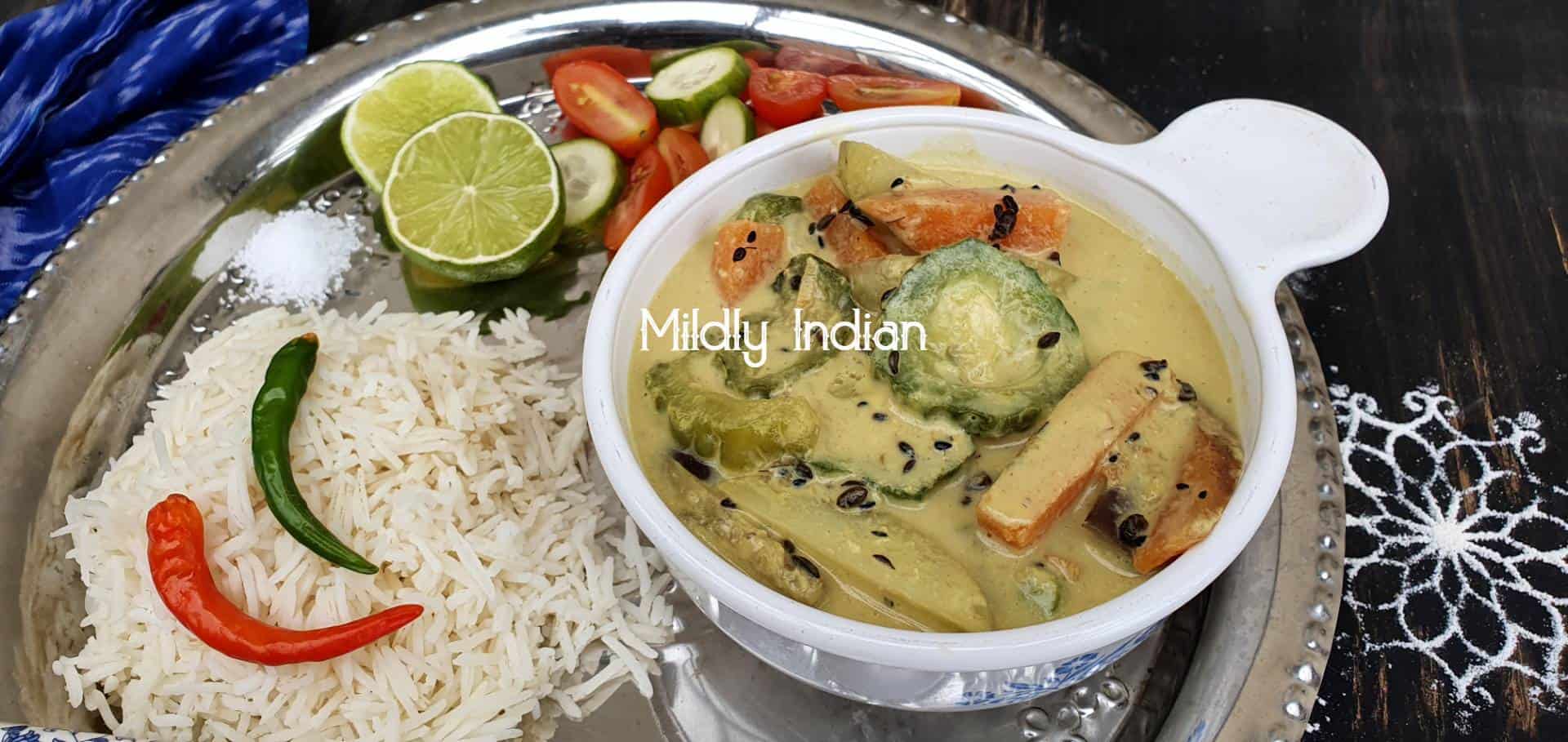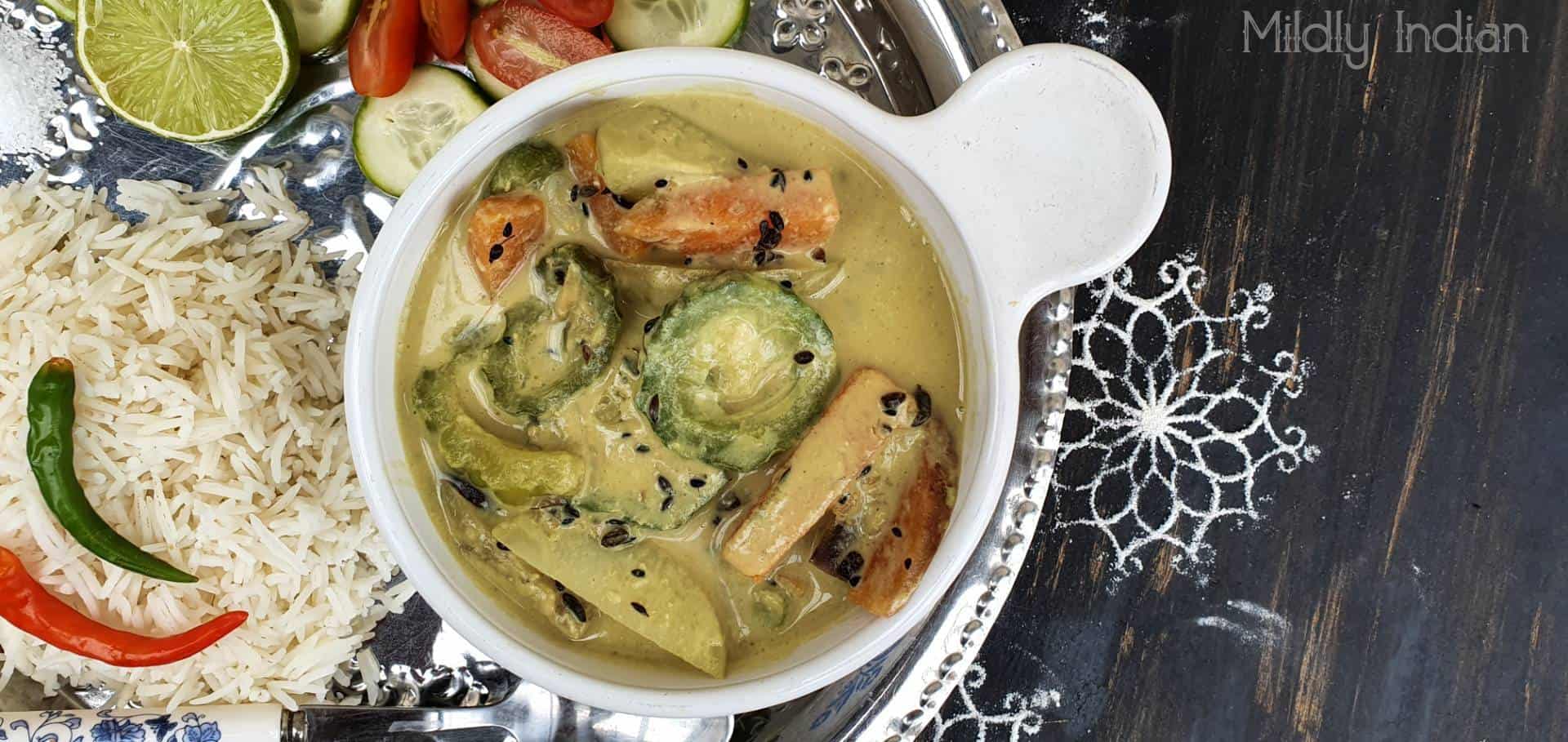 Dudh Shukto
Bengali mixed vegetable curry
Ingredients
vegetables needed
1

medium

bitter gourd

remove the seeds and cut into roundlets

1

long

ridge gourd

remove thick barbs and peel a bit, then slice into roundlets

1

large

potato

cut into wedges

1

long

eggplant

sliced into batons

1

long

drumstick

cut into 2 inch long pieces

3-4

long

yard beans

cut into inch long pieces

1/2

medium

sweet potato

cut into batons
for tempering
1

tsp

Panchphoran

1/2

tsp

wild celery seeds

(radhuni)

1

tbsp

mustard oil
gravy
1

cup

full cream milk / plant based milks

3-4

cups

drinking water

1

pinch

turmeric powder

salt to taste

1/2

tsp

Sugar/brown sugar
shukto masala
2

tbsp

poppy seeds

1

tbsp

mustard seeds

1/4

tsp

fennel seed

1/2

tsp

fresh ginger root

grated
to garnish
1/2

tsp

ghee / clarified butter
Instructions
Soak the poppy seeds, mustard seeds and fennel in water for 10 minutes

Grind this into a smooth paste

Strain this mixture to get a smooth paste

Prepare the vegetables as described above

In a wok add the mustard oil and as it heats up add the panchphoran and wild celery seeds.

As they sizzle and crackle add the bitter gourd and eggplant and fry them.

once fried remove them from the heat and set aside

Add the ground shukto masala to the wok and fry it off well.

Add the vegetables including the fried ones and mix well.

Add milk and water ( enough to have a runny gravy)

Season with salt, turmeric and sugar to balance the flavours

Allow 10 -12 minutes for all the vegetables to simmer and cook in this mix.

Mix well and if the vegetables are soft cooked remove from heat.

Add ghee and the shukto is ready to serve
Notes
Add vegetables like snow peas, raw banana, raw papaya, banana stem, pointed gourd, sweet potato or pumpkin based on what you find in your local region.
Swap the mustard oil if you cannot palate the flavour, but you will lose the authentic flavour of bengali dishes.