There are very many desserts which we associate to places we know have loved them from… Thirunelveli Halwa, Agra petha, Rajasthani gewar and so on. The Darwad peda– is a beautiful caramel milk fudge recipe which I associate to. Honestly its a huge labor of love. I used to deliberately postpone this dish from my must try list …coz it truly had to be special to do this.
Finally I got to it…with shortcuts applied to create this little masterpiece. Why so few in your pic?? asked my family.. well, tasting is and important part of the process of cooking you see ( my sly smile beams)
Having associations and fond memories of Hubli and Darwad, my hubby decided to take a trip down the memory lane a few years back. Accompanying him we reach this sleepy tiny town and indulging in the hospitality this was dessert fudge served. I so loved the instant milkiness without the overpowering sense of fat in it. So yea.. this fell into the "really love dessert list".
From then on the hunt for the easiest way to make it began. This version is from Anasuyamma… our previous helper ( She definitely loved north Karnataka cuisine and could really deep root that into you,  with her mastery  of the cuisine). Upon discussion once she said..make it from Mawa / Khoya (  unsweetened condensed milk solids) cuts down time by half.. ahemm ahemmm !!!!
.. this was my cue to the world of Caramel milk fudge.
Therefore, with half the process of cooking down the milk solved lets move on to preparing it.
Starting from simple ingredients ..  milk and sugar, this magical fawn colored piece of decadent alchemy can transform your day..so dont just gobble it down for its worth 40 minutes of your elbow grease. Love yourself as you enjoy this dessert..
You could also check out other dessert treats here…
https://mildlyindian.com/recipe-index/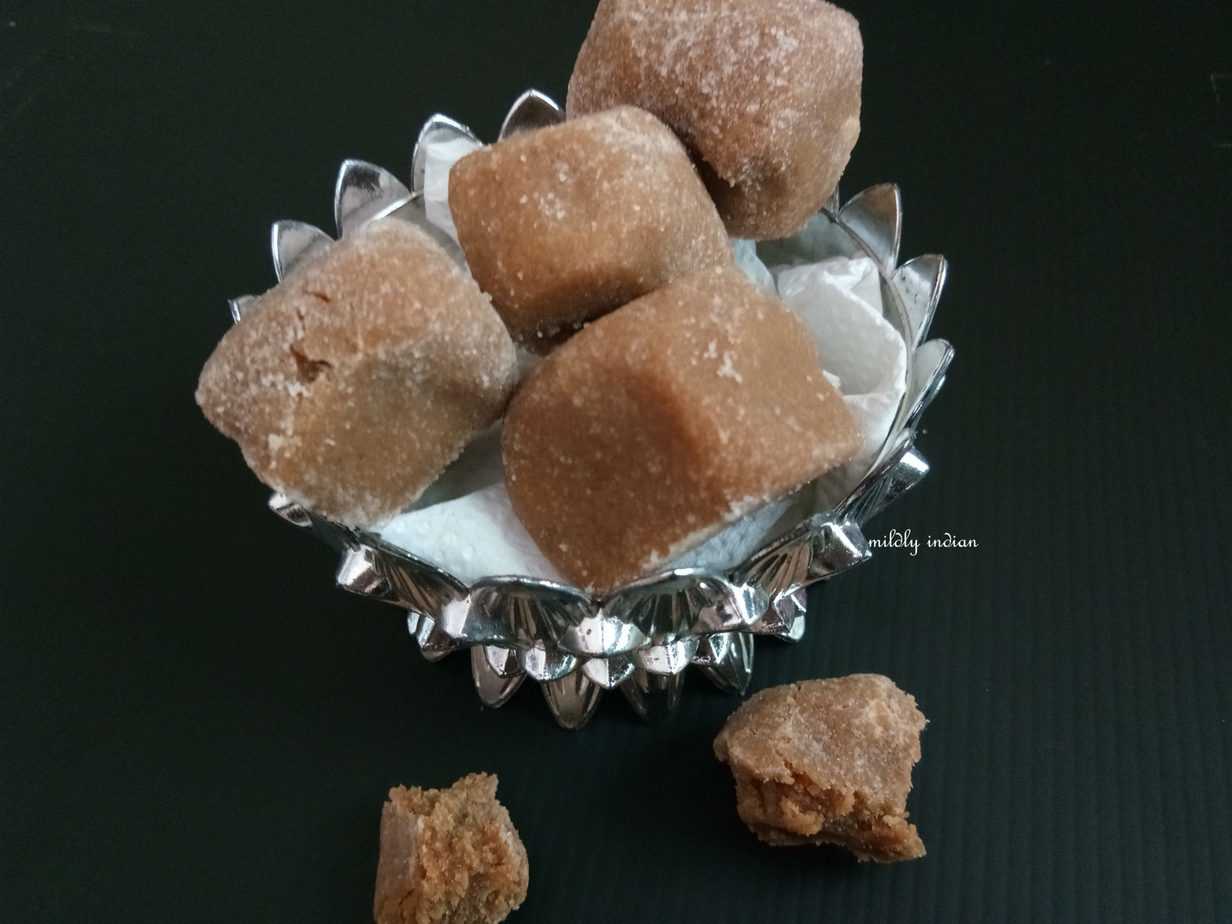 Darwad Peda
Caramel milk fudge- North Karnataka Cuisine
Ingredients
2

cup

Mawa / Khoya

grated

3

tbsp

milk powder

unsweetened

7

tbsp

refined sugar

0.5

cup

milk

full cream

2

tsp

ghee

only if necessay
Instructions
Set a deep thick bottomed pan on low heat

Add the grated Mawa /Khoya and milk powder stir well.

As the mixture starts changing color to light brown add one tsp ghee. Don't stop mixing it as it will catch the bottom.

If the mixture begins to appear dry at any stage, add a tsp of milk at a time Don't stop stirring.

Once you spread it out in the pan with a spoon, you will see a crumbly texture and dark brown color then add three tbsp. sugar. Take off the flame and cool. So far we have been slowly caramelizing the sugars in the milk solids.

Transfer to a food processor and powder the mixture to turn into a pasty.

Check the sugar and add as desired. Keep aside two tbsp. for rolling.

Put the mixture back on the pan and on low heat. Keep stirring till it comes together and holds well.

Turn off the heat and cool for a a few minutes. Don't cool completely as you cannot roll the pedas then.

Pinch off small portions as it is warm and make small squarish balls .

Roll the pedas in sugar.

Save the pedas in an airtight container