I am sure you were intrigued by the name as you opened up the post today, Plastic chutney!!! Candies Raw papaya!!!. This was the reaction at my place too.
Serving a little sample each to the kids-  they said wow, tastes so good mom. Then, I go –what you ate is called plastic chutney!!! I did not have to finish the sentence, there was din. They really thought I served them p
las
tic, melted cooked and more. They were concerned about the turtles who ate plastic and the cows which ate paper. This commotion subsided after about 15 minutes. 
with a good laugh, there is no plastic in the recipe. This is an old recipe I adapted from my co sister's mom, who makes it her best effort to stuff me full whenever I visit her. She taught me that a little sweet at the end makes every meal is a delight. This is a very Bengali recipe and as sweet as her. She had zealfully shared her scraped pineapple chutney and paneer payesh too. Promise to share that with you another day.
What contributes the name?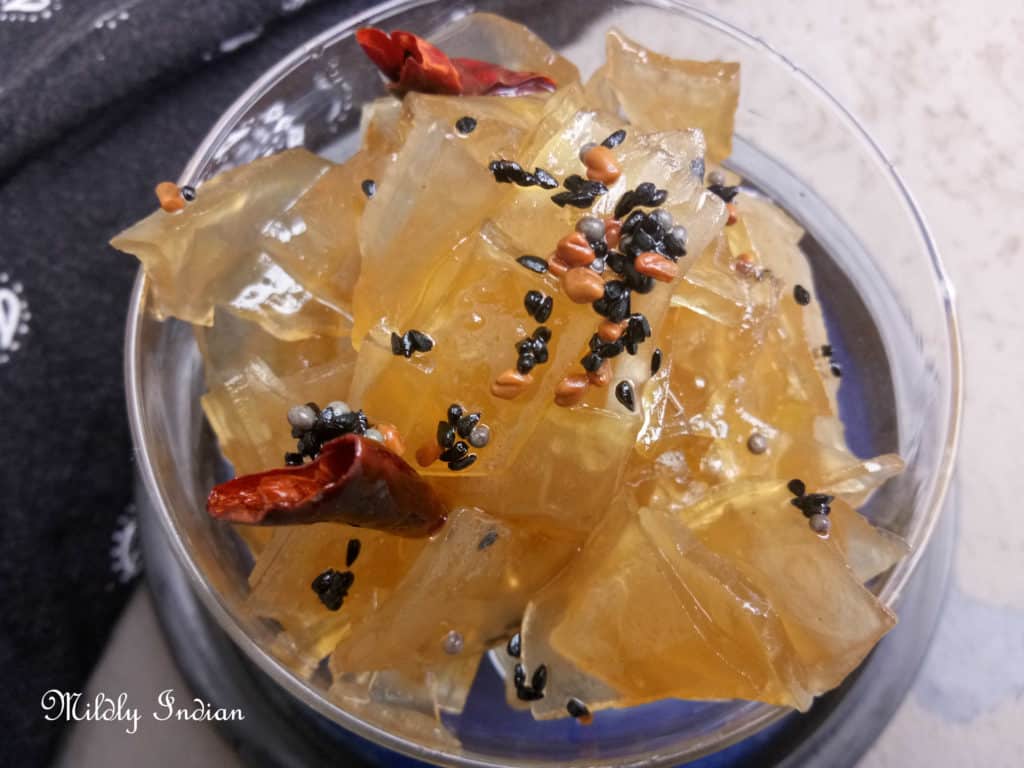 The plastic chutney, it is, of course, the beautiful pawpaw(papaya) featuring as a beautiful textural additive. The firmness of the papaya to hold its cut and yet imbibe the sweetness contributes to the glistening glass-like look.  The thin cuts and the glassy look makes it look like a thin sheet of transparent plastic. Hence contributing the name. 
To this recipe, you could add saffron to turn it
slight
ly orangish yellow and raisins. I have omitted both. If you are concerned about the sugar in the recipe, try a stevia version, that was cool but not so candied feel as the normal sugar one. 
It would be best not to advocate the benefits of papaya here,  coz I believe with the added sweetness, it really may not contribute to its best potential as a health factor. Never the less a great sweet recipe to end a homecooked meal or a relish for the sweet-toothed. 
Honestly, I have forgotten  (yes I should have written down) what she added in the tempering, so I went with my favourites, kalonji, jeera, methi and red chillies. I have a funny feeling that's not the right mix. If you do know about what I should really add to the tempering, do teach me.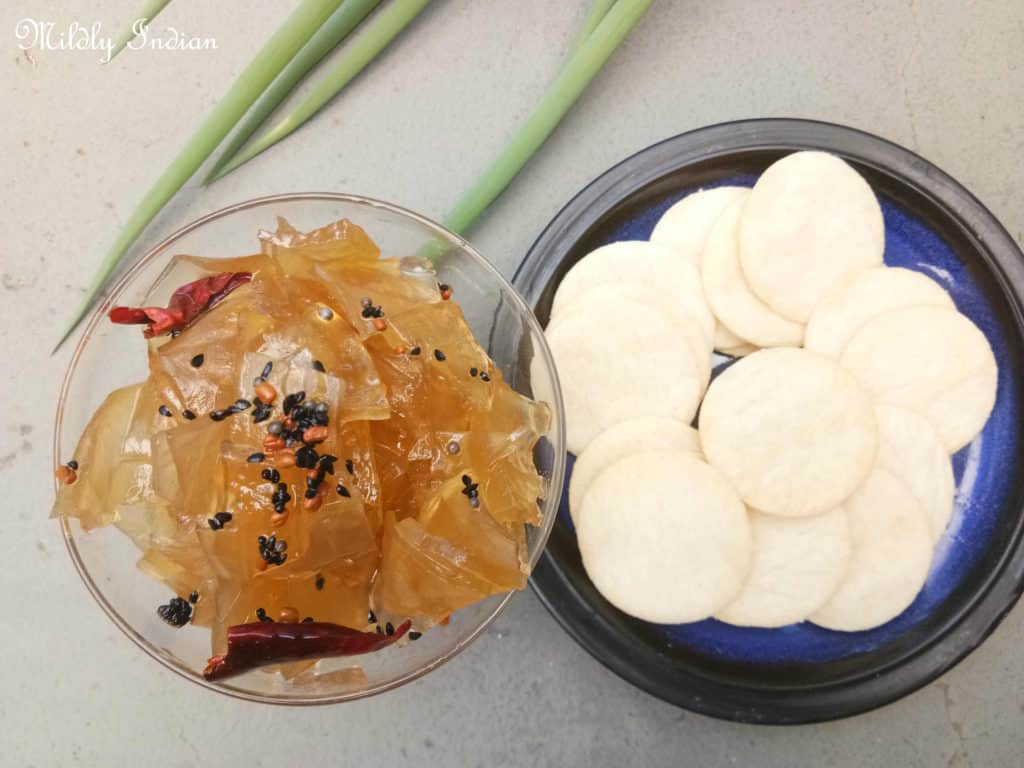 Try these too for a sweet end to the meal
We have one more recipe with raw papaya in case you have a huge one – Erisherry curry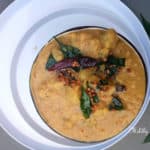 See you soon with more interesting recipes and updates. Keep up with us on Instagram for immediate updates.
This recipe is a part of the "Cooking from a Cookbook Challenge" I have not used a cookbook this time but a sweet recipe I acquired from a family member. Watch out for more through this amazing group of bloggers as they take you on a delicious testing journey of heirloom recipes and new ones from the books.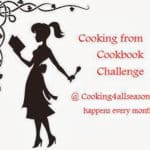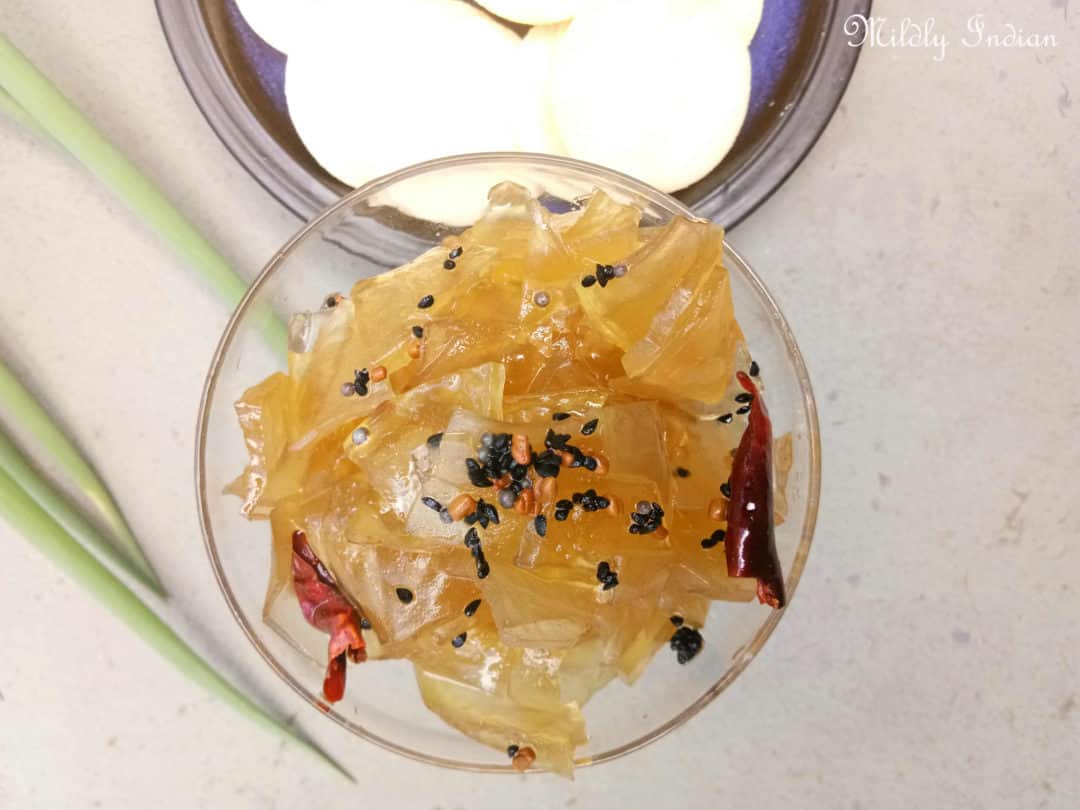 Plastic chutney
Sweet raw papaya from the Bengali Cuisine
Ingredients
1

cup

drinking water

1

cup

raw papaya

peeled and the white flesh sliced thin.

6

tbsp

unrefined sugar

or jaggery

2

tsp

Lemon juice

1

pinch

salt
Instructions
Wash and peel the papaya well.

Slice into thin chip like pieces to get one cup of losely packed pieces

In a sauce pan add water and sugar and prepare a simple syrup on low heat

Now add the papaya pieces and salt and bring to a boil

Cover and simmer till the papaya pieces cook and attain glass like appearence

Remove the cover and simmer till most of the liquid is absorbed.

Remove from heat and ad the lemon juice

Mix well and set aside for 10 minutes.

It is now ready to serve.
Notes
The tadka on top is totally optional. I have used one tsp ghee to temper nigella seeds, fenugreek seeds and a small red chilli.