Though not common in South India, black currants (falsa)  were one of my parent's favourites. Never shy of trying some new food item, falsa was most sought out during all our north India trips. With a sour kick to the sweet flavour, the best way to preserve this fruit to being a taste back home was as jams or chutney. The khatti meeti – sweet and sour chutney, with a faint spiced heat to it paired well with snacks, puris and at times bread. This is the recipe we have for you falsay ki chutney.
Ingredients for this blackcurrant relish 
The recipe for Falsay ki chutney is straightforward using 5 ingredients.
The black currants- The khatta meeeta feel is best with fresh black currants. Since I don't have access to them I have used dried ones. I do feel that the sweetness in this recipe stays ahead Vs the fresh phalsa fruit chutney. 
Sugar– To add to the sweetness factor, you need some sugar. I have used natural unbleached cane sugar. You can also make it with stevia, taste and adjust the proportions as it is sweeter. 
Red chilli powder- Any sweet and sour chutney needs a spice kick. Use cayenne or Serrano pepper powder to build up the heat. Not a lot just enough to wake up your tastebuds. 
Black salt – the pinch of black salt in the falsay ki chutney gives the sweet and sour feel the balance it needs. You can opt for plain salt or Himalayan salt, I like the eggy flavour of black salt in this blackcurrant relish.
Roasted jeera powder that smokey feel as you relish this lip-smacking falsay ki chutney comes from the roasted cumin powder added to it.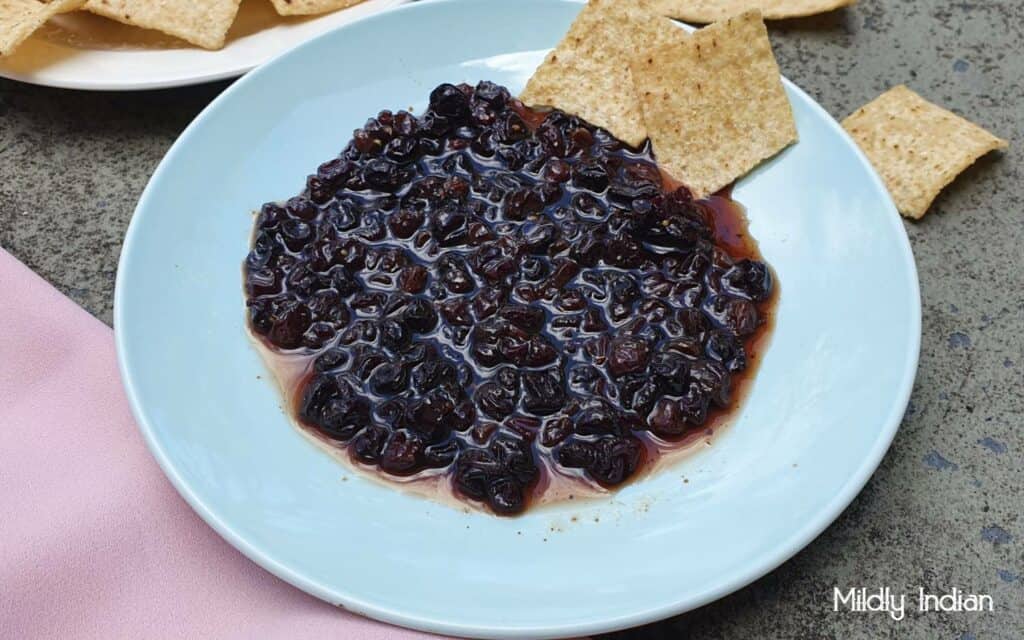 So that's all. The recipe details are in this recipe card. Hope you will make it and let us know how you like it. 
Falsay ki chutney.
Ingredients
1

cup

blackcurrants

dried

1/2

cup

drinking water

1/4

cup

unrefined sugar

1/4

tsp

black salt

1/2

tsp

red chilli powder

1/2

tsp

roasted cumin powder
Instructions
Into a saucepan add the blackcurrants and add the water.

Cover and leave it for 2 hours so they rehydrate and swell.

To this add sugar and bring it to a boil.

As it reduces add the salt, red chilli powder and cumin powder and cook down till the chutney slowly breaks down the black currants.

Remove from heat and cool the chuteny.

Store in airtight moisture free bottles.
Using this black currant relish 
The black currant relish pairs with a wide range of foods. It tastes brilliant with biryani providing a contrast to the spicy feel or as a dip with sliced nan bread or chips. You could also use it as a dip in your charcuterie board. For teatime,  pair this with some crispy pakoras or drizzle on top of chaats. 
Storing the false ki chutney
The blackcurrant relish can be stored in airtight moisture free bottles for up to 3 months under refrigeration. Use sterilised bottles, just like you store jams or preserves and use a clean dry spoon to take the chutney out. 
Other fruits that you can use to make sweet and sour chutney
Tamarind is one of the popular one for the sweet and sour chaat chutney. Try out our recipe this khatta meeta chutney.
Use dates as a sweetener and see the changes in the basic sweet and sour chutney. If you like using fresh fruits try mango or peaches based on the basic sweet and sour chutney. 
Stay connected.
By now we have spread our wings to a few different social portals. It should be fairly easy to find us on these as @mildlyindian. Our YouTube channel is growing and we would love to see you subscribe to it as well. If you have not yet subscribed to this blog, do so please as we plan to bring you plenty of recipes and stories as we go. Do feel free to ping us or write to us. If you feel like sharing our images, let us know first as there will be nobody more thrilled than us. You are most welcome to share our recipe links with your friends and family and tag us as you make it. We love your honest reviews, please share them in the comments (we do take time to read and try and respond to your questions).
Collaboration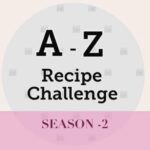 The recipe for Falsay ki chutney is perfect for the A- Z group while we are doing the ingredients using Hindi as our language. Falsay or black currant is a unique recipe that fits this month's Alphabet F group.