Each Navaratri season, I add up a sundal recipe or two to the blog collection. this gives me an opportunity to try out one new bean with the basic sundal recipe. In fact, beans and legumes form the basis of protein for a vegetarian diet and it is wonderful to have a variety of them to choose from. Today we are exploring the use of whole urad, black gram or karuppu ulundu. When we talk about urad dal ( black gram), common we refer to the split and skinned version that results in the while cotyledons. This actually comes from the black gram. The whole black gram is used on special occasions or certain Indian preparations like ulundu saadam and dal makhani( recipe coming up soon, stay tuned).
Significance of black gram in navadhanya
The black gram or 'muzhu ulundhu' is one of the components of the navadhanyam. Navadanyam is a set of 9 grain -lentil mix that are considered vital for good living. In fact these are associated by traditional and mythology to the navagraha or the planetary system. In this way, people were induced to eat healthier. The black gram was the one considered auspicious to Rahu, a satellite planet and offered on Saturday along with coconut. In turn, this helped people to donate grains, cereals and oilseeds to the needy so they can also have a balanced meal. We discussed this topic in detail in this Kondkadali sundal post.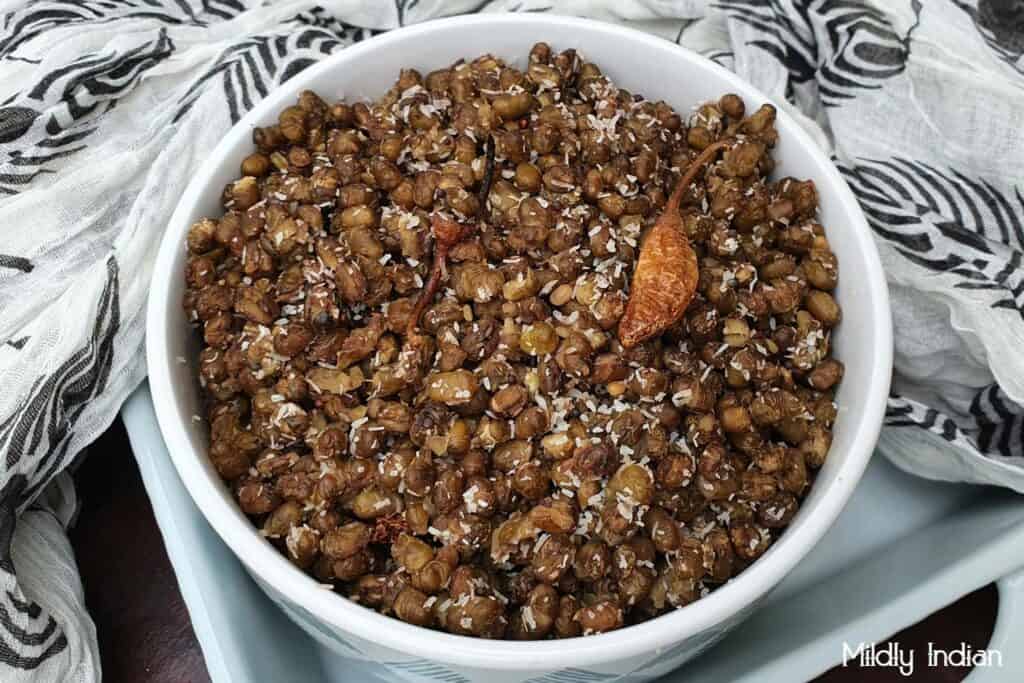 Today we have karuppu ulundhu sundal recipe you can make with the whole black gram.  The karuppu ulundu sundal is not a very fanciful recipe. The technique used here is a basic stir fry that is used in all types of sundal recipes. With a generous South Indian tempering and flavoured with curry leaves, asafoetida and sundried cured chillies, the taste of the black gram is brought to life.
Hope you like making this protein-rich, gluten-free, vegan karuppu ulundhu sundal recipe.
Karuppu ulundhu sundal
This black gram sundal recipe is an easy stirfry with South Indian flavours. It is a protein-rich snack or can be added to a naivedyam thali or the main meal easily.
Ingredients
To soak the black gram
1/2

cup

black gram

3

cups

drinking water

1/4

tsp

salt to taste
To make the sundal
1

teaspoon

cooking oil

1/2

tsp

mustard seeds

1/2

tsp

grated ginger

4-5

curry leaves

2-3

dry red chillies

( or I have used yogrt cured chillies)

1/4

cup

grated coconut

1

pinch

Asafoetida

( hing)
Instructions
Wash and soak the black gram for 6 hours.

Pressure cook this with 2 cups of water in an instant pot ( 15 minutes) or Indian pressure cooker ( 3 whistles)

Once the pressure has released naturally, drain the beans and keep them aside.

Set a frying pan to medium heat.

Add the oil and the mustard seed.

When the mustard crackles, add the red chilli, ginger and curry leaves.

Now add the drained beans and stirfry for two minutes.

Now add the coconut and a pinch of salt.

Stirfry for another 3-4 minutes.

Sundal is now ready to serve.
We have a stock of sundal recipes ready for you if you don't have black gram.
Soybean sundal – a delightful use of soybeans with a south indian flavour.
Frozen peas sundal – Quickest sundal with a lemongrass flavour.
Gugillu – Spicy Andhra style chickpea sirfry.
Rajma sundal – Easy to make kidney bean sundal with podi. 
You can also make a sweet sundal with adzuki or red bean
Try out all of them or at least some or the easiest idea for this naivedyam thali.
Stay on with us. 
 We hope you will love to share with us your thoughts about or recipes and post. Do leave your comments for us to improve and also notes on the ones you love. 
Take a moment to visit our youtube channel. Here is one of our latest uploads that you can use as a naivedyam along with this sundal.
Leaving you with our Facebook page  (click here) and Instagram (click here ) so you can take a peek. Don't forget to follow us as we update these to the best of our efforts. Subscribe, share, like and evermore come back
Stay safe and see you at the next post.