Have a huggable cup ready for you are about to experience the simplest, aromatic midnight treats ever. Save up this hot vanilla milk recipe for cold winter nights. 
It really doesn't get frozen cold in Sydney during winter. Yet, a big part of me acts like it is freezing, especially my toes and fingers. This is the time I love to hold that cup of warm drink and toy around with it. I don't mind if it is hot chocolate or kesar doodh, it is equally soothing to hold them and feel back home after work and a quick dinner. These warm drinks help me unwind and relax. Of late, I notice my daughter shares the same feeling. She loves to sip on soothing something too and talk about the day.  A particular day I was out of ideas and chocolate, so just vanilla would do. Frothed up, steaming hot milk with a bit of honey and vanilla was an absolute delight. How do I know this works? I got an extra hug. From then, I make the hot vanilla milk when I just wasn't to hold on to her a minute more.
What is vanilla milk actually?
Steamed milk flavoured with Vanilla is what we are looking at. This process is as simple as boiling or microwaving some milk with some vanilla pod or seeds. Stir in the sweetener later and you have it. Honey, sugar and stevia all work well with hot vanilla milk.
The important tip is to froth the milk after. If you have a milk frother or a steamer unit with the cappuccino machine, you get the best results. This process brings out the real cafe-style vanilla flavour to this hot vanilla milk drink.
Vanilla milk vs Vanilla frappe
Vanilla frappe and hot vanilla milk and not the same. It is a similar flavour profile,  yet one is chilled and the other is warm. The vanilla frappe is otherwise a classic vanilla milkshake topped with whipped cream. Now that's yummy too, but not the same.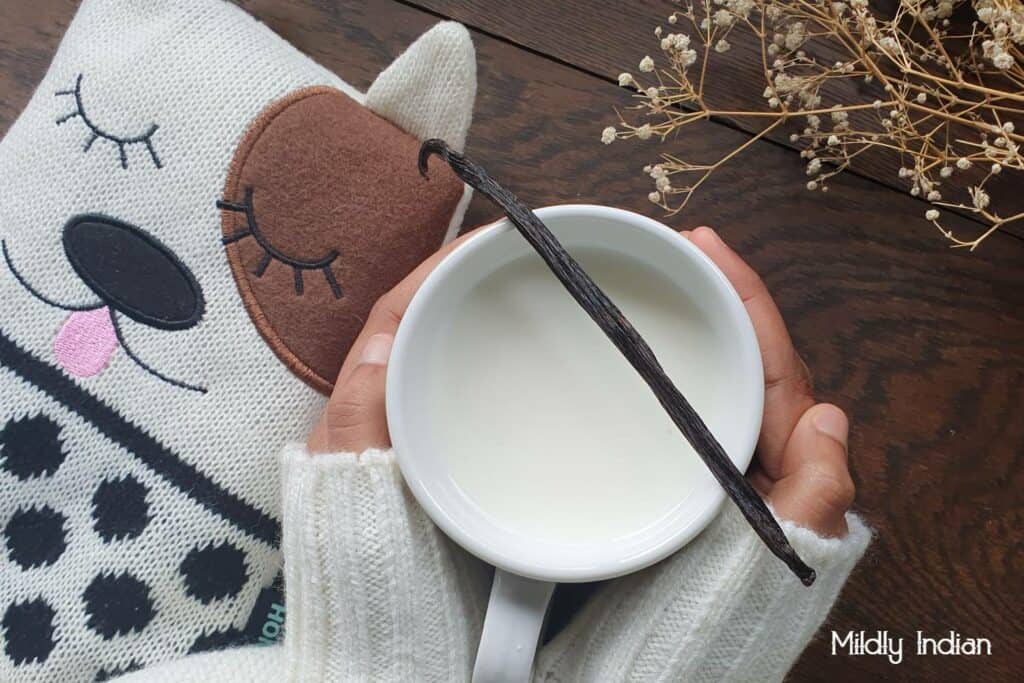 Hot vanilla milk
Ingredients
2

cups

milk

1

vanilla pod

1

tbsp

sugar
Instructions
Cut and scrape the vanilla pod and set it aside.

Add the milk into the saucepan and bring to a gentle boil.

Add the vanilla seed and teh sugar and remove the milk from heat.

Add the milk into cups and froth them well.

Have the vanilla milk with its huggable warmth.
Just a bit about Vanilla
The tiny bottles of vanilla extract that you have experienced so far will need a second look once you have read this. The cool vanilla extract that smells so deliciously of baked goods once you open the bottle need not have any vanilla in them. These are imitation vanilla.
The fairly ugly-looking pods have a much gentle smell and are a product of painstaking hand pollination and repeated curing and drying. The alcoholic extract that is made from these pods and scraped seeds is way not heady vanilla flavour. It takes a while to unlearn from the imitation vanilla to this. While making vanilla milk use the scraping or the pod. The guaranteed result is that doesn't taste like a chemistry lab working with esters. From now on, spend a bit more on real vanilla.
Adapting it for vegan
I have had hot vanilla soy milk in Malaysia and it felt so good. So you can infuse vanilla into warm soymilk and have a cuppa for sure. If you are trying other seed or nut milk, let us know how it turns out in the comments.
Adapting for lactose intolerance
Lactose-free milk works well with steaming and infusing the vanilla, so don't rule out the option.You can still hug your cuppa.
Stay connected
Leave us some of your likes and dislikes about the post in the comments so we can improve this page. We have vanilla milk as it is fun and warm. If you have any that I should try out as experiments, let me know. I am very excited to hear from you! Follow us on Instagram and please keep commenting.