Among the divine elixirs that cures everything from a cold to homesickness, there is Kesar doodh. Kesar doodh is my quick go-to on festival days when there is absolutely no time to fix up an elaborate dessert. With the cardamom-infused boiled milk and the golden colour, there is no escape from the aroma that permeates the entire house, giving the warmth of a celebration.

What's kesar?

Kesar or saffron is one of the world's most expensive spices. Why not!  Crocus sativus, is the mother plant that yields a beautiful purple flower with a red stigma. Three stigma of each saffron flower is all you can collect to make this exotic spice. When immersed in a warm liquid these stigmas impart a deep orange hue with a distinctive pleasing aroma. This is what characterises this saffron milk recipe.

Benefits of kesar doodh.

Hailed as an elixir saffron milk saves us from a lot of little troubles
Start with the cold – the warm milk soothes the itchy throat and clears out a lot of the sinuses. This sure helps easier breathing and a feeling of wellness.
Let's get some good dreams -saffron is rich in magnesium. Hence saffron-infused milk is perhaps one of the best-known moon milk.
Kesar doodh makes you brainer– this is what my grandmother said!! Studies have shown that saffron reduces oxidative stress and protects cells. so, not exactly but the saffron in the milk did help in well being of one's cells.  ( source )
Allergies and hayfever – it is again the same logic of keeping the nasal passages clear and improving the number of liquids you consume that help through this season.
Reduced cramping – the warmth of the kesar doodh certainly helps in feeling far better on the menstrual days with heavier cramping. It is also ap nourishing drink so keep up the nutrition when you really cannot eat much.

Making it vegan.

Time and again I have made kesar doodh with soy and oat milk. It is equally delicious moon milk what ever be the kind of milk you use. If you like it creamier, try cashew or macadamia milk (yum!!)

Serving it warm or cold
Most of the time, I like the warmth of saffron milk. The kids love chilled kesar doodh in summers. So warm or cold the kesar doodh does hit the right notes of happiness. Serve it as per the season or the situation you are in. I certainly won't want cold saffron milk when I have cramps. Whatever way you serve, please don't drown it in sugar, honey or any other sweetener. It totally takes away the subtle aroma of this rare spice. Keep it all about the kesar!
Kesar doodh
Aromatic saffron milk is the perfect moon milk that can get you out of the blues in no time.
Ingredients
main ingredients
4

cups

full cream milk / plant based milks

( see the best options for the plant milk in the post)

1

pinch

saffron

sweetner

(add as per choice, We have some ideas listed in the post above)
Instructions
Heat the milk over low flame. 

When the milk is warm remove 2 tbsp and add to the saffron in a small bowl. 

Boil the remaining milk and add the soaked saffron,stir well.  

Add c almonds (optional) and remove from heat. 

Add sweetner of choice and mix well.

Drink warm.
The comforting mug of kesar doodh has been my companion when I miss being in India. It has stayed on this blog for nearly 4 years with no change. So, it is time to give it a makeover with new images and a bit more of the benefits I experience. Hence it is on Foodies redoing old posts this time.

If you are looking for some more comforting drinks that can keep you going through a rough patch try these

Korean pear nectar– delicately flavoured with nashi pears, this is a perfect companion for the cold and sniffles.
Palm jaggery milk– chuck the caffeine and enjoy the complex sweet milk infused with spices.
Fresh mint hot chocolate– the warmth of hot chocolate with infused fresh mint is perfect for the stargazing days
Arrowroot drink– Malabar cuisine special, this is a slightly thickened milk drink that you can use to swap for a light lunch.
Dragon eye tea– have some fun, with this longan oolong tea that is perfect for Halloween.
Cranberry  Mors– known for the best resistance to cold, pack in a bit C punch with this Cranberry drink.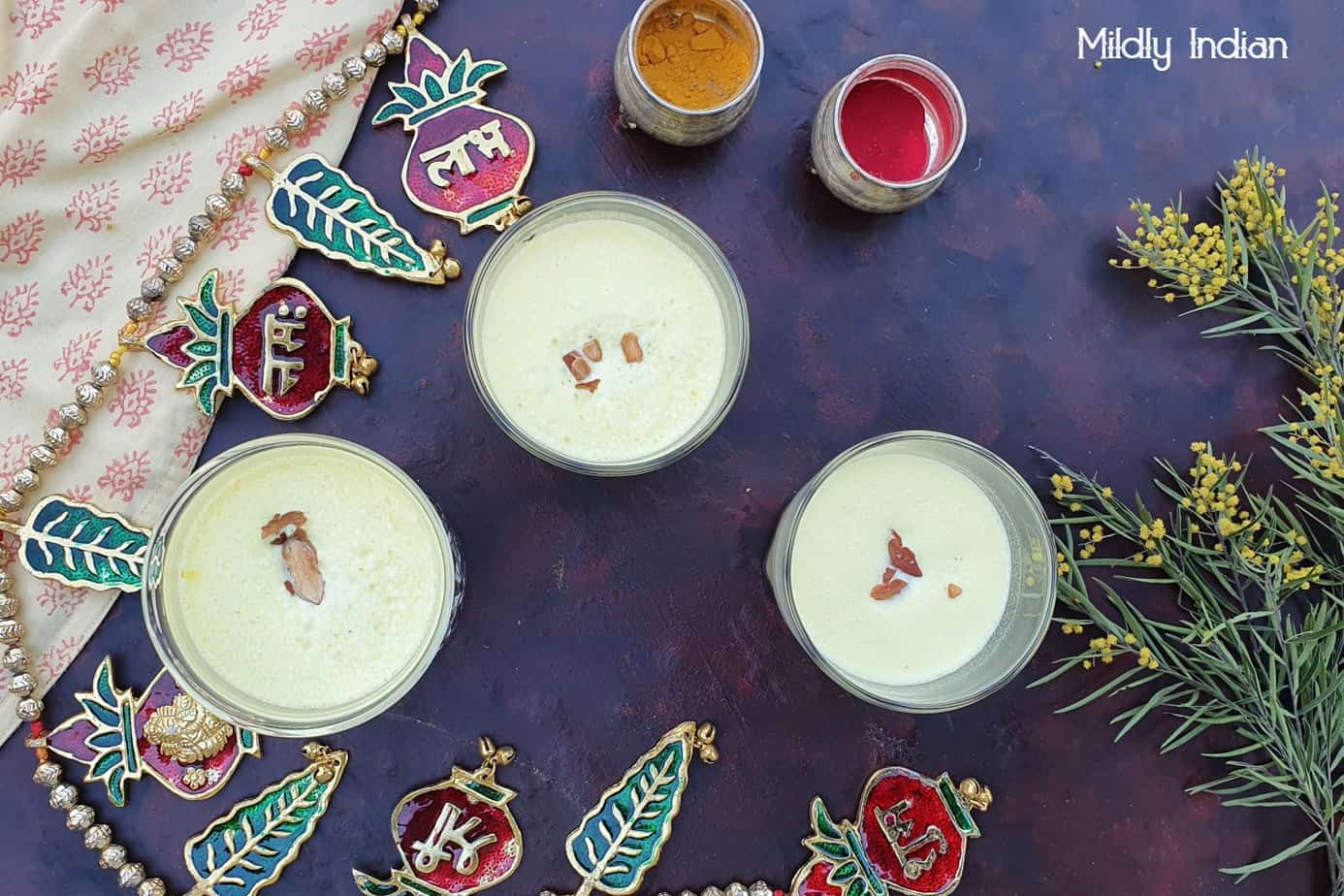 Hope you are enjoying our posts. Do let us know how you like them in the discussion below. Stay with us and subscribe to get updates on future posts. Pin the recipe directly onto your boards from the recipe card or tag us @mildlyindian when you make this recipe. Stay safe and see you at the next post.