Having a festival day over the weekend is actually lovely. It feels good to see the kids at home and not trying to run to figure out where they are. Vishu is one such luck as it comes along with the Easter holidays. Our Vishu was with a mini quick sadhya, a long walk and of course kani and kaineetam. The last pull-outs of our spring carrots certainly made it to the plates as thoran, pachadi and payasam. Here is the quick black carrot payasam for you.
How is Vishu celebrated?
The vernal equinox or Medam 1 is celebrated as Vishu. The festival marking the beginning or spring is started off by visualising a full array of wealth and spring abundance as the first thing in the morning. This golden hued spread is vishukani. Following this the most looked forward to Vishu kaineetam is given. The eldest in the family provides small pocket money, new clothes or something equivalent to celebrate the new beginnings. The family is then involved in sadhya making and the festivities of the day. 
Why is this payasam recipe quick?
A quick drinkable version of a payasam is always welcomed. The carrots I used are minced and then cooked in Evaporated milk. Usually in a payasam, cooking the milk down is what takes a long time. With the use of evaporated milk, this timing is significantly reduced. Moreover, minced or grated carrots cook very fast so you can cut down a significant amount of time cooking that payasam recipe.
Ingredients for carrot payasam
Carrots: Just like all our recipes for black carrots you can use any colour carrot to make carrot payasam. We have used black carrots (purple ones too) to create this one. Choose firm tender carrots, that can snap to make your recipes.
Evaporated milk: evaporated milk is a quicker technique than reducing the milk to half. It provides a rich cream feel without all that time. You can however start with just milk and cook and reduce it to create the same, it just takes a longer time.
Cardamom: the key flavouring spice for most Indian desserts is green cardamom. Freshly crushed pods have a delightful aroma when cooked in such milk puddings
Sugar: desserts need to be sweetened in some manner. You can use sugar or Jaggery to make this black carrot payasam. If using dark jaggery the payasam turns brown and doesn't hold the purple colour of the carrots.
Let's make black carrot payasam
The carrot payasam is more of a drinkable style of payasam than the ones that are scooped out of the banana leaves.
Wash and peel the black carrots. Grate them using a fine Grater. Instead, you can mince them as we have done. Add half a cup of milk and bring it to a boil. Simmer and cook this till the carrots are cooked. Once the carrots are soft add the Evaporated milk and bring to a slow boil. Keep stirring as it will catch the bottom very quickly. Once boiled, crush the cardamom pods and add the sugar.
Mix well and remove from heat. Serve warm in cups.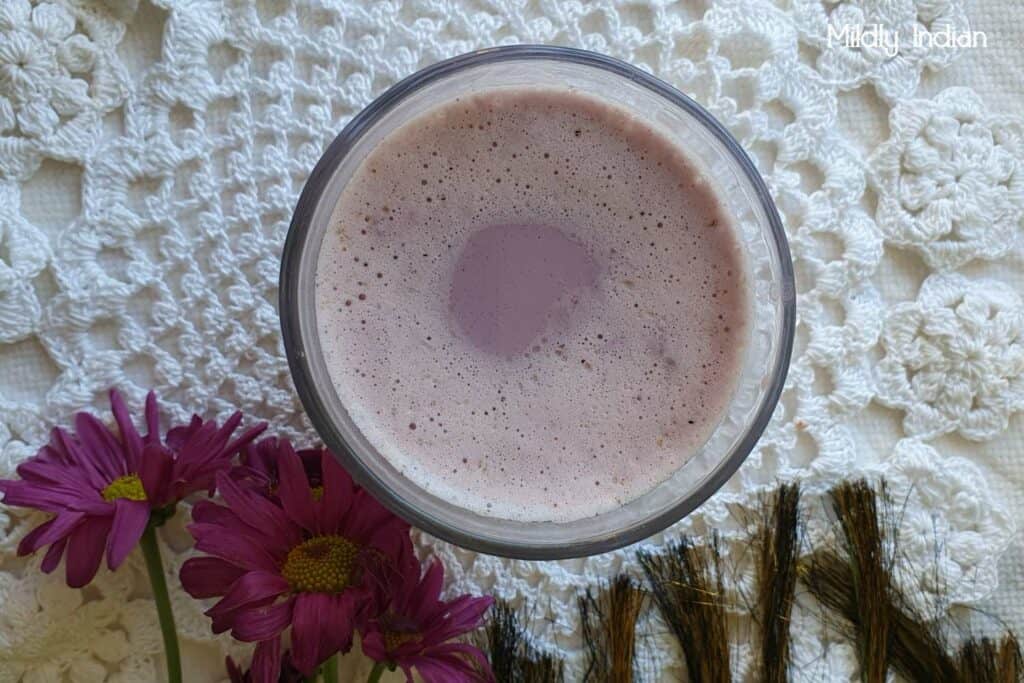 Carrot payasam
Equipment
1 saucepan

ladle

measuring cups and spoons
Ingredients
2-3

medium

carrot

any of the rainbow carrot colours.

1

cup

milk

1

can

evaporated milk

1/4

tsp

green cardamom powder

3/4

cup

sugar
Instructions
Wash, peel and grate the carrots.

Add them to the sauce pan with the cup of milk.

Boil this and let the carrots cook.

Add the evaporated milk and bring to a boil.

Add cardamom powder, sugar and mix well.

Simmer for another minute and remove from heat.

The payasam is now ready to be served.
Serving the black carrot payasam
Serve the black carrot payasam in small glasses along with the sadhya. If you are making it for festivals like Diwali, don't forget to make some omapodi too. When having it for a South Indian gathering, I have a combo meal that I love to make. It has lemon rice, kondakalai sundal, vadam,kosambari and carrot payasam. These are easy to serve and enjoyable to pass around on paper plates.
Stay connected
Our Vishu was a low-key one. Since the past two-three weeks had been stressful enough, rest and relaxation was key to us. The carrot payasam was soothing and at the same time gave us that festive feeling we were missing.
Hope you will like this recipe as much as we do. Leave us a comment and rating when you make this recipe. Connect with us via Instagram or Facebook. Keep visiting and if you have any requests let us know we will try to make it.