Benefits of drinking tea
Before I show you the recipe for Licorice Root tea, let us deep dive in to some aspects of Teas in general. Teas are refreshing, aromatic preparations . They are made by infusing a leaf, a root or some medicinal herbs in hot water. Very well known is the preparation with Camellia sinensis, the regular tea leaf which is  added to boiled water. Tea on the other hand also has relevance with respect to herbal medicine as infusions which are easily palatable to help towards easing symptoms or even curing disease. Here we are discussing one such.
What is Licorice?
Glycyrrhiza glabra, Licorice/ erattimadhuram/ athimadhuram/ nadyapaan is  a perennial plant very popular in herbal and indigenous medicines in Asian countries.It is a strong flavor. Some like it and some totally dislike it. It is also a ingredient you deal with caution as a little can go a long way….
Licorice is beneficial to health and has been popular as a flavoring agent in candies, cough medicine, cakes and even cigarettes ( dont recommend). For our use, licorice is
Cholesterol lowering,
Body fat lowering,
Antiviral
Anti inflammatory
healing ulcers
Mildly laxative
Easing upper respiratory tract congestion
Liver toxin neutralizer.
Even as application on the skin towards actopic dermatitis, dandruff.
There are many more benefits to this root as you explore the world of folk medicine.At the same time this has a component,   Glycyrrhizhin relative,this is more sugary than sucrose itself: because of which when used in large quantities or on daily basis can cause water retention, increase sodium build up, and interfere with bowel movement.
So enjoy with caution, limit the quantity of intake- Licorice Root tea , herbal tea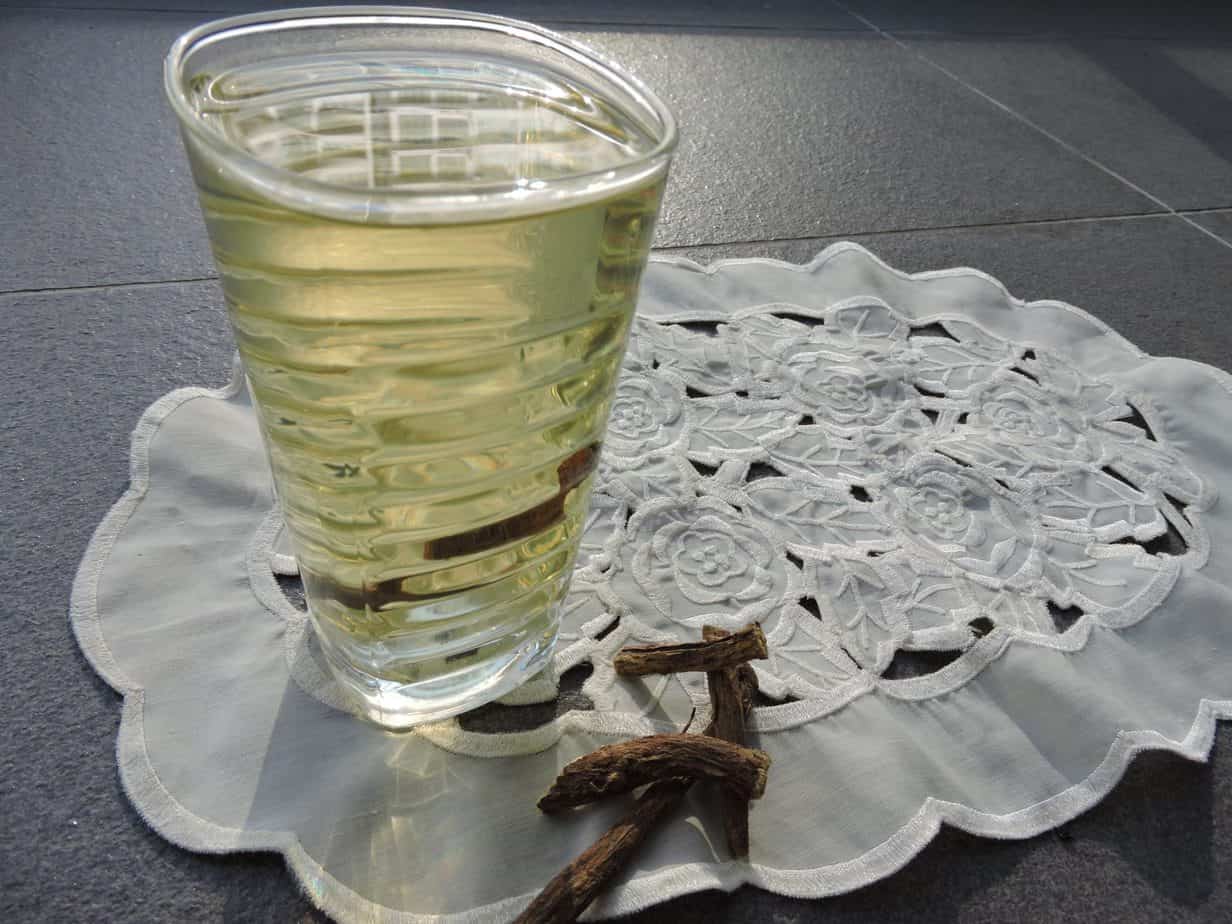 Licorice Root Tea
Home remedies towards better health
Ingredients
1

inch

licorice root

2

cups

Water

few

sliced lime pieces
Instructions
Bring the water up to a boil

Drop in the  liquorice root. Allow to simmer for a few minutes.

Strain into a cup.

Drop in a slice of lime when warm. Sip and enjoy.
Notes
Nutrition
Serving:
11
g
Sodium:
3
mg
Sugar:
4
g
Potassium:
2
mg
Calories:
21
kcal
Fat:
0.01
g
Carbohydrates:
5
g