They say there are no true friends in the blogger world.I would like to disobey this rule.  There is one person,  I met  as a friend first before we both took our paths as bloggers.
 Our journey was pretty interesting. She comes up with stunning Indian recipes and me as usual with whacky twists. However there was one recipe on her blog which caught my attention.  The poached pears in citrus flavors.
So,  this blogiverssery of hers I wanted to do a bit of something  for her priced possession, her blog.  The person is none other than Poonam Bacchav and her blog Annapurna.
Now what makes me like this recipe,  this simple recipe is so much flavorful than eating the pear or steamed pear (never liked the steamed one) . The magic that the spices and the citrus provides is a luscious smooth sauce.
https://www.youtube.com/watch?v=mitu_dxejuY&feature=youtu.be
The original recipe from Poonam's blog Annapurna is here.
The evolution of Citrus poached pear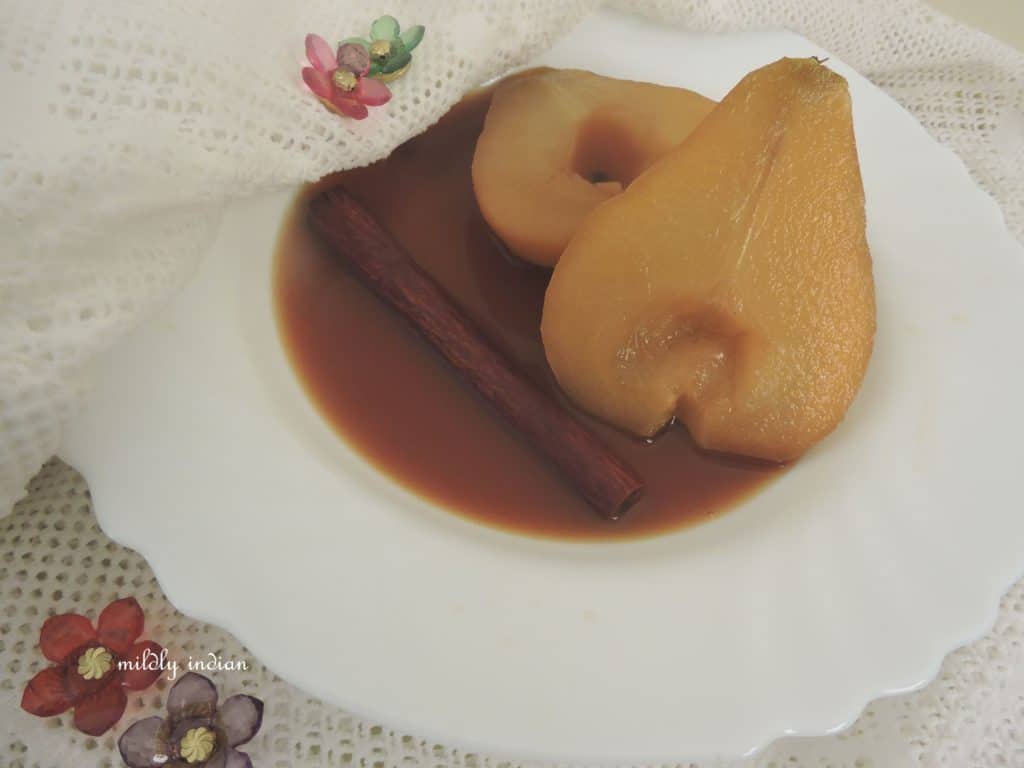 There are a few swaps I made to the original recipe like the lemon  zest and pepper corns added to the poaching liquid to bring out the sweetness  of the pear. In the poaching liquid I needed the intensity of the citrus and fruits.. So chucked the water and gave the full blast intensity of the citrus.  I also felt the pear is quite sweet so the apple juice added in flavour and just the necessary amount of natural sugar.Hmm hmm hmm.. I can't wait to dig my spoon into this pear which is waiting for me..
How about you try this one too.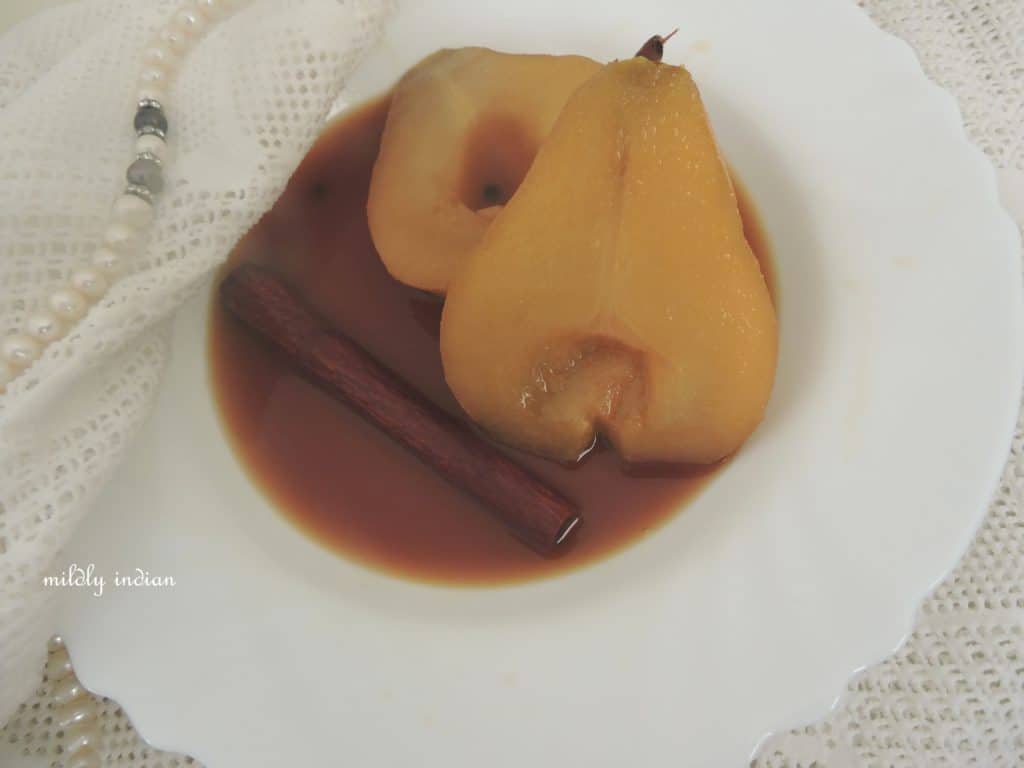 Sharing my version below which you can print or save.  Don't miss to leave a note for me too.
Follow us On instagram @mildlyindian, Facebook or twitter for latest updates. You can check out more dessert recipes here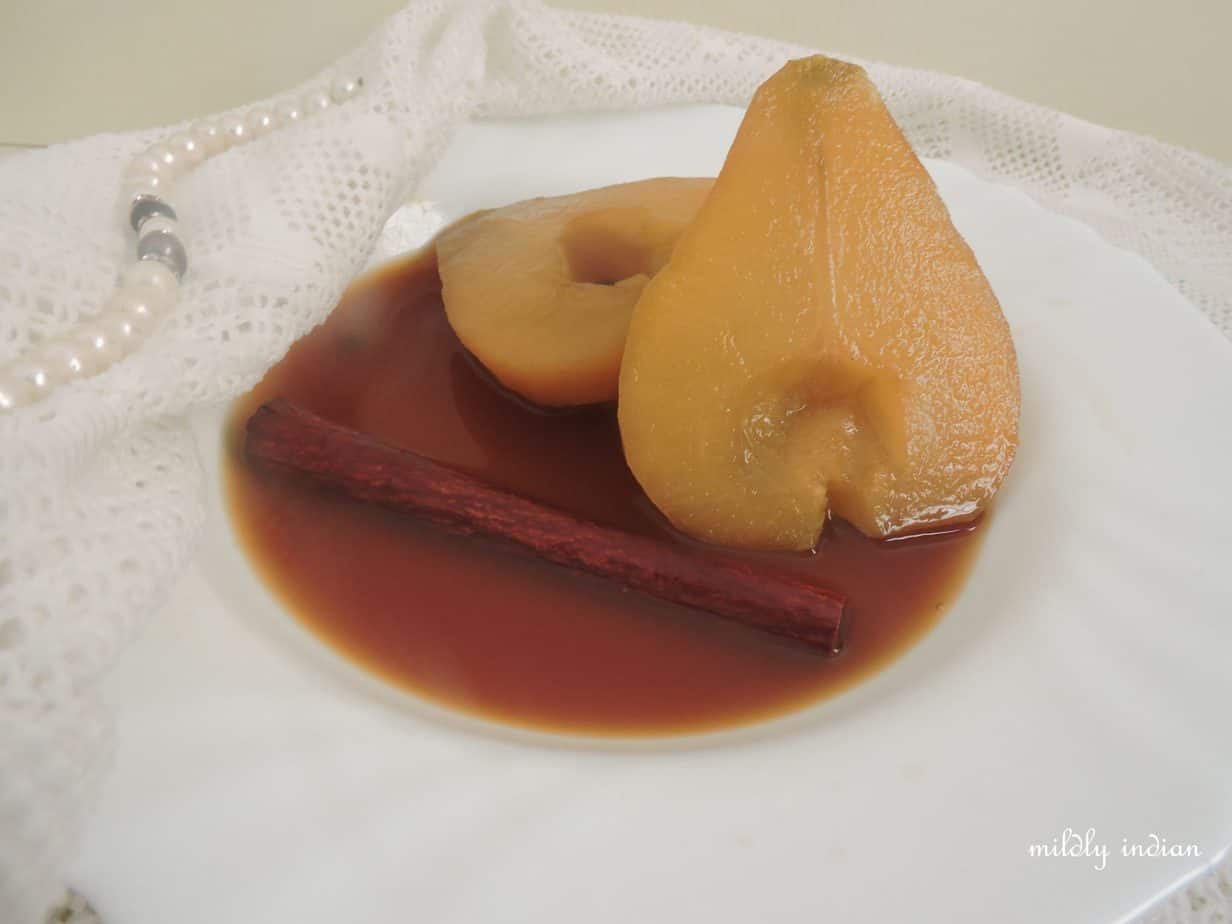 Citrus poached pear
No added sugar recipe
Ingredients
1

pear

1

cup

apple juice

1

cup

orange juice

1

stick

cinnamon stick

4-7

peppercorns

lemon zest

from half a lemon

2-3

cloves

1

tbsp

honey

(optional)
Instructions
Wash and peel the pear keeping the stalk intact. Cut into two halves. Set aside.

Into juice a sauce pan add the apple juice and orange juice. follow this by the spices

Bring it to a slow boil.

Add in the pears into the boiling sauces

Cover cook the pears for 25-30 minutes or until tender.

Turn the pear every 10 minutes so it coats in the sauce evenly.

The pear would be spoon tender to be done.

Boil down the sauces for 5 minutes more to create a luscious sauce.

Serve hot with a scoop of cold ice cream or serve chilled with the luscious sauce
Nutrition
Serving:
70
g
Calories:
126
kcal
Carbohydrates:
31
g
Protein:
1
g
Fat:
0.2
g
Saturated Fat:
0.02
g
Polyunsaturated Fat:
0.04
g
Monounsaturated Fat:
0.04
g
Sodium:
9
mg
Potassium:
240
mg
Fiber:
1
g
Sugar:
27
g