When Indian cuisine is plated pickles always play a significant side. The salty tang or the spicy kick from the preserved fruit or vegetable is what the palate craves depending on the season.
Locally grown raw mangoes and limes are the must-have in the pickle category for a South Indian family. Added to this list are Gooseberries, drumsticks, bitter gourd, so on and so forth. With the never-ending list of oorugais in the bharani, mango tops the wanted list. Every South Indian home has a version of a mango pickle (manga oorugai) This one is my favourite.
The instant Kerala nurukku manga Kari ( on the blog)  does not really stand the test of time. If you want one that stays a bit longer and spicy, you should try this version of fenugreek infused mango pickle.
Selecting the mango for pickling
All through my postgraduation hostel-life amma always send a bottle or two of a homemade manga pickle. This treasure was brought out of days of absolute missing home or the days when we sneakily cooked in the room with an electric stove. That was an adventure indeed and everyone had their favourites to share.
Years later when I was learning to pickle these manga, amma reminded me of the mango one she sends. That immediately forever became my favourite. But the difficult task was securing perfect mangoes to pickle
The mangoes chosen to pickle are raw, firm and absolutely eye cringingly sour to bite into. In addition, the variety should not really become pulpy upon being in brine for a few days. This is a real trial and error if you are not in India. The valuable service provided by the vendors in India who exactly know which is the one we are looking for and the added service of chopping them into chunks makes it all so easy.
The common varieties for pickling in  India are Ram Kela or gola. My mother vouches for her share of pickles with local Kerala varieties called puliyan or moovandan. These varieties are chosen for the depth of sourness, fibre content and the firmness to hold on to the salt without disintegrating.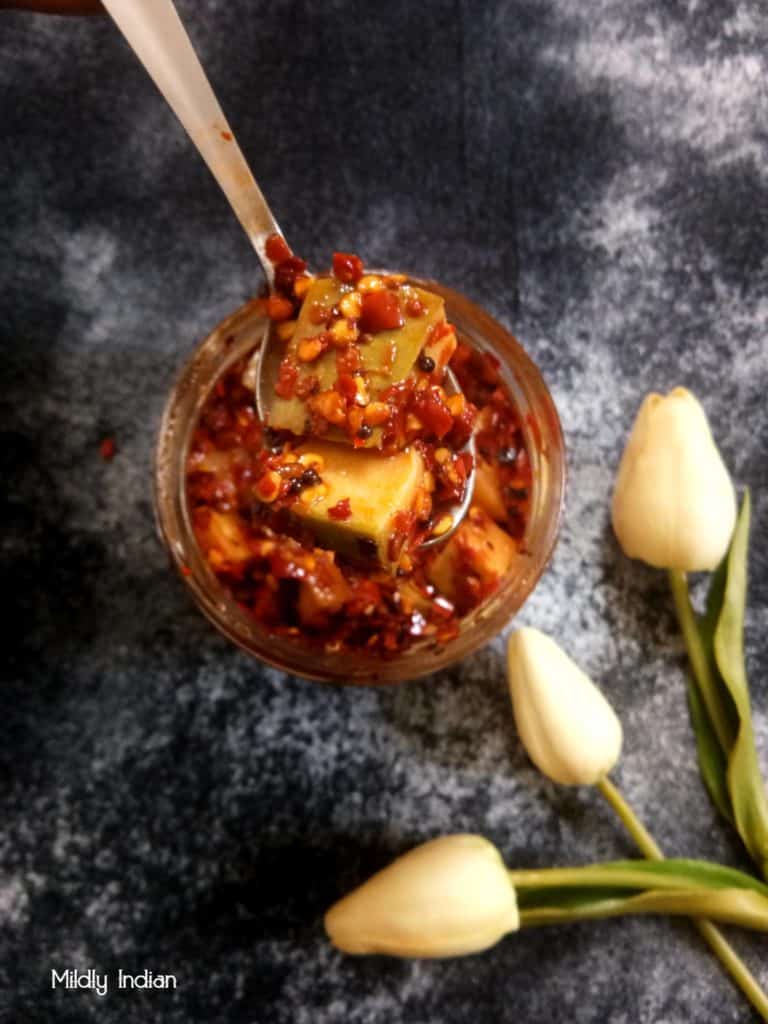 Another important fact is the harness of the shell (seed coat) The raw mangoes with firm seed coat will create more longstanding pickle. With all this mouth-watering information lets now scroll down for the pickle.
Before you leave
These Mango varieties are the best to make the Indian Mango chutney as well. Here is a Coconut and Mango chutney from my mother's kitchen.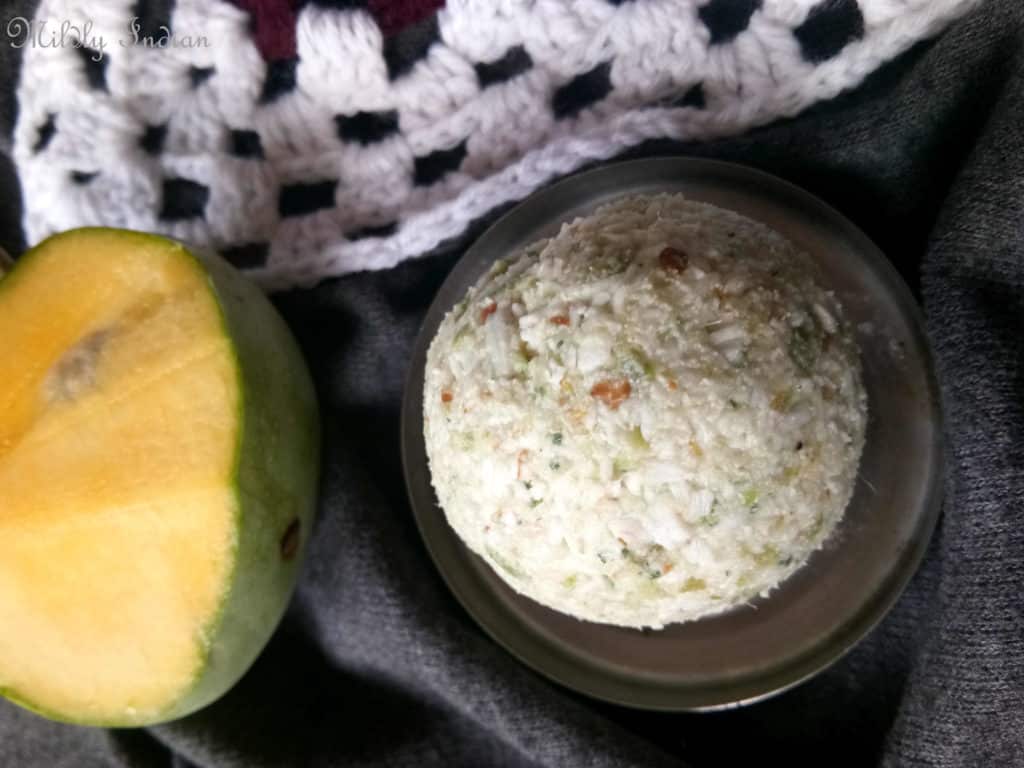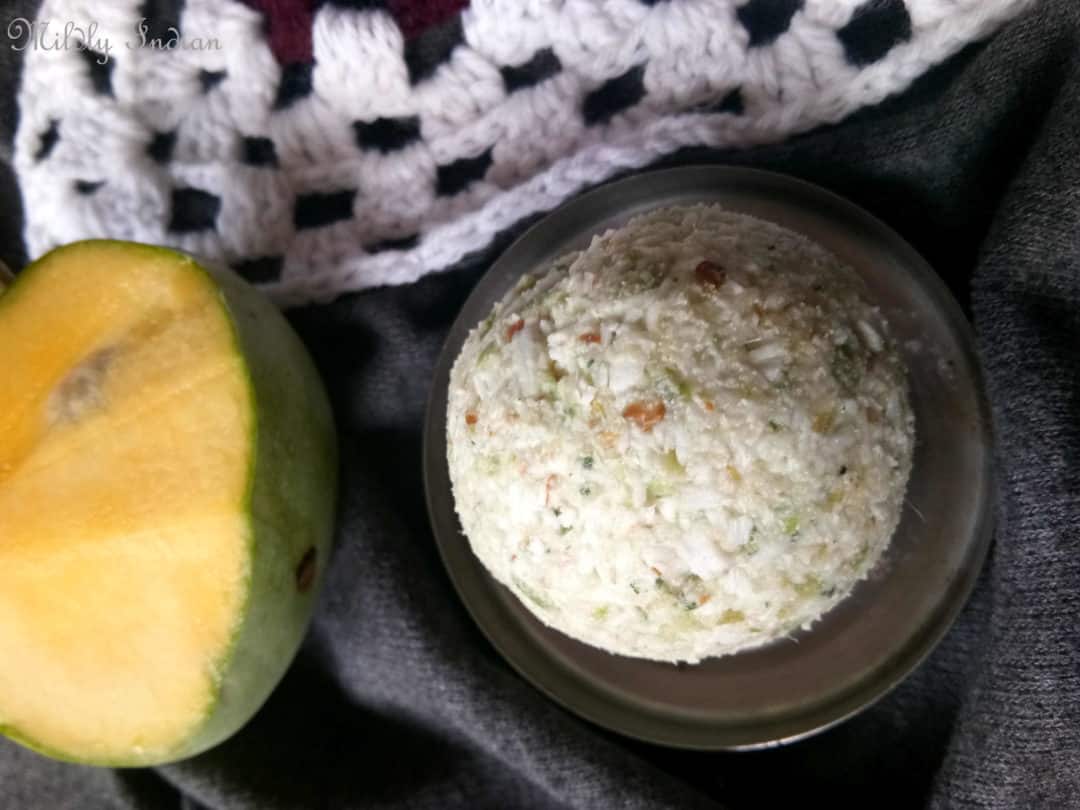 If you need help to figure out some mango varieties, don't miss to reach out. Keep in touch with us by leaving a note in the comments and subscribing to this blog. Enjoy the pickling and have a lip-smacking Indian thali.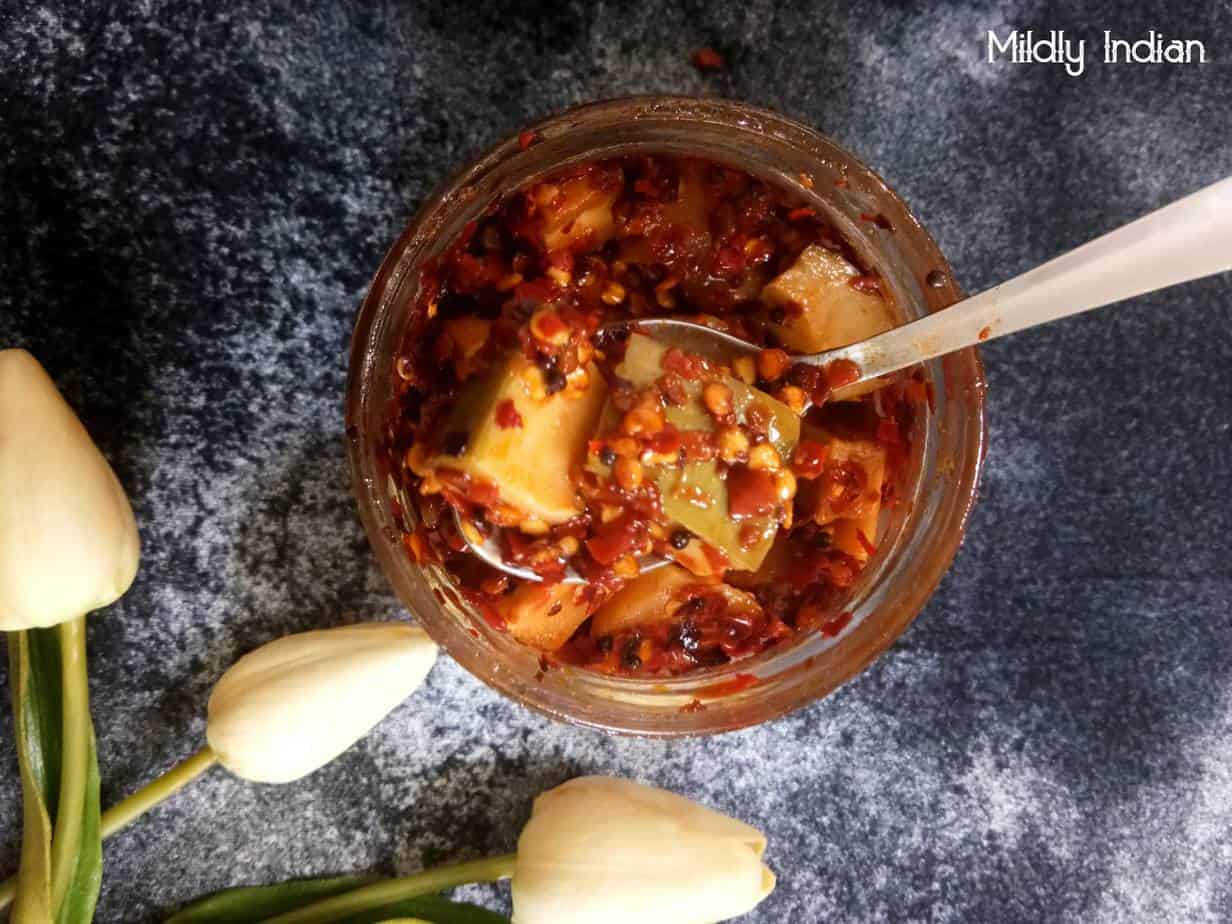 Menthiya Manga oorugai
Mango pickle with fenugreek.
Ingredients
to roast and powder
2

tbsp

fenugreek seeds

3

tbsp

dry red chillies

9crushed)
for the pickle
250

gram

mango

raw and fresh, diced.

1.5

tbsp

cystalline salt

( vary depend on the sourness of the mango)
to preserve
2

tbsp

Sesame oil

1/2

tsp

mustard seeds

10

curry leaves

1

pinch

Asafoetida
Instructions
In a dry pan roast the fenugreek seeds on a gentle heat. Remove and set aside.

Add the crushed dry red chillies into the same warm pan and toss around till they are slightly roasted.

Set aside to cool

Dice the mangoes and spread on a plate

Leave under bright sunlight for a day.

Add salt and mix well.

Crush the fenugreek and red chillies to a coarse mix. mix this into the now salted mangoes.

Add this into a clean sundried bottle.

Heat a pan and add the sesame oil, add the mustard seeds and let them splutter.

Add the curry leaves as the oil heats up and allow it to sizzle. Now add hing to the oil and remove from heat.

Pour this warm oil over the mango mix.

Cool and cover the bottle in an airtight fashion. Keep the bottle for two days to allow the flavours to marinate.

The mangoes will be ready on the third day for the best flavour