Before we moved to Penang, the variety of millet on our diet was predominantly  restricted to finger millet and pearl millet.  Once we moved here the seasonal availability  of the other millet like foxtail millet and little millet jumpstarted a series of experiments and reviving some old recipes all using the millets. 
The one we are discussing  today is an age old recipe Little millet Porridge. The recipe originates as a farmers recipe for a cooling porridge which has slow release carbs to aid him sustain the heat and toil of the fields. This recipe  is from the age old tamilian cuisine.
To adapt it to modern days, the recipe is perfect as a " grain gazpacho". It's a well balanced cold porridge  post workout.  The addition of probitotics and the low glycenic index of the little millet makes it perfect for the diabetics.  What more this gluten free option can be served for breakfast sweet or savory. Coming under soft foods it is  easy on the kids and the old people.
Little Millet (Samai arisi- kutki- chama)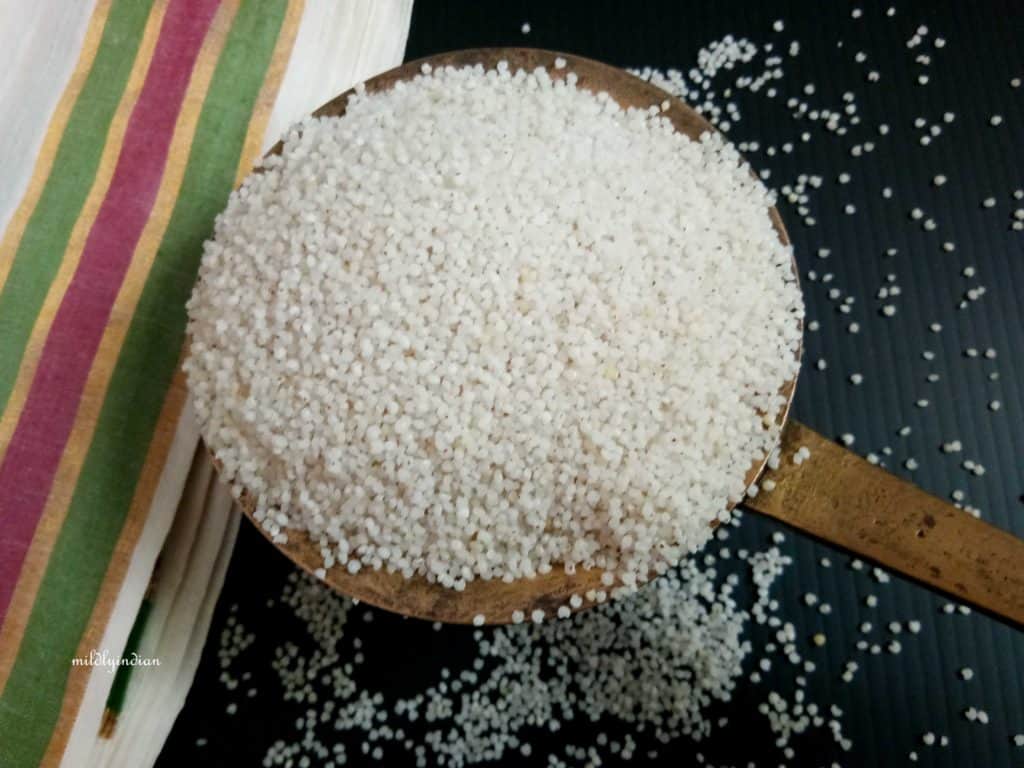 Samai rice  is a forgotten grain which  grows well in areas with less water. In the current concerns of water shortage and global warming it may be a great grain option to promote.This is gluten free whole grain with higher fiber. More over, it has a low glycemic index and suitable for diabetics.
Today's recipe is being made the traditional way. This salted version with yogurt, crushed shallots and chillies as accompaniments is a filling breakfast.  You can upgrade it by preparing a gremolata  of bell peppers, lemon and chillies too. 
You can serve it sweet too.. Add in a dollop of your favorite  fruit compote, omit the salt and you are good to go.  
Prepare it overnight and chill for the blazing Sunday's. 
With plenty of variations now you have no excuse but to make it.  Enjoy the upgraded version  of  millet Koozhu and ping me back which version you prefer.  
 You can chase us on Instagram,  Tumbler or Twitter @mildlyindian. 
For more interesting stories and healthy recipes subscribe to us and check 
Banana blossom in coconut masala – Kerala style Sadhya recipe
Last but not the least we really like to hear from you… So don't miss to leave thought for us in our discussion. 
To happy summer days….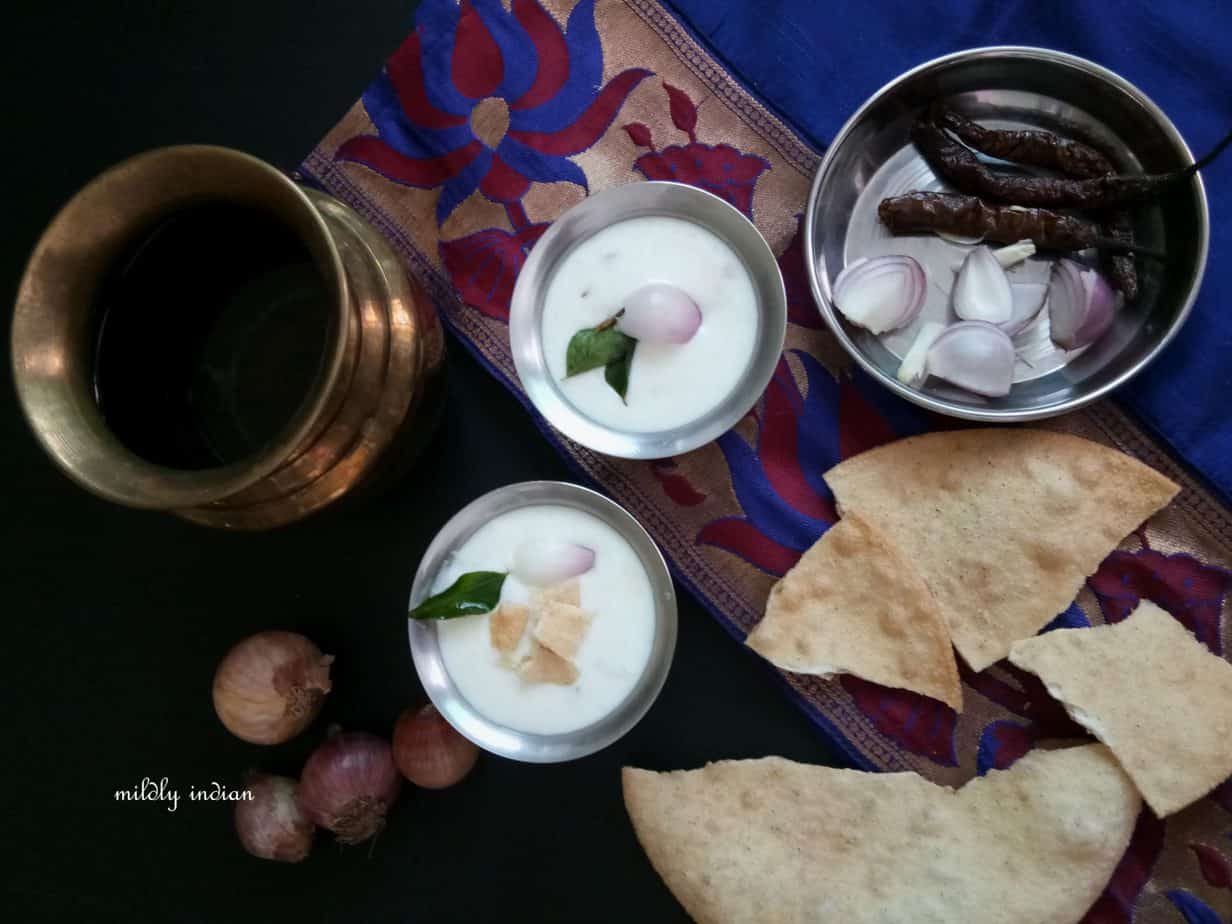 Little millet porridge/ samai Rice koozhu
a cooling porridge which has slow release carbs
Ingredients
2

tbsp

Little millet

dehusked

2

cups

drinking water
To be added after cooling
2

cup

buttermilk

salt to taste

shallots

thinly sliced, optional

chilli

optional

Rice cracker

savory, optional
Instructions
In a sauce pan bring the two cups of water to a boil.

Add in the two tbsp of little millet grains

Cook till the grains turn soft.

Remove from flame and cool
To add following cooling
Whisk together the butter milk and salt till a bit frothy

Add this to the cooked and cooled little millet.

Stir well till they are well incorporated.
Serve as required
Garnish with chopped shallots, chillies / yogurt cured chilli, rice cracker.

Serve cool.
Notes
Add more water if you like it runny.
Change the accompaniments to suit your tastes.
For a complete meal you can serve this with a salad - warm or cold.
Nutrition
Serving:
70
g
Calories:
58
kcal
Carbohydrates:
8
g
Protein:
4
g
Fat:
1
g
Saturated Fat:
1
g
Polyunsaturated Fat:
0.1
g
Monounsaturated Fat:
0.3
g
Cholesterol:
5
mg
Sodium:
143
mg
Potassium:
190
mg
Fiber:
0.1
g
Sugar:
6
g