Engage your breadmaking skills to create this unique Focaccia loaf this Haloween. Created with activated charcoal, this unique bread has ripple-like patterns.
It feels like ages since the oven was fired up. It is spring and a string of Indian festivals that do not require baking. So the warmth of the oven was temporarily forgotten till the overpowering love for bread took over! Focaccia is the easiest bread that I have ever attempted (not that there is too much of it! ). Since it is Halloween season, let's attempt a bit of darker food or just make faces with this marbled charcoal foccacia.
What type of bread is Foccacia?
Pronounced fuk-a-sha, Foccacia is a yeast-based bread. Made on a flat tray and flavoured generously with olive oil, the predominant popular form of focaccia is the savoury one. It is topped with sea salt, vegetable and herbs like the art foccacia we made earlier. Slice it to make a sandwich, or serve it as small squares the bread has a crisp exterior and a soft chewy centre.
What is activated charcoal?
When charcoal is treated under temperature it opens up a lot of pores in it. This is activated charcoal. Activated charcoal is used to absorb poisons, reduce flatulence and as a bowel movement agent. The absorption of the unwanted products is because the activated charcoal should not be confused with coal used in barbecues or the one from a woodfire oven. Edible-grade activated charcoal is often a fine powder or capsule at the chemist. Though it is handy to keep in your medicine cabinet, excessive consumption has its harmful effects. Since the absorption by activated charcoal is not selective, you can lose vital minerals and vitamins.
Let's get the ingredients together for charcoal foccacia
Sprouted wheat flour -strong wheat flour is used to make focaccia. Sprouted wheat flour is certainly one such. Once the wheat has Sprouted it is dried and ordered enhancing its digestibility and protein content. Regular bread flour will also work in this recipe.
Yeast -4 grams of active dry yeast is what I have used for this recipe. 
Sugar- to activate the yeast you need sugar. This is how the yeast works to create the rise.
Salt- the salt added to the dough helps in flavour. the focaccia is a savoury bread and it is important to add salt to it. 
Water- lukewarm water is best to knead the bread as it provides the right activation temperature for the yeast. Depending on the flour you may have to adjust the water content a bit. I used 330 ml of lukewarm water to make this marbled focaccia bread.
Activated charcoal- As discussed above, activated charcoal powder is the one that creates this rippling. you will need about 1.5 teaspoons ( not fifteen) of charcoal powder to the bread dough ratio.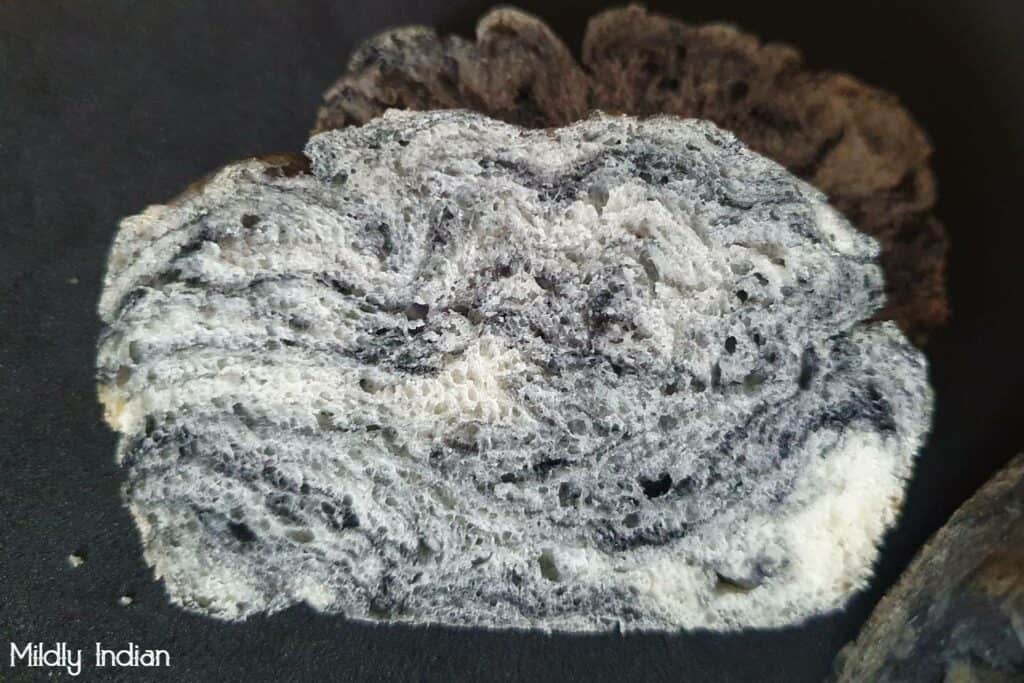 Let's make marbled focaccia
When it comes to focaccia other than the slight kneading and dimpling, the yeast does most of the work. This makes your life so much easier, especially with bread. Follow the recipe card below for the step-by-step explanation of getting this charcoal focaccia recipe done. 
Marbled charcoal focaccia
Equipment
mixing bowls and spoons.

loaf tin

baking oven
Ingredients
500

grams

whole wheat flour

sprouted wheat or bread flour

4

grams

yeast

1

tsp

salt

1

tbsp

sugar

350

ml

warm water

luke warm water

1

tbsp

activated charcoal

1/4

cup

olive oil
Instructions
Into a mixing bowl, add the flour, salt, sugar and yeast.

Add about 300ml lukewarm water and mix well.

if the dough is too dry add another 20 ml and knead the dough.

Knead for about 10 minutes. The gluten develops during this time.

Grease a bowl with olive oil and place the dough into it.

Cover and set it aside in a warm spot.

After 20 minutes, sprinkle the activated charcoal powder as a layer

Fold the dough over repeatedly to form the layers.

Grease the loaf tin and place the dough in it.

Cover and rest the dough for another 20 minutes.

Dimple the focaccia dough and brush it with olive oil.

Make faces or add herbs of your choice to the dimpled dough.

Preheat the oven at 180 degrees for 10 minutes.

Bake for 25 to 30 minutes in a fanforced oven.

Remove and cool the bread.
What other colours can you make?
The marbled effect of this bread comes from just the activated charcoal powder. You can create colour variations based on the dry vegetable or fruit powder you have. Say spinach for green, tomato for red, beets for purple etc. I would refrain from just-food colour to create the rippling as it contributes to nothing but aesthetics. However, that is not a limiting factor for making marbled focaccia bread. 
Serving the focaccia bread
We had made Foccacia faces here. Serve it with a roasted tomato dip for a fiery feel perfect for the season. Slice it up and make a sandwich with colourful vegetables. However you serve, the bread is tasty. The bread stays well in the refrigerator for a week.
More for Halloween
We don't have a huge collection but some of our recipes are fun to have at Halloween. Try these, 
Cafe style spiced pumpkin latte
If you are putting together at the last minute, here is a platter that you don't want to miss – Last minute Halloween platter. 
Stay connected
Hope you are enjoying this blog.If you came looking for bread, don't forget the black currant yeast loaf and the tutti frooti scrolls we made earlier. Please subscribe to receive regular updates.  Tag us #mildlyindian when you make these. If you are on Instagram or Threads check us out –Mildlyindian. Tell us what did you make for Halloween.
See you in the next post