These are the easiest appetizer-sized spicy carrot and cheese bites you can pull off without spending long hours in the kitchen. Try it out as it is satisfying, nut-free and can be easily vegan.
As we dog through the couple more weeks before an Easter break the early mornings are getting worse, the teen fury feels as jumpy as a dragon's breath and assignments piling up. To add fuel to the fire,  moving jobs at this time is not really helping. I guess we are all hungry, a bit tired and need a reset. To take care of the hungry but we are meal-prepping appetizer-sized carrot and cheese bites.
Why do bite-sized foods feel better?
The manageable sizes of food generally look more inviting that a huge pile of food. The compact sizing and the perfect balance of flavours often entice the taste buds and create a more satiated feeling. Most appetizers are therefore created as a bite or two which wakes up the taste buds. further, when picking up the piece of food the sensory feeling is completed with one that actually fits into the hands, contributing to the happiness of eating. When sharing with friends or for a potluck it is best to have the bite-sized so we can keep hands free for the conversation and cocktails ( or mocktails).
Ingredients for the spicy carrot bites
Carrots: The carrot plants we planted this year gave a lovely yield. However, the shapes they created were hilarious. They were imperfect, all sorts of shapes yet they were homegrown, pesticide and chemical free and finally with some flavour.  The orange carrots we planted went into the making of these carrot and cheese bites. We used the black ones to make microwave carrot halwa.
Cheese: grated mozzarella is what I have used to make this appetizer. You can make this appetizer without the cheese as well, but it turns out very dry. Vegan cheese works well, I have only tried the tasty style of shredded cheese. 
Breadcrumbs: Regular store-bought crumbs will suffice in this recipe. I had some leftover sourdough sandwich bread that I ran through the spice mill to get some bread crumbs. 
Dhania podi: The spicy flavour that makes this appetizer tasty. These add a unique flavour. If you don't have dhania podi, use red chilli powder and coriander podi. The quantity is in the notes along with the recipe card. 
Salt: the flavour balance is key to all appetizers, so flavour well and check the dough before baking.
Mint: chop some mint leaves for freshness. You can swap this with thyme, coriander or rosemary as they all work well with carrots. 
Making this appetizer
There are just a few steps involved in making these easy carrot and cheese bites.
Shredding the carrots: wash peel and pat dry the carrots. Then shred the with a fine Grater or add to the food processor for a quick mince.
Squeeze out the liquid: add the carrots to a cheesecloth and tie it up. Now squeeze as much water that you can from these carrots. This ensures that you get crispy bites than softer ones. You can use the liquid to add to stock or curries.
Making the dough: the crispy bread crumbs dried mint and carrots go in first to knead together. Don't forget to season the dough as you go. Knead till soft and add the shredded cheese. Knead them further to a soft dough.
Coating: if you prefer you can go ahead with a step more. In the ones I have made, I have not done this step. To have a crispy coating, roll the balls in a cornflour slurry or a beaten-up egg. Now roll them further in breadcrumbs or breadcrumbs mixed with parmesan. This provides that crunchy bite.
Baking: preheat your oven to 170 degrees. once these carrot and cheese bites are prepped, place them on a baking tray with about an inch of spacing between them. Bake at 170 degrees for about 15 minutes. The crust turns dry and looks crisp. Then the spicy carrot and cheese bites are ready. Remove from oven and cool before storing.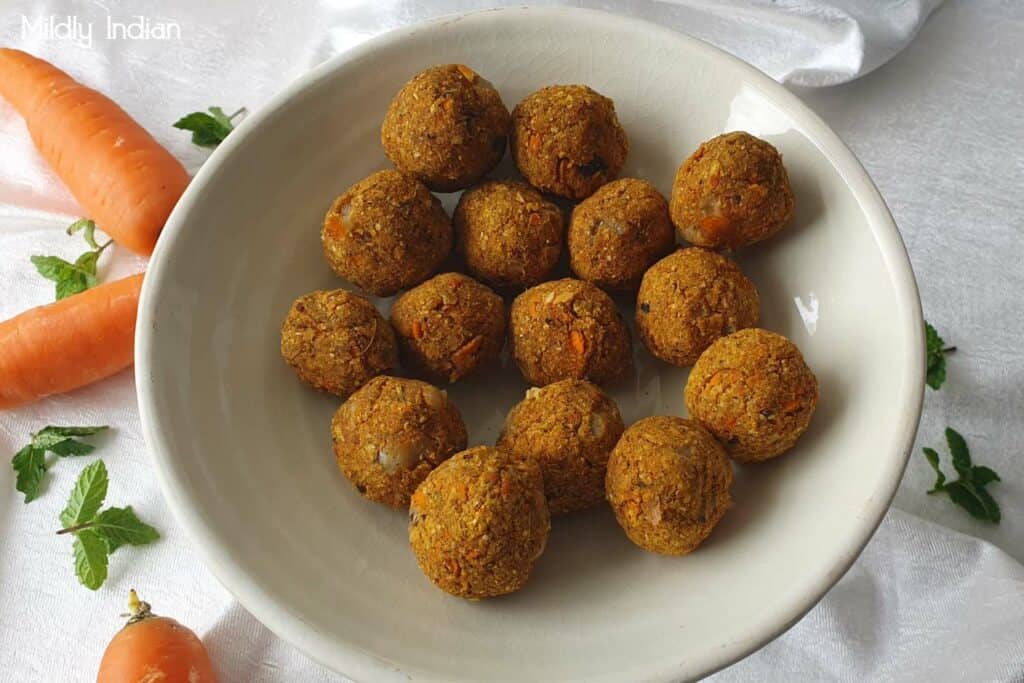 Spicy carrot and cheese bites.
Equipment
baking oven

Baking tray

measuring cups and spoons

mixing bowls and spoons.
Ingredients
1

cup

carrots

grated

1/2

cup

breadcrumbs

1/3

cup

cheese

mozarella, grated

salt to taste

1-2

tbsp

dhania podi

1

tbsp

mint leaves

chopped.
Instructions
Preheat the oven at 170 degrees for 10 minutes.

WAsh and pat dry the carrots.

Grate them on a fine grater.

Place the grated carrots in a cheese cloth and squeeze as much water out as possible.

Add this along with bead crumbs and mix well.

Add the dhania podi, cheese and adjust the salt.

Now knead into a smooth dough.

Portion out the dough and roll them as small balls.

Place this on a baking tray.

Bake for 10-12 minutes in the oven.

Remove and cool the appetizer.

Store in moisture free container.
The best dips that go well with spicy carrot and cheese bites.
We have a couple of options that we go to when we make these carrot and cheese bites. Since they are spicy, a mild creamy dip makes sense. Try these with the bite-sized appetizer.
Avocado green chutney
Hung yogurt and pickle relish
Mediterranean Cacik
Meal prep and storage
Here is the best part. These prepared bite-sized appetizers stay good for about two weeks without any problems in the fridge. To me, that is a huge blessing. Once baked cool the bite-sized balls and place them in an airtight fridge-safe container. You have ready-to-go snacks as quickly as you need. If you prefer them warm, just warm them up in an oven or in the microwave.
If you prefer to bake them at a later time, save these balls in a freezer-safe pouch and bake them when needed. This stays good in the freezer for up to two months.
A few more easy bite-sized recipes from our blog.
Bite-sized recipes are undeniably satisfactory so here are a couple more that you can try.
Blueberry oatmeal cups
Cucumbers dukkah bites
Bread chole chaat
If you are looking for carrot-based recipes, check these links
Our carrot collection is a bit exhaustive, yet you will find a lot of recipes that you may like to make.
Stay connected
I hope you will find it easier with these recipes that keep you well and make snacking a bit better. If you have refrigerator access at work, don't forget to read our post on healthy fridge snacks. Stay with us by subscribing and let us know how you go with these carrot and cheese bites. Connect with us on Instagram or Facebook and don't forget to drop some love.
See you in the next post.