This nectarine fizz is perfect to celebrate new beginnings. The combined flavours of sweet nectarine, lemon and mint are delicious to be served in a mocktail or spiced up to be a cocktail version.
Every new year brings something different, new learning. It is the anticipation that keeps us going. The Learning spirit and the overall smiles that come out of it. I look forward to this part of the year when get my loved ones talking and good vibes going. To celebrate this time,  we have nectarine fizz. It is a simple drink made with fresh nectarine, mint, simple syrup and sparkling water.
Understanding nectarines
The smooth-skinned slightly tangy sweet fruit that classically appears during summer is the nectarine. This soft stone fruit is similar to peaches. What they miss is the fuzzy skin. This prunus species is slightly smaller than a peach in size with soft flesh. Usually, you get them as yellow flesh or white flesh both taste almost the same.
How to choose a nectarine?
Nectarines are soft fleshed sweet fruit. This is under the category of stone fruits. The red-skinned fruit is firm to hold, but the ripe fruit is slightly yielding to a small press. You can also look for the freaked look on the skin for the ready-to-eat ones.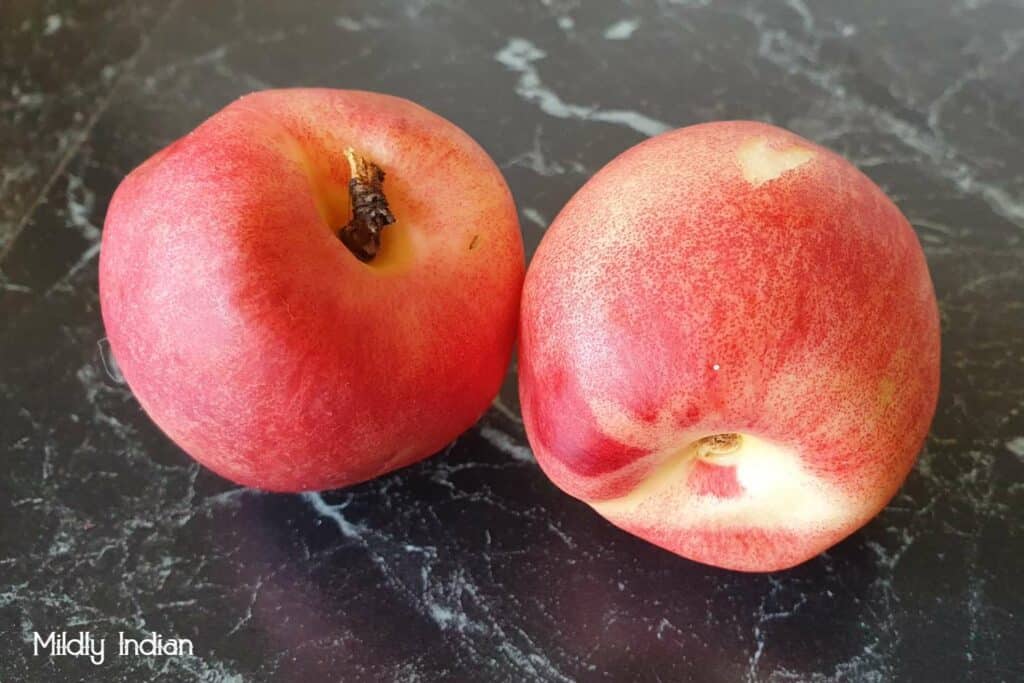 Ingredients for the nectarine fizz.
Nectarine: chooses your nectarine, wash and slice off the flesh. The seed is kind of clingy but hard. Remove it. You will need about half a nectarine per person for this stonefruit mocktail.
Mint leaves:  the freshness of the fizz is from the mint. If you don't have any choose rosemary and add this while boiling the simple syrup to flavour it.
Simple syrup: this is a boiled solution of one part sugar and one part water. This is easier to use than stirring sugar without diffusing the soda! If you are using rosemary then add a couple of stalks to the boiling syrup to infuse. Cool and store it in the fridge.
Club soda: infused carbonated water what I have used. It has a slight tang with a touch of saltiness. You can use sparkling water in its place. 
Nectarine fizz mocktail
Ingredients
1

medium

necatrine

1.5

tbsp

simple syrup

1.5

tbsp

lemon juice

soda water

ice cubes
Instructions
Slice the flesh of the seed and add the soft flesh to the blender.

Add the simple syrup, lemon juice and mint leaves and blend smooth.

Add ice to the serving glass and pour 1/4 of the content into the glass.

Pour the soda water over, till it is almost full.

Share with family and friends and enjoy.
Let's put a party platter together.
We are putting a platter together to nibble as we watch the fireworks. On the platter, we have crackers, sliced Foccacia, cream cheese with chives, strawberries,  some blackberries, grapes, olives and sundried tomato and cashew dip. The nectarine fizz drink will go well with it. So that's our plan.
Stay connected
Whatever you are looking forward to this year, hope all that comes with lots of happiness and togetherness. Hope you can stay with us through this year by subscribing to us. Check us out through our Instagram or Facebook.
Wishing you all a very happy 2023!!