Looking for a simple festival sweet?
There are plenty of recipes that we make for Indian festivals. Many of them are unique to the festival and made only on the festival day. Yet there are many other festivals which just ask for a basic sweet to offer. varagu paal payasam is one such easy to prepare naivedyam.
Kodo millet or varagu
Popular as a grain in African and Asian cuisine, kodo millet is getting its popularity as a healthier grain. The hushed grain looks brown to grey whereas the dehusked one is creaming to grey-white in colour. Cooked as flour or as a wholegrain this millet is popular in weight management,  diabetic diets and cholesterol management diets. This varagu paal payasam recipe is made with the dehusked varagu arisi.
Ingredients for varagu palpayasam
Millet – primarily  I make this recipe with kodo millet. You could also use little millet or foxtail millet to try out this recipe. We have done a similar recipe with amaranth seeds -rajgira kheer.
Milk – whole/ low fat or lactose-free milk works well in this recipe. However, you can make it with coconut milk too as a plant-based option.
Sweetener -the sweetener commonly used in paal payasam is just sugar. However, you can use jaggery, but do not boil the milk after adding Jaggery as it tends to curdle. There are a few more options we have discussed in the recipe notes below. 
Cardamom– the aroma of the green cardamom in this payasam is subtle but sweet. You could try cinnamon, but I would say it takes away the original flavour.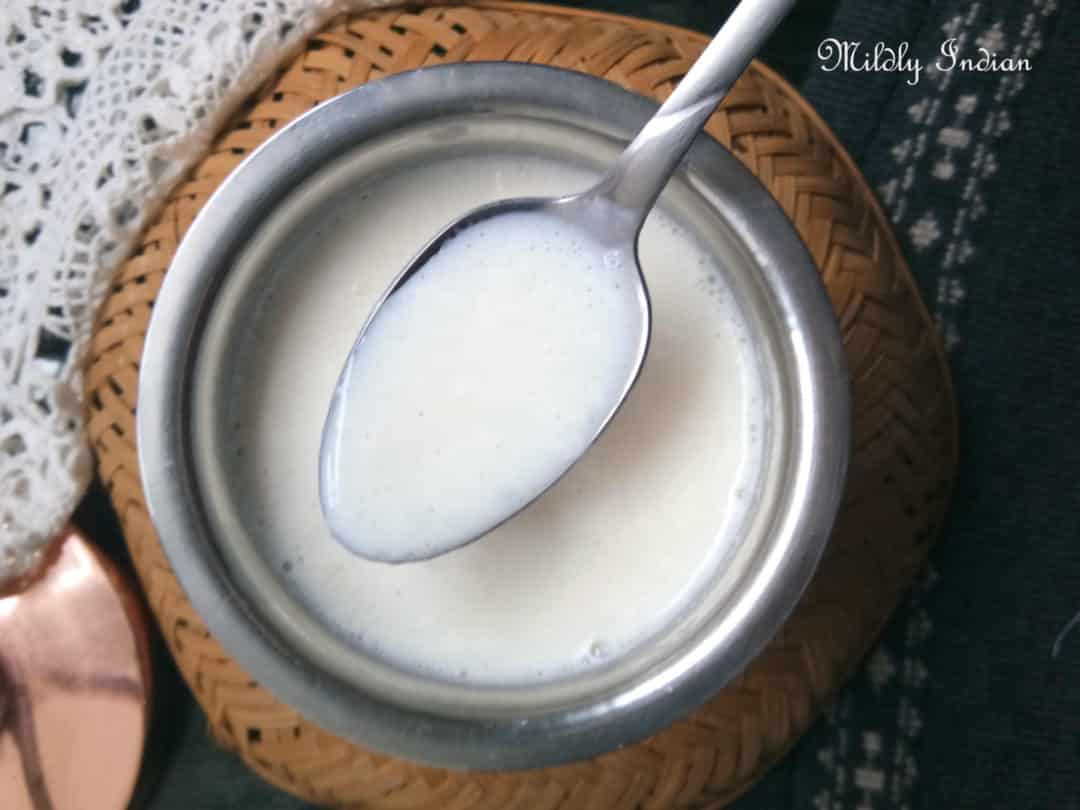 Varagu paal payasam
Kodo millet porridge as a dessert perfect for Indian festivals.
Ingredients
1/2

cup

Kodo millet

varagu arisi

3

cups

low fat/ full cream milk

1/2

tsp

green cardamom powder

1/2

cup

unrefined sugar

Check recipe notes for swaps.
Instructions
Wash, drain and set aside the kodo millet ( dehusked )

Dry roast this kodo millet on a saucepan for 2-3 minutes.

Add the milk slowly and keep stirring ( check for instant pot version below)

Let the milk come up to a boil and don't miss stirring.

Ónce the milk starts boiling simmer and stir occasionally to make sure it does not catch the bottom.

Once the grain looks cooked, crush a few between ( it will be hot, careful! ) your fingers. If they mash the grain is cooked

Add in the green cardamom powder, the sugar and take it off the heat. 

Stir well, taste test and serve warm.
Notes
Change of  sweetener
This recipe is so often made at our place that we have a few swaps we like for the sugar. 
Stevia- this is one of our favorite. 1/2 tsp of sugar per person is plenty to sweeten this palpayasam. 
Condensed milk - If using condensed milk, use 2.5 cups of milk and 1/4 cup sugar ( or even lesser).
Dates - Chopped dates taste amazing in the chilled version of this varagu paal payasam
Instant pot version
Wash and drain the millet. the set the instant pot to saute mode and saute the millet. 
To this add the milk, Set on pressure cook for  10 minutes. 
Let the pressure release naturally. 
Once ready open, stir the cooked millet well, add the green cardamom powder and the sugar.
Mix well and the payasam is ready. 
Other millet recipes on this blog.
Millets are slowly gaining good popularity. Here are some worthwhile recipes that you could make with a variety of millets.
Heavenly finger millet and jaggery cake – This cake recipe used Ragi flour and chocolate is moist and perfect for a small birthday or a get-together.
Mushroom millet pilaf – A flavorful main option at your dinner table with mushrooms and foxtail millet, this pulao is all about the fragrance of the whole spices.
Methi matter millet upma– a wholesome idea with fenugreek leaves, peas and millet flakes.
Thinai Kara Pongal -Foxtail millet and lentil one-pot dish. Nonspicy and perfect for winter. 
Bajra ladoos -Winter perfect bajra and raisin ladoos for the quick energy snack bites.
Varagu arisi thair saadam –  perfect for summer and health, cooked varagu in yogurt and temered with spices is a cooling recipe to try.
Saamai Koozhu – Similar to the hair saadam but more of soup consistency, this little millet recipe is also a perfect summer cold soup.
Stay on with us by subscribing to our site. Please leave your thoughts and comments in the discussion below. If you have tried out kodo millet porridge recipe, do let us know the adaptations you made. Check out the tips and tricks to a great sadhya – here or that essential South Indian meal you can serve to celebrate the upcoming Indian festival season. We would love to hear from you in our discussions. 
This kodo millet porridge recipe has stayed on this blog for more than 4 years. So, it is due for an update right? The content of the post is what has changed slightly with an updated image. the recipe per se, is the same as the one you have been loving for years. Hope you will love this version as much as you have shown the love and support over the years.
Stay safe and keep visiting us.