I like some things when I go to a restaurant. In any Andhra style restaurant.. I love to eat a bit of rice with parippupodi and a touch of ghee.  This particular combination is one which is fast moving out of my menu plan as often we tend to avoid the ghee or the oil added to it.  It's time to revive  it as its a busy working woman's bottle of solace.
Parippupodi is a lentil based condiment popularly served in Andhra and Tamilian cuisine. It's a quick one to serve with rice and a good side of vegetable kootu ( Check
celery kootu
)  to make a brilliant combo. It's stays well for a few months when made and stored. So is a quick fix for busy days without sacrificing  on health or flavor.
How to use?
For serving  usually this dry powder is served with a bit of ghee or sesame oil.  On a ladle-full of steaming hot rice sprinkle a tsp  or  more of the powder followed by a liberal amount of the ghee or sesame oil. Mix it up and when you have it warm, it is so yummy. This is a quick fix for a lunch box too especially if you have left over rice. The best combinations along with it are a thick Kootu, stirfried veggies, stuffed eggplants or simple deep fried ' applam.'
The restaurant style Andhra parippupodi, I like with ghee and it does have garlic added in it and the one my mother makes I have with sesame oil.  Her version has no garlic in it and tends to stay longer.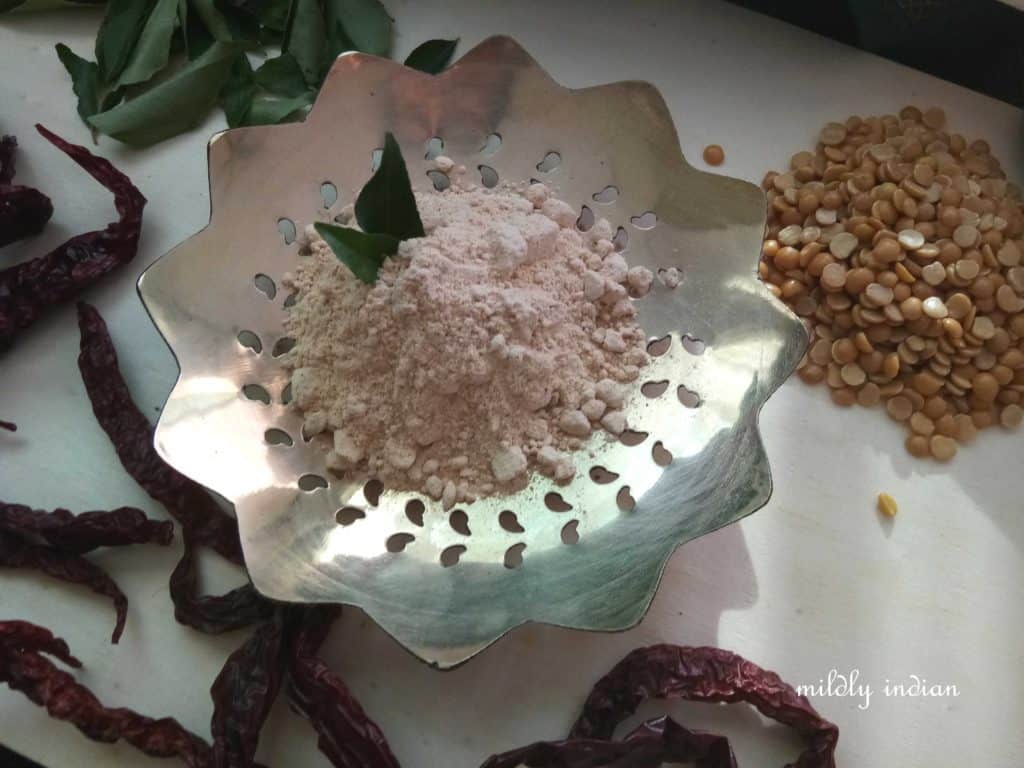 My mother's  parippupodi recipe was my savior during my hostel days. With the rice from the hostel canteen,  this was easy and fuss free.  We don't have to worry about it going bad. Sprinkle it on the veggies or the tasteless curries..instant transformation for those meals.
Today sharing the "iyer style no garlic parippupodi" recipe today. I use this recipe not only to mix up a lunch box version of quick rice , but also to add a bit of protein and kick to my bland ootappam or stir fry like okra , sprinkle on the yogurt or even serve with a bit of 
venpongal
. to an added effect try between the layers of grilled cheese sandwich.. it my favorite. If you like these combos.. Don't forget to ping me. if you have more options do send in I will love to try too.
Here is another idea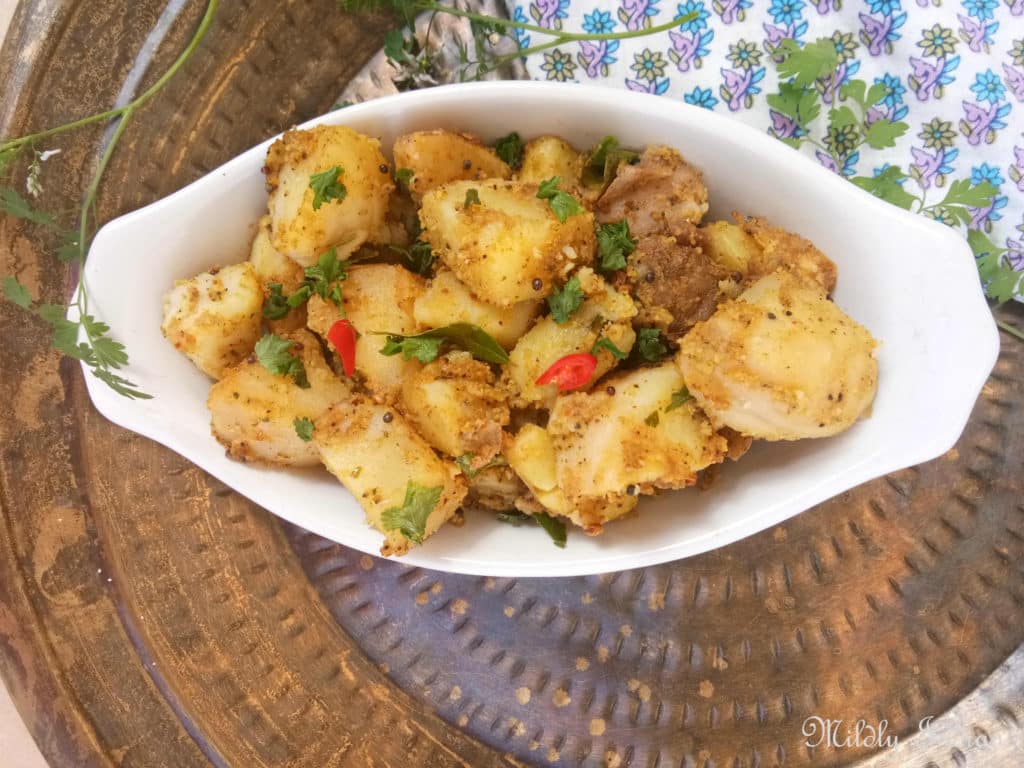 Toss in some diced and boiled potatoes, add in some mustard curry leaf tempering and a delicious earthy poato salad side ready for a super busy day.
Do keep a stock of this magical old recipe to kick start your week and shoo away the Monday lunchbox woes. Dont miss these tricks and tips, Keep at @mildlyindian. Wishing you all a fabulous week.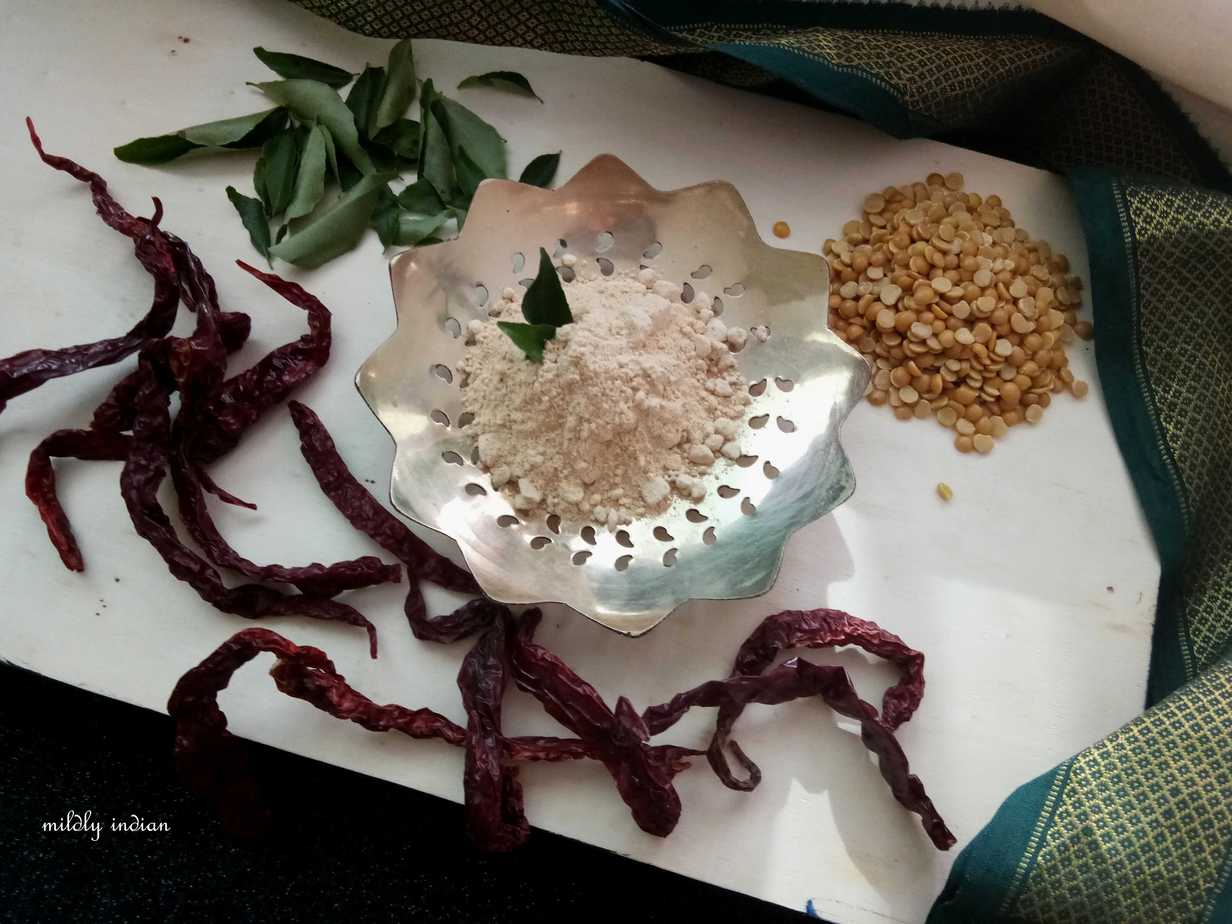 Parripu podi
Savory lentil mix
Ingredients
1/2

cup

split pigeon pea

tur dal / tuvaram parippu

5 - 7

dry red chilli

1/4

tsp

Black pepper

salt to taste
Instructions
In a heavy bottom wok,dry roast dal till it turns golden brown in color.   Don't leave at this step . If it burns the powder is of no use.

Remove and let it cool on a plate. Place the black pepper on the dal so it can warm.

Dry roast the red chillies separately.    

Grind everything together to a powder along with salt.

Store it in an air tight container.
Notes
Store in an airtight container, use a clean dry spoon each time of use. the shelf life is round an month or two.
If making larger quantities store in the freezer. It stays fresh.
Nutrition
Serving:
5
g
Calories:
25
kcal
Carbohydrates:
5
g
Protein:
2
g
Fat:
0.2
g
Saturated Fat:
0.02
g
Polyunsaturated Fat:
0.004
g
Monounsaturated Fat:
0.03
g
Trans Fat:
0.003
g
Cholesterol:
0.2
mg
Sodium:
87
mg
Potassium:
4
mg
Fiber:
1
g
Sugar:
0.2
g