Texturally I don't think I miss any aspect of eating meat. Honestly, I don't know how chicken is supposed to taste or any other meat person since I grew up vegetarian. So there is no way I can miss it!! Still, if there is a curry that I will recommend to satisfy the core meat eater this oyster mushroom curry is the perfect one. I think the reason it appeals to all is because of the looks of the texture and it is curry!!
What is an Oyster mushroom? 
With a fan-shaped (oyster) cap, Pleurotus ostreus, the oyster mushroom is a delicate edible mushroom. The colour of the mushroom ranges from white to grey and yellow to salmon pink. They are delicate and fan-shaped cap umbrellas that look like oysters and have hardly any stem. They appear usually plenty in spring and are fresh during a season just after the rains. There are a few varieties of them that actually look very different from each other. I have used the pearl mushroom variety today. You could also try it with King mushrooms.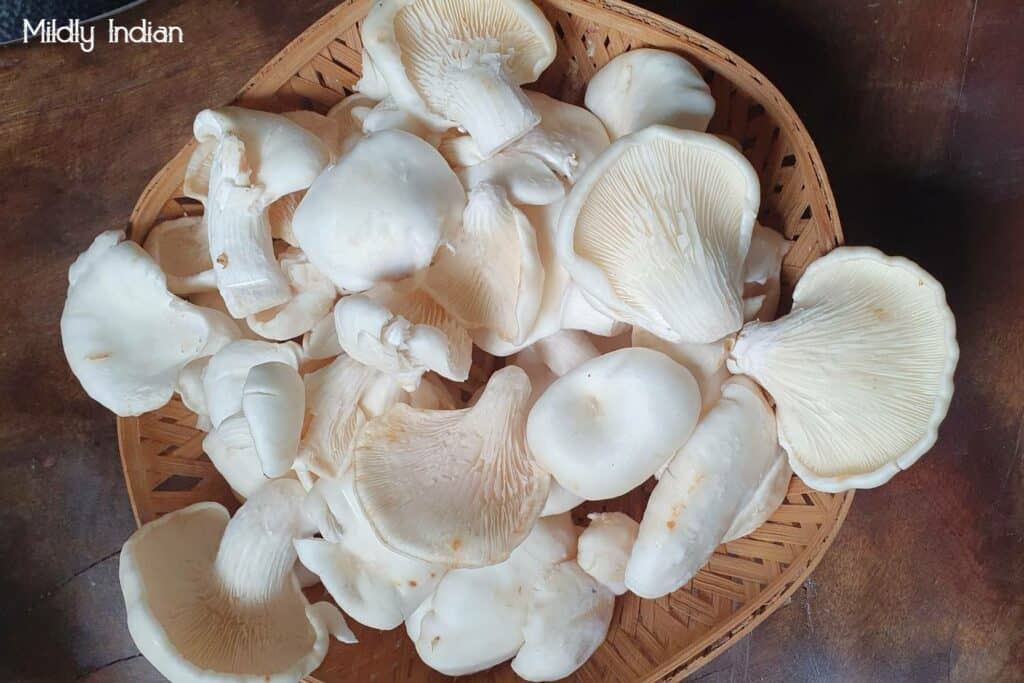 Smell and taste of oyster mushroom
The mushroom has a slight licorice flavour. Oyster mushrooms are not as common as button mushrooms. However, it is best you pick them up fresh preferably from a farmers market where you can see both sides of the produce. Old ones can have a fishy odour that is a bit off-putting.
Raw is not the best way to eat these mushrooms. They are tender so you can just tear them up and sautee them or use them in curry.
How to clean and store oyster mushrooms?
A paper bag on the regular shelf of the refrigerator works perfectly for this mushroom. I love using this mushroom as quick as I pick them up fresh.  A quick rinse and well dried off on a kitchen towel is how you clean this mushroom. It doesn't require any soaking or scrubbing as literally has no dirt stuck on it.
Other ingredients used for this recipe with the step by step method of preparing it is in this recipe card. Hope you will like to try it too. Check below the recipe card to get an idea of how to serve this curry or other mushroom recipes.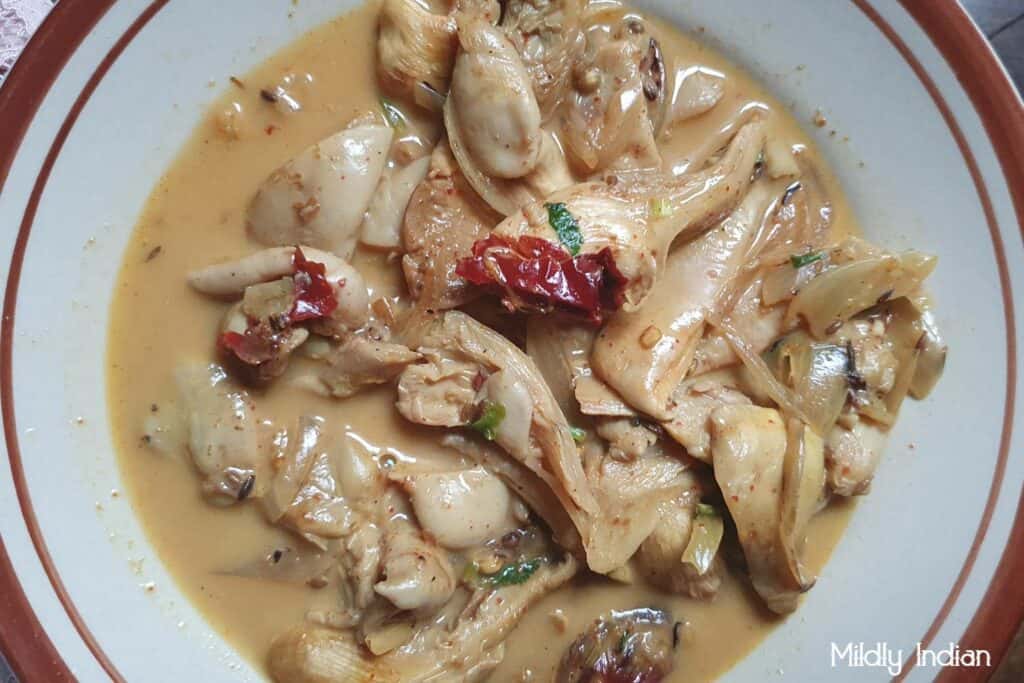 Oyster mushroom curry
One of the easiest curry to make for a ricebowl is this gluten free, oyster mushroom curry.
Ingredients
1/2

tsp

olive oil

1/2

tsp

cumin seeds

1/4

tsp

fennel seed

1/4

tsp

coriander seeds

1

dry red chillies

1

small

red onion

sliced

1/2

inch

fresh ginger root

chopped

1

clove

garlic

chopped

1/8

tsp

turmeric powder

2

cups

oyster mushroom

1/2

tsp

curry powder

1/2

tsp

red chilli powder

salt to taste

1/2

cup

drinking water

1

cup

cream
Instructions
Wipe the oyster mushroom tear it into bits and set it aside.

Into a frying pan add the oil, cumin, fennel, red chilli, coriander seeds and saute till they are aromatic.

Slice the onion, garlic and ginger and add to the frying pan.

Add the bayleaf, clove and green cardamom and saute.

Now add the prepared oyster mushrooms and saute for a minute.

Add salt, red chilli powder and curry powder and saute well for a couple of minutes.

Add the water, cover and cook for 5 minutes.

Once the oyster mushroom becomes tender, add cream, coriander leaves and remove from heat.

The curry is best had hot with rice or bread.
How to serve this oyster mushroom curry?
This curry has successfully carried me through many omni-potlucks. There has been a few I passed on this recipe who loved it and made their own tweaks. There are a few who requested it to be on the blog so here it is. 
The mushroom curry is best with rice like neichoru or kalonji rice and a salad. You could also serve it on a bed of cooked pasta. The curry with focaccia to mop up the gravy is just perfect on a weeknight.
If you don't find oyster mushrooms, this recipe can be tried with shimenji or button mushrooms too.
When you try this recipe, do let me know how you like it, how you served it or adjusted it.
We have a few lovely recipes with mushrooms. Check them out.
Cremini mushroom and millet pilaf
Finger rolls with mushroom masala
We hope you will love to share with us your thoughts about or recipes and post. Take a moment to visit our youtube channel. Leaving you with our Facebook page  (click here) and Instagram (click here ) so you can take a peek. Don't forget to follow us as we update these to the best of our efforts. Subscribe, share, like and evermore come back
Stay safe and see you at the next post.