The Elephant Godchild " pillayar" as he is fondly called is one that has stepped down to be with the masses. He sits happily under the peepal trees or at riverbanks. There exists no strict policy of how to worship him. (Isn't this how it should be) then, he sits happily in the corner of each temple solving people's problems and removing obstacles. Where ever he sits, the elephant-faced God is one that the common folk looks up to for intelligent quick solutions. In return, he gets to eat some yummy delicious mothagams.
What is a mothakam?
Modakam or mothagam is a sweet dumpling, made with rice coconut and jaggery in some combo and steamed. Regionally these are also referred to as kozhakattai. There are a great many varieties of mothagam that you will come across, no-cook ones, dumpling-like ones, stuffed and filled with poornam ones etc. Choose your style and try your hand at it.
Today we are going for a simple dumpling that is the traditional offering at Pillayarpatti temple.
Pillayar Patti temple
This 7th-century rock-cut Karpaga Vinayagar Temple, is located in Karaikudi ( Tamilnadu, India). It is one of the oldest temples in India. The Ganesha idol in the temple is depicted just with two hands unlike the usual four that we see. The 6 feet tall deity is carved with the trunk could towards the right (valampiri vinagayar) is seated in an ardha padmasanam.( Source) The temple ambience, with the reflections from the tall gopuram, is soothing and majestic. (This is a temple I will love to revisit for its historical beauty with my parents)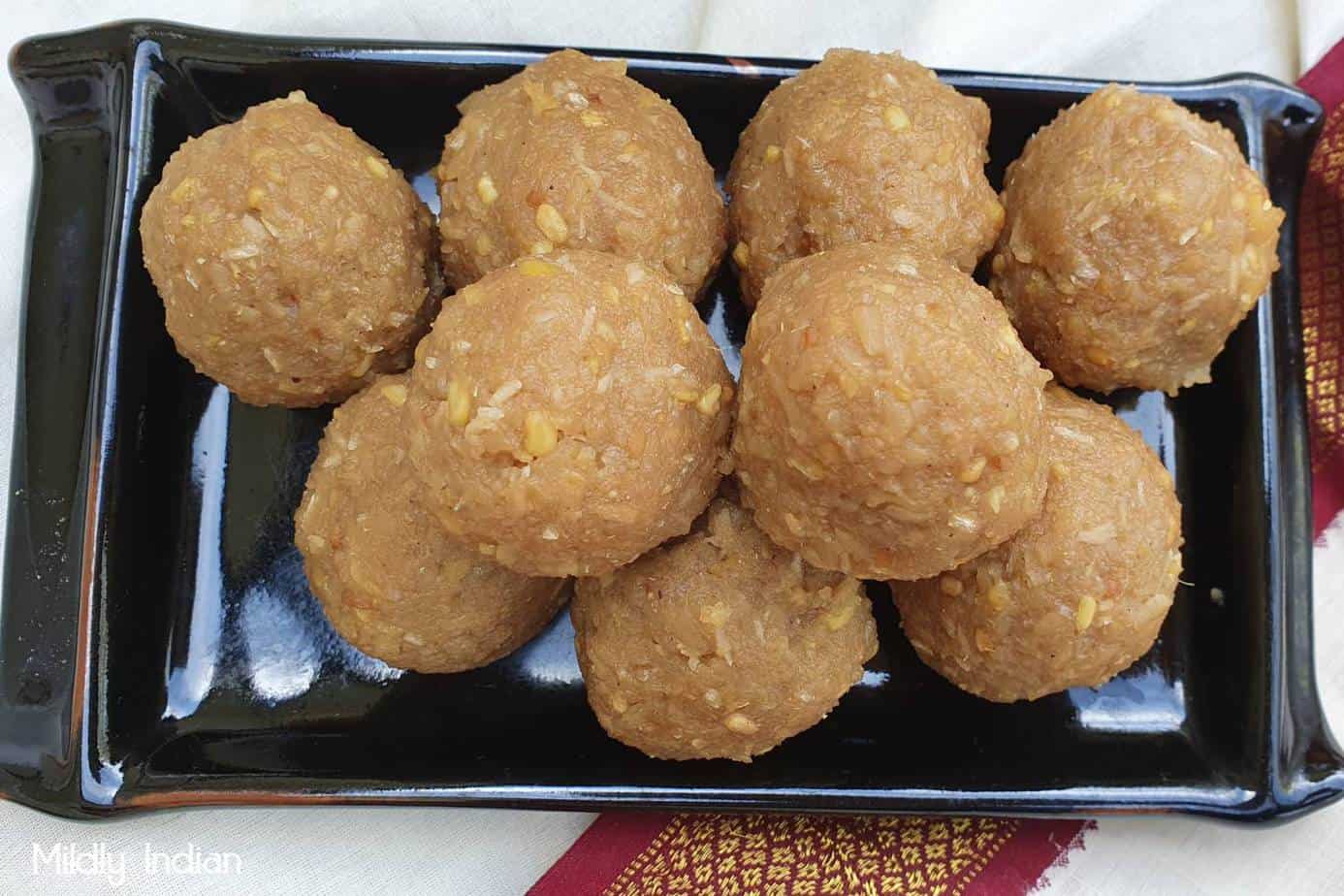 Pillayarpatti mothagam
This is perhaps the easiest of the way mothagam can be made. With essential components of rice, coconut and Jaggery. This is very different from the regular modaks. It is not an overpowering sweetness in this South Indian prasadam. The coarse-textured, roasted rice and moong dal get cooked and simmered in jaggery ensuring a soft texture. The combined fragrance of cardamom and coconut is enough to get our attention. When paired with chickpea sundal, this Pillayarpatti mothagam is a South Indian prasadam favourite. The Pillayarpatti mothakam is usually shaped like a ball, but you can shape it just like regular modaks as well.
Pillayarpatti mothagam
Among the South Indian prasadam made in temples, Pillayarpatti mothagam holds a special place. Try out this easy recipe for Ganesha Chaturthi.
Ingredients
To roast and powder
1

cup

Raw rice

1/4

cup

Moong dal
for jaggery syrup
3/4

cup

jaggery

2.5

cups

water
Additional ingredients
3

tbsp

coconut

1/4

tsp

green cardamom powder

2

tbsp

ghee

( used only for greasing, can swap for coconut oil)

1/2

cup

hot water

( use only if the rice absorbs water too fast)
Instructions
For the jaggery syrup
Pound the jaggery cubes and add a cup of water and set it aside to dissolve.

Strain the soaked jaggery for impurities. add more water and set it to boil.

Keep skimming the top as the impurities appear further.

The consistency we need for this recipe is just boiled not thickened.
For the roasted flour mix.
In a frying pan , dry roast the rice and the moong dal.

Once the rice appears opaque and the moong dal slightly browned, remove this mix and set it aside to cool.

Coarsely powder this mix and set it aside.
To make the mothagam.
Add the coarsely powdered mix into a larger pan and add the jaggery syrup.

Keep at medium heat and let this come to a boil.

Contiously stir as the mix cooks in the jaggery syrup.

As the mix cooks the water will be absorbed, add some boiling water only if needed.

Once the rice and dal cooks and the mix become thick, add teh coconut and cardamom powder.

Mix well and let it come to luke warm so you can handle the mix.
To steam the mothagam.
Grease the steamer plates with a bit of ghee or coconut oil.

Grease your palms and make lime sized balls of the cooked and cooled mix. ( be careful, can be hot)

Place the balls on the steamer plate.

Steam the readied balls in a single layer in the steamer for 15 minutes.

Let it stand for another 5 to 10 minutes.

Remove the mothagams from the steamer and serve hot.
Tips to make the Pillayarpatti mothagam better.
1. Roasting the rice and moong well gets the best fragrance in this recipe without the stickiness.
2. The first couple of times you make this recipe you may need to watch out for the water that you add. This is because the absorption of water by the type of rice you use will make a difference
3. I have made this recipe with Thanjavoor Ponni rice. You can choose Sonamasoori or basmati rice to make it. Both Ponni and Sonamasoori take about 4 times water(as you want it soft-cooked, yet hold shape) for basmati use 2.5 cups and then add water only if necessary.
4. The jaggery comes in various shades of brown. So the mothagam colour will change accordingly. Use sugar cane jaggery in this recipe which is a deeper shade of brown.
5. The jaggery syrup needs to be strained as it may have impurities. We also skim off the impurities that appear at the top while boiling this syrup.
The Pillayarpatti kozhukattai is one of the best naivedyam during Ganesha Chaturthi. Keep in mind, variety is the key if you are pleasing the foodie God. The savoury kara podi kozhukattai and sundal is the best combination for this modak.
Have a great Ganesha Chaturthi festival.
Share with us what unique dishes you make for this festival in the comments. If you are looking to do a simple sadhya during this festival time – check these sadhya hacks to help you save time. Let us know when you have made this recipe.  Tag us @mildlyindian or #mildlyindian on your socials. Share this recipe with your friends if you find it easy.