The Indian festival season started. This means that we are going to go through quite a lot if unique recipes this time as well. Most recipes start of as naivedyam. A naivedyam or bhog is a set of recipes that are made in God's name. In fact, this is the first spot for recipe development giving rise to tons of ideas. This is no surprise given the fact that we have 33 million gods to satisfy and each one having their preferred set of a favourite food.


Ganesha and modaks
As we are soon approaching Ganesh Chaturthi, we are heading straight to modak or modakam. Modak or sweet dumplings are the ones that the mythology claims to have satisfied the hungry Ganesha. Here is the gist of that story.
Along with Lord Shiva and Parvati, Lord Ganesha also visited rishipatni, Aanasuya. However, she tried to serve food and satisfy Lord Ganesha's hunger,  ever well-known hunger, Lord Ganesha remained hungry. Finally, she brought on the sweet modaks as the last course. Tucking in a few of them, Lord Ganesha was finally satisfied. From then on modak became his favourite naivedyam.
Variety in naivedyam
Since the best ground for recipe variations are the festival times, we are exploring a no-cook, zero oil, butterless, quick and easy recipe today. Since this modak is made with dried fruits, it is a make-ahead recipe as well. I am so thankful to my mother in law, who gave me this modak mould which made my modaks look beautiful. If you don't have a mould, make it in the form of little energy balls.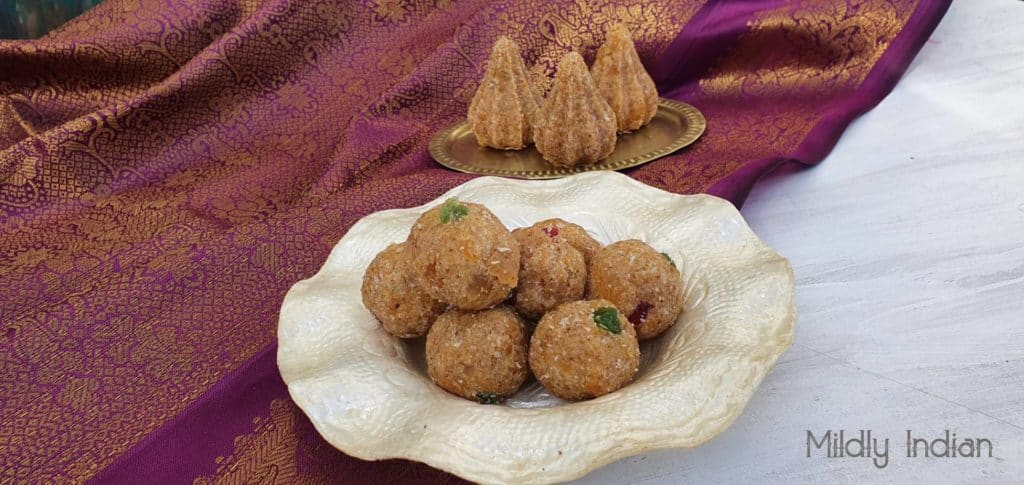 In South India, we make Kozhakattai and sundal as well to celebrate Ganesh Chaturthi. I often make upma kozhakattai and quinoa kozhakattai as well for a savoury addition on this day. For sundal satisfaction, you can try the Nava Ratna sundal or rajma sundal.
Quinoa pidi kozhakattai- steamed dumplings
Upma Kozhakattai – steamed rice dumpling
Navarathna Sundal -9 bean salad
Rajma podi sundal- kidney beans salad.
Soybean Sundal – steamed soybean salad
Hope you enjoy these recipes and love the quick and easy apricot almond modak. Do let us know what you make for Ganesh Chaturthi. Stay safe, enjoy with your family.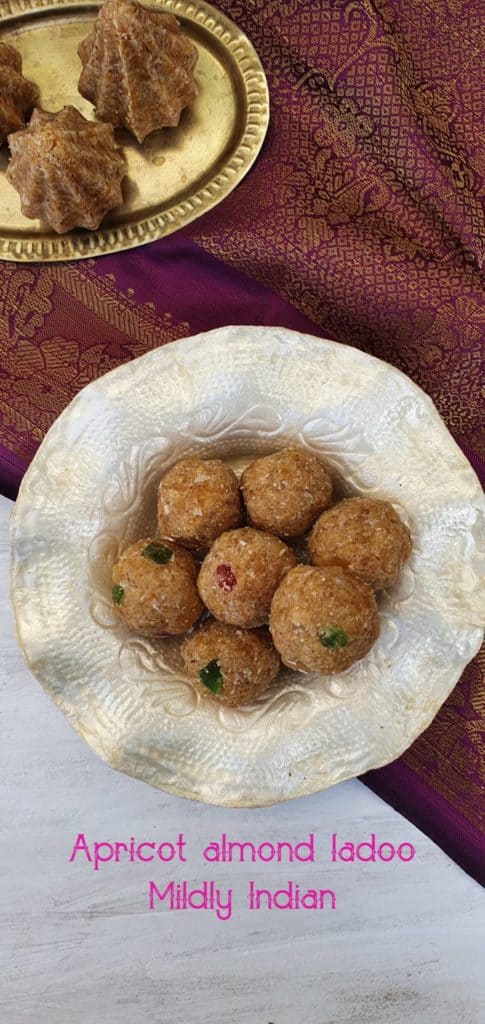 Print Recipe
No cook apricot almond modak
Yum
grain-free, no added sugar, butterless, zero oil, ghee free, vegan, make-ahead snack recipe
Lightly roast the almonds in the oven or a skillet and set aside to cool.

Roughly chop the apricots and set aside as well.
In the palm of your hand take a lemon sized pinch of the almond apricot mixture and hollow it out using your thumb.