The Indian festival season starts from the month of August. This means that we are going to go through quite a lot if unique recipes this time as well. Most recipes start off as naivedyam. A naivedyam or bhog is a set of recipes that are made in God's name. In fact, this is the first spot for recipe development, traditionally, giving rise to tons of ideas. This is no surprise, given the fact that we have 33 million gods to satisfy and each God/ Goddess chooses their preferred set of favourite food.
Since the best ground for recipe variations are the festival times, we are exploring a
no-cook

zero oil

butterless

quick and easy recipe.
Apricot almond modak is made with dried fruits, it is a wonderful make-ahead recipe as well. Here are the simple ingredients that you need to make this almond modak with minimal prep.


Ganesha and modaks
As we are soon approaching Ganesh Chaturthi, we are heading straight to modak or modakam. Modak or sweet dumplings are the ones that the mythology claims to have satisfied the hungry Ganesha. Here is the gist of that story.
Along with Lord Shiva and Parvati, Lord Ganesha also visited rishipatni, Aanasuya. However, she tried to serve food and satisfy Lord Ganesha's hunger,  ever well-known hunger, Lord Ganesha remained hungry. Finally, she brought on the sweet modaks as the last course. Tucking in a few of them, Lord Ganesha was finally satisfied. From then on modak became his favourite naivedyam.
Ingredients for this no cook modak.
Almonds -Almonds or badam is one of the most sought dry fruits in Indian mithai. Whether it is the crispy bite or the creamy texture the almond gives both are highly favoured in sweet recipes. the Almonds used here are roasted. they give a nutty crunch against the soft apricots.
Apricots – The Himalayan region is the main producer of Apricots in India. The dried version of these are the ones that percolate the market as the fresh fruits are easily perishable. For this recipe, I have used the dried apricots. When you buy dried apricots, check for the ones that do not have the sulphur di oxide. These ones don't look as beautiful or orange as the ones with sulphite addition. This is purely for health reasons. If you are planning to use fresh apricots, cook them down to a jam consistency before you proceed with this recipe.
Desiccated coconut- the little surprise stuffing inside is pretty cool for kids. the coconut adds a bit of fibre and crunch to the recipe. You can totally omit to have a filling if it is not for you.
Flavourings – Most Indian desserts are flavoured with elaichi ( green cardamom ) and jai phal (nutmeg). It is the same that we have used in this recipe too,
Tutti frooti – This is a fun addition along with the stuffing. Naturally coloured, sweetened papaya bits are the tutti frootis. You can choose to omit if you don't have them or don't like them.
The details of the ingredients and their measurements are given below for this no cook modak.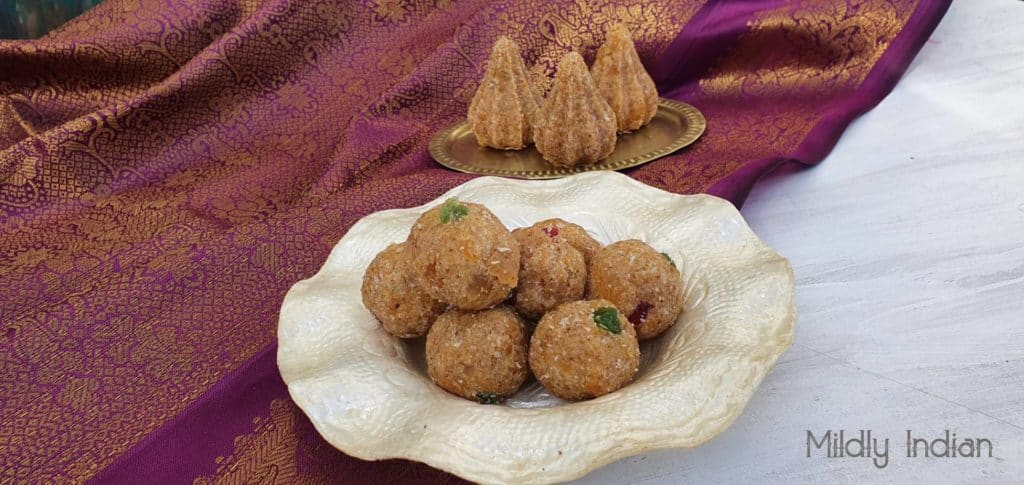 I am so thankful to my mother in law, who gave me the modak mould which made my modaks look beautiful. If you don't have a mould, make it in the form of little energy balls.
No cook apricot almond modak
Grain-free, no added sugar, butterless, zero oil, ghee free, vegan, make-ahead snack recipe
Ingredients
Main ingredients
250

grams

almonds

250

grams

dry apricots 

1/4

tbsp

green cardamom powder

1

pinch

nutmeg
for the filling
1

tbsp

tutti frutti

( use dry blueberries or raisins if preffered)

3

tbsp

dessicated coconut
Instructions
Lightly roast the almonds in the oven or a skillet and set aside to cool.

Roughly chop the apricots and set aside as well.

Add the almonds, green cardamom ( elaichi) powder and grated nutmeg ( jaayphal) into the processor and pulse till the almonds become a fine powder.

Now add the apricots a little at a time and pulse till they combine

The resulting mixture will hold shape when pressed together. this is the stage we are looking for.

In a platter mix together the desiccated coconut and tutti frutti and set aside
To make modak
Press the almond apricot mixture into the mould firmly so it will hold shape, leaving the centre hollow. the mould need not be greased as the almond releases enough oil to release from the mould.

Fill the coconut, tutti frutti mixture into the centre

Cover with a flattened disc of the almond apricot mixture and press it firmly into the place

Slowly unmould the modak shape and it is ready to serve.
To make ladoo balls
In the palm of your hand take a lemon sized pinch of the almond apricot mixture and hollow it out using your thumb.

Fill the coconut mixture in the centre and roll the ball squeezing it gently so that it covers it evenly and forms a tight ball.

The modak and the ladoos are instantly ready to serve and stay well for about a month in the refrigerator.
In South India, we make Kozhakattais and sundal to celebrate Ganesh Chaturthi. 
I often make sweet aval kozhukattai with upma kozhakattai and quinoa kozhakattai as a savoury addition on this day. For sundal satisfaction, you can try the Navaratna sundal or rajma sundal. Here are the recipe links so you can try some.
Quinoa pidi kozhakattai- steamed dumplings
Upma Kozhakattai – steamed rice dumpling
Navarathna Sundal -9 bean salad
Rajma podi sundal- kidney beans salad.
Soybean Sundal – steamed soybean salad
Celebrate this festival also with Kozhkattai maav deepams .
If you are looking for another Apricot recipe, here it is – Qamar al deen is a refreshing apricot drink from the middle eastern regions.
Here is one of our Latest video recipes for plating the South Indian meal that goes on all festival days.
Hope you enjoy these recipes and love the quick and easy apricot almond modak. Do let us know what you make for Ganesh Chaturthi.  Subscribe to our blog for more of these exciting recipes. Stay safe, enjoy yourself with your family.