There is no festival in Kerala that should pass by without having a good go at the sadhya. The elaborate banana leaf meal with 10-12 dishes is all vegetarian affair. The locally grown vegetables with coconut-based masala cooks up the vegetable sides. Fruit and rice-based, long-simmered desserts added to the meal at the end. This delicious meal served on the fragrance of the fresh banana leaf is the best part of Vishu and Onam.
Working mum and 

sadhya

.
Sadhya is a time-consuming affair taking about 5 to 6 hours in total to put together. Squeezing in the sadhya into that one-day holiday window, ( now work from home), trying to make the best of all has been happening over and over again. Being a working mom, I feel your pain. When you look back and there goes 6o per cent of that one day break is gone preparing the meal. I hate that too.
Here are some time tested hacks that has helped me to cut down the time and still feel the celebrations
The 

sadhya

 essentials
The laid out cleaned banana leaf (or equivalent sadhya paper) is first served with a pinch of salt on the left-hand top corner. Now here I have no hacks. Just make sure you have it in your pantry.
Payasam
On festival days I simply go for the easiest of payasams. My go-to payasams are the Semiya payasam or the palada prathaman. I absolutely rely on the pressure cooker to cut down my time at the store. Check out my quick, no fuss paalada pratham and save time.  You could also whip up this 10 minute Aval payasam. Serve this on the right-hand bottom corner.
Now comes the kichadi and pachadi
This is the easiest of the lot. Grated the veggie, mixing the yoghurt and set aside. transfer this to a serving dish and set aside till you are ready with the other curries are you can double up on some processes and save time. These are my loved ones
Inji kichadi
Vendakka Pachadi
Elisherry
Here is where I will offer my absolute hack. Precut veggies in your refrigerator. Once in two weeks iI do spend some time just chopping up veggies and adding them to my freezer. This helps me deal with ones like green papaya and pumpkin which take a while to clean peel and chop. I also roast the coconut ahead and keep in the refrigerator so it is just a quick stir through to put things together. Here is a recipe base you can try.
Papaya elisherry
Thoran
The dry vegetable side is perfect with freezer stocked banana flower, beans, carrots or amaranthus. The masala mix you create for this is simple grated coconut.
Saying that, put that whole coconut in your fridge and once it is cold give it a whack with your cleaner, it cracks open well. Now it is easier to extract the flesh as well. This flesh pieces when given a quick spice mill treatment gives you ample grated coconut ready to be frozen.
Have you tried banana flower thoran? This is the best.
Avial
Use the pressure cooker with minimal water to steam the veggies. This is the easiest way to get the avial done quickly. Wait !!! the masala mix for avial with coconut, cumin and chillies is the same one you need for the kichadi. Grind the mix it up and stir in some of this masala with the kichadi mix kept ready. the rest goes in the avail. How quick is that!!!
Pickles
If you can source that mango or green apple,  make a quick pickle in the weekend and store it in the refrigerator. This would  be perfect for the sadhya day. Here are my favorite
Nurukku maanga achar, Kerala sadhya style mango pickle
Sambhar
I never make an elaborate sambhar for sadhya. It is always the pressure cooker quick one. When placing the pressure cooker, here is how I layer it
The sambhar mix at the blade with a small bow of extra tur dal with a tomato for the rasam ,on t o of this on a steamer plate is veggies for avail, and to top it all a small bowl of tamarind tied to a cheese cloth. Ta da..thats three in one now. Once the pressure cooker has released steam I have three to go at the same time.
Here are two types
Rasam
The pressure cooker dal and tomato goes quickly into a saucepan with a lump of tamarind tied in a cheese-cloth bit and extra water. Rasam powder, a bit of pineapple and an adjustment of salt.. to boil. Rasam ready top it  with fragrant corinader leaves and viola you are done.
The tempering
On sadhya days my mother in law taught me a hack. All the tempering for the aromatic finish is done in one go at the last. So stock up on the cleaned curry leaves. Set a deep pan and pour the coconut oil. Add the mustard and as it spluttered add the  dal and curry leaves. Remove some and add to rasam and sambhar. Now add some it as far and let it turn golden. Remove from heat and  just use fresh coconut oil on the top
Papadam
That where you have to decide if you want to put that microwave to good use. I have never made papadam from scratch so don't ask me how to, please.
Rice
The whole set if best of curries are eaten with rice. I do cook matta often and that is always in a pressure cooker as it is a stubborn sort of rice and takes time.
So there we go, three pressure cooker and a couple of bowls to wash all set is the sadhya in 1.5 hours well organised.
Drinks
Water is not the perfect accompaniment for such a grand fare, it has to be a bit better
try Sambharam
and for that big meal try the digestive aid infused pink water from Kerala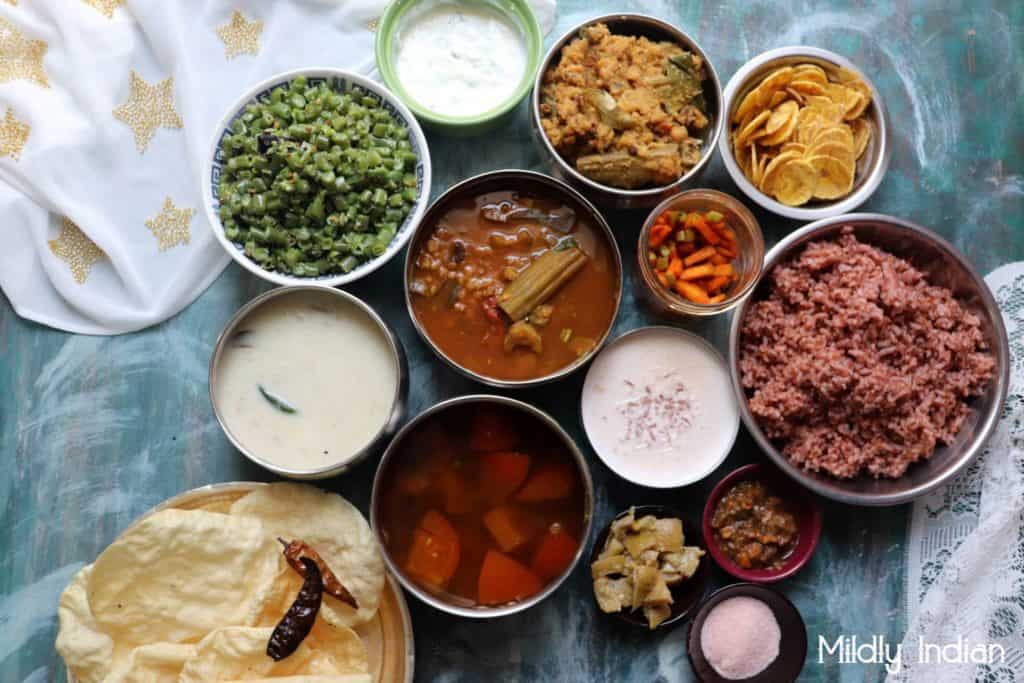 I do agree this is Not the most elaborate perfect sadhya..but isn't it all about celebrating it? Just enjoy the day as the festival is all about people coming together and sharing the positivity.
Re doing the images
The original images in this were taken at a potluck sadhya a year ago. and I had a few readers who requested for one timed exactly and presented. So these new images are taken with a timed sadhya preparation. It took one hour and 4 minutes to get it to the table. I hope you like these new images.
Since these changes in images, I am submitting this content to Foodies redoing old post group as well.  
Hope you can share some lovely images with us or tag us with your sadhya images.