Rajma or kidney beans is one of the world's super healthiest foods. Next to chickpeas, most vegans and vegetarians add kidney beans to their diet for the nutrition quotient towards proteins. With respect to kidney beans, it definitely is the fact that this bean contains the trace element molybdenum needed for the body. When cooked right the rajma creates flavourful curries and Kidney bean salad. Here is more about molybdenum in kidney beans. 
Why does our body need molybdenum?
Sulphites are common additives found in the packs at salad bars, grapes and dressing.  Invariably, being vegetarians, we often end up at the salad bar with some dressing to go on top and yes it contains sulphites.  The mechanism to flush it out of our body system is through the enzyme sulfite oxidase.
Molybdenum is the key ingredient of this enzyme.  Thereby molybdenum aids the process of oxidation of sulphites.
Sulphites occur naturally in products of fermentation and are allies to improve the shelf life of products even dry fruits. The real issue is when a person is sensitive to sulphite or if the levels of the enzyme in the body are low!! It can cause allergic symptoms,  increased heart rate, headaches or even disorientation. so here we have kidney beans in the diet, supplying the necessary molybdenum is assured. ( this is not nutritional advice).
Podi sundal with Rajma
Rajma sundal is a nutritious snack you can prepare with kidney beans during the festival seasons. Starting from the dried bean, you can prepare this delicious kidney beans salad with a little bit of prep and save it for 3-4 days in the refrigerator. Unlike the usual sundals, there is no coconut used in this podi sundal recipe.
First prep up the Sundal podi – This is a flavourful mix of roasted lentils and spices that flavours this sundal. It is a great pantry staple and stays good for a month in an airtight container. When added to the cooked kidney beans, it is podi sundal. 
Time for the kidney beans – The kidney beans come in a variety of colours from pale brown with a variegated appearance to a dark reddish-brown one. I have used the darker coloured one for this recipe. Soak the beans well ahead for 8 hours before cooking them in a pressure cooker or instant pot.  Cook till they can be crushed when squashed, but don't turn mushy. 
Tempering – The classic South Indian tempering makes the whole kidney beans salad come together.
Lemon – The lemon juice lightens the rajma sundal and forms a gentle dressing with the podi. 
The details of all the ingredients and quantities are in the recipe card below. Save it or pin it to your board for later use.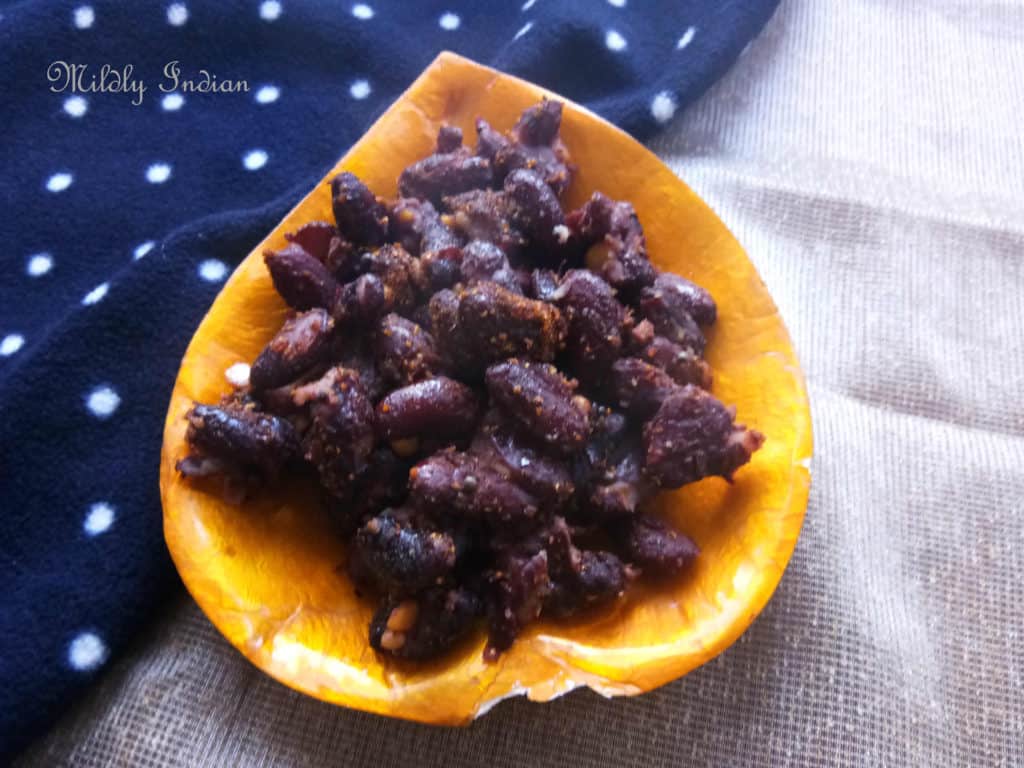 Rajma podi sundal
Kidney bean salad with south indian flavours perfect for Navrathri, Ganesha utzav, a snack box or in your poke bowls.
Ingredients
For saoking the beans
1

cup

kidney beans

Rajma

3

cups

drinking water
To cook the kidney bean
3

cups

drinking water

1/2

tsp

salt
To make the podi sundal
3

tbsp

sundal podi

2

tbsp

Lemon juice

1

tbsp

coriander leaves
For the tempering
1

tsp

coconut oil

1/2

tsp

mustard seeds

1

medium

dry red chillies

5-7

curry leaves
Instructions
Wash and soak the dry kidney beans in water, covering them with three cups of water, for about 8 hour till they swell up to double the size.

Into a pressure cooker or instant pot - add the soaked beans a pinch of salt and 3 cups of water.

Cover and pressure cook for 3 whistles or 17 minutes in the instant pot under high pressure.

Let the pressure relase naturally.

Drain the beans and add them to the mixing bowl.

Add the sundal podi, coriander leaves and lemon and toss mix the salad.

Set a small frying pan to medium heat, add the oil and the ingredients for tempering.

When the mustard seeds splutter add this to the cooked bean mix and toss well.

The rajma sundal is ready.
Notes
Using canned beans
 drain out the water, wash off the excess salt and use directly with the tempering sundal podi, lemon and herbs.
The soaking liquid
Removing the soaking liquid helps in reducing the gas formation associated with the beans. 
The cooking liquid. 
The cooking liquid remaining from the pressure cooked beans can be added to curries and stews as they are nutritious. 
Serving this rajma sundal
Naivedyam Platter –The rajma sundal is an excellent addition to the Navaratri naivedyam with lemon rice and peanut ladoo.
Poke bowls- You can easily use this recipe as a snack or an add on to your poke bowls for that protein content. To the same poke bowl, I will add spinach, tomatoes, cooked quinoa and some pickled cabbages. Add in a creamy avocado chutney as the dressing and your poke bowl is ready.
Snack box for school – the Rajma sundal with a couple of slices of pear works is a perfect brain food mix.
Planning on a Navratri or Ganesha Chaturthi menu?
Festival times can be a strain if you are don't plan ahead. I love the ease of these bean salads to add to the naivedyam platter for Bommai golu and Ganesha utsav. 
Navarathna sundal – a nine bean salad.
Gugillu – spicy chickpea salad with tempering and curry leaves.
Pachapattani sundal– Frozen green peas salad with coconut and lemongrass.
More recipes with Kidney beans.
Dhaba style rajma masala- Get your naans ready to dip into this creamy delicious rajma masala.
Watermelon and rajma stew- a Winter perfect stew with watermelon ( or watermelon rind ) is a lighter soup version and not as thick as a curry.
Connect with us
Stay on with us by subscribing to our site. Please leave your thoughts and comments in the discussion below. If you have tried out this recipe, do let us know the adaptations you made. We would love to hear from you in our discussions. Also, visit our youtube channel.
Stay safe and see you at the next post.