The moment you finish setting up the golu, putting the idols setting the scene, the next question that follows is "sundal ready aa?"
I am sure this is the standard question in all households that celebrate this doll festival. I remember hearing my dad ask this question and now my husband too. To be honest, it is a huge job to set this multiple padis (shelves) and set the golu. Quite a tiring work, even if you do it as a family. So, on the staring day, I prefer to keep the naivedyam the simplest. I keep the sweet treat ready earlier( check the earlier post)  and then the sundal, there is no golu nivedyam without sundal.
Here is our collection of tried and tested sundal recipes from earlier posts
Navarathna Sundal (9 lentil stirfry)
Rajma podi sundal (kidney bean)
Vellam payar sundal – Sweet adzuki bean
Inseparable Sundals and Navratri golu
Arranged in steps, the traditional figurines are mostly handed down from one generation to the other for bommaigolu. Each day a set of sundal made is offered to the gods, then to the visitors. There are two reasons attributed to the sundal.
First is the simplest.
Nutritionally superior lentils and beans as a snack are welcomed by the women and children who walk a long distance to visit these households.
Second is more interesting.
The nine celestial elements are together worshipped as navagraha. This astronomical advancement of understanding the existence of the unknown baffles the common folks Hence they were introduced as deities. Further, grains and beans that were grown were significantly attached to these celestial wonders
Here is the list of navagrhas and their favourite beans and grains.
Sun – godhumbu, gehun ( wheat)
Moon –  arisi, chawal ( rice)
Mars -thovaram parippu, tur dal (pigeon pea)
Mercury- pasi parippu, mong(greengram)
Jupiter – kondakadali, channa (chickpeas)
Venus – mochai,  ( field beans)
Saturn-  ellu, till (sesame seeds)
Neptune (rahu) –  kollu ( horse gram )
Pluto – ulundhu, urad dal ( black gram)
With stories woven around these dieties and food served to attach to the memories it was easier for the people to digest these complex, unimaginable ideas of space and time. When festivals revolve around these ideas, it becomes more joyous than intimidating. Hence simple spiced sundals and sweets created with these made this festival gatherings exciting venues to exchange stories and theories woven into them.
Green peas sundal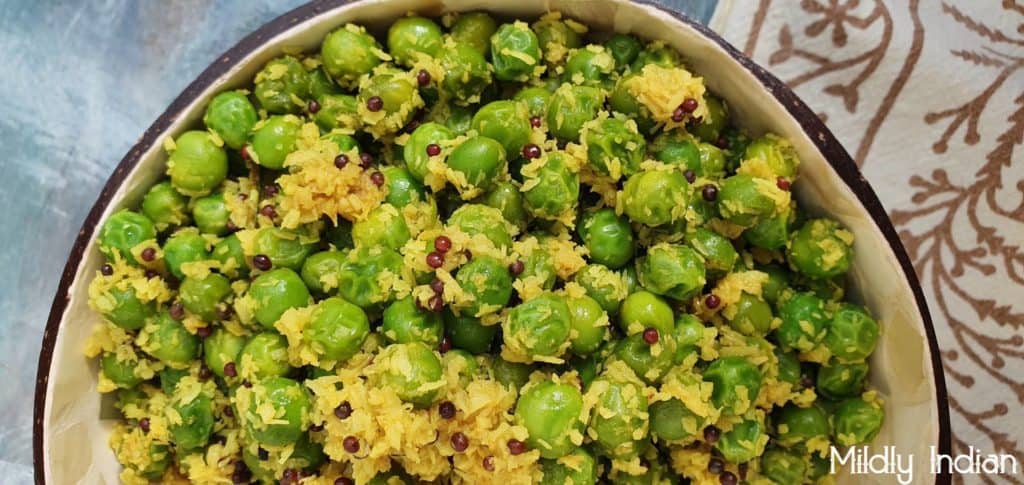 We are looking at an age where we may book an affordable trip to Mars, thanks to Elon Musk! So things can be different. As I am a  busy bee, I look for quick and simple sundals as comfort, brain activating,  energy food. The quickest of course is frozen peas. So here it is pachapattani  sundal. Scroll down for the recipe.
Before you leave, do subscribe as we bring forth such interesting topics to you with add on munches. Follow us on Instagram or Facebook using the links below.
Follow us on Instgram- Click here
Happy Bommaigolu, stay safe and offer virtual tambulams this year and leave us comments on your favourite golu memories and sundals. Here is one from my mum this year for your visual pleasure.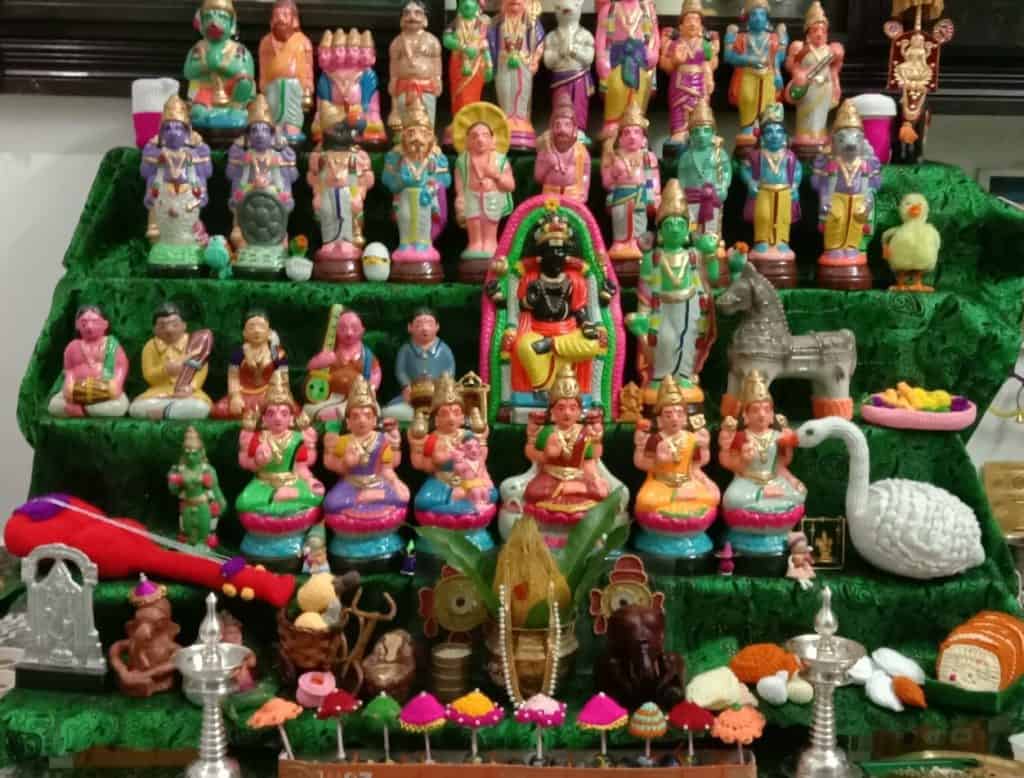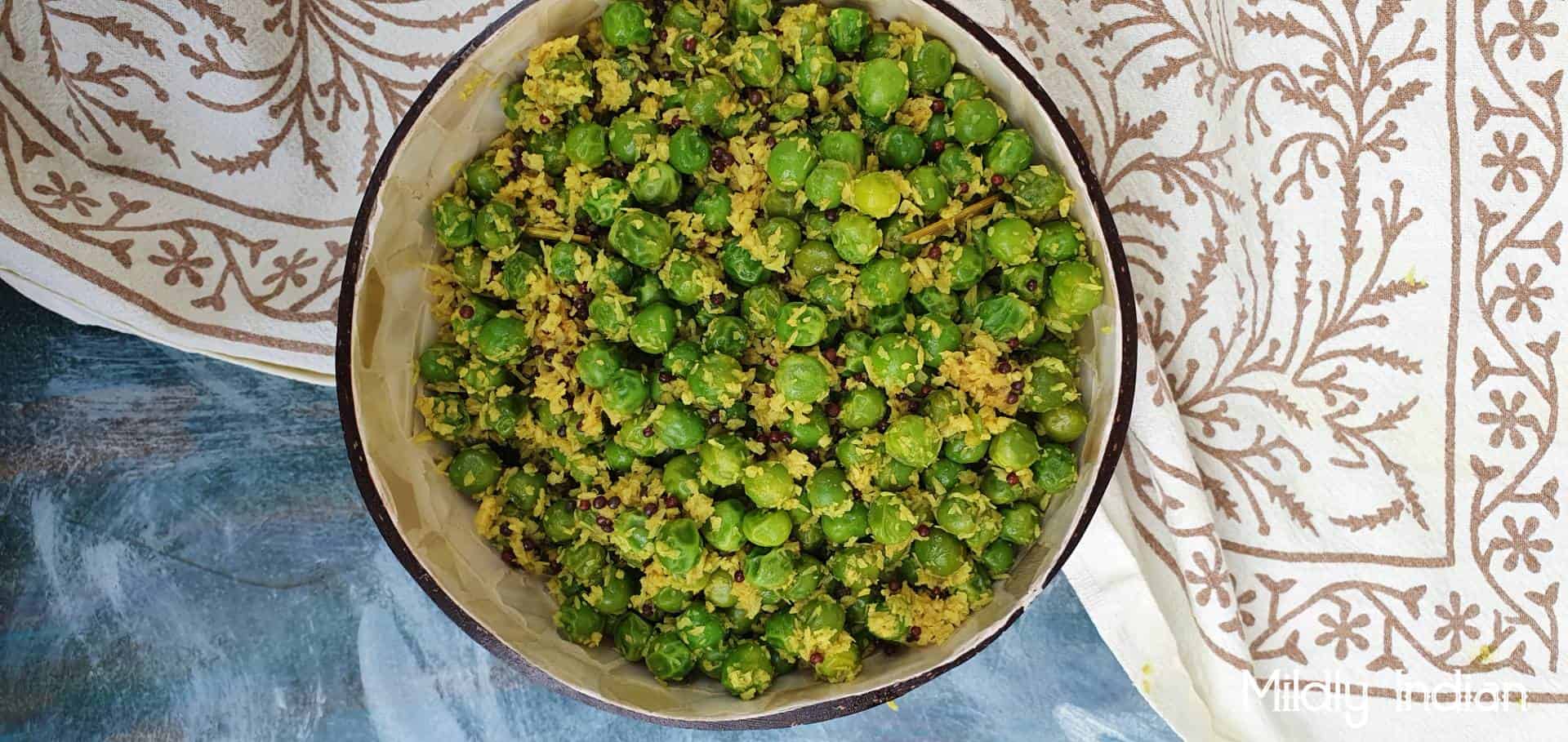 Pacha pattani Sundal
Peas stirfry with aromatic coconut, a grain-free, nut-free, vegan, protein-rich recipe under 15 minutes.
Ingredients
1

tsp

coconut oil

use oilive oil if you do not like the flavur of coconut oil.

1/4

tsp

mustard seeds

1/4

tsp

fresh ginger root

grated

1/4

cup

grated coconut

Use desicatted coconut if you desire

1

inch

lemongrass

use the tender root part

2

cups

frozen peas

salt to taste

1/4

tsp

tumeric powder
Instructions
Into a Wok add the coconut oil followed by the mustard seeds.

Lower the heat, as the mustard seeds, sizzle and splutter add the ginger and grated coconut.

Pound the lemongrass root a with the back of your knife and add that as well to the coconut mix.

Add turmeric powder, green chillies and salt and mix well.

To this mix add the frozen peas and stir well.

Add 2 tbsp of water and cover and cook for 2-3 minutes.

Stir well till the peas are tender.

Remove from heat and the sundal is ready to be served.
Notes
If using desiccated coconut you will need a bit more water. So add 5-6 tbsp for the coconut to absorb and soften as well.