Rajma  or kidney beans is one of the world's super healthiest foods. Next to chickpea most vegans add kidney beans to their diet for the nutrition quotient towards proteins.  Yes,  just like any other bean it is rich in proteins too.
To me, the most quirky details makes me really value the food. With respect  to kidney beans,  it definitely is the fact that this bean contains the trace element molybdenum  needed for the body.
Why does our body need molybdenum?
Sulphites  are common additives found in the picks at salad bars and dressing.  Now invariably, being vegetarians, we often end up at the salad bar with some dressing to go on top and yes it contains sulphites.  Now the mechanism to flush it out of our system is through the enzyme sulfite oxidase.
Molybdenum  is the key ingredient  of this enzyme.  Thereby aiding the process of oxidation of sulphites.
Sulfites occur naturally in products of fermentation and are allies to improve the shelf life of products even dry fruits.The real issue is when a person is sensitive to the sulphite or if the levels of the enzyme in the body are low!! It can cause allergic symptoms,  increased heart rate , headaches or even disorientation. so here we have Kidney beans supplying the necessary molybdenum.
Now to the recipe
 The simplest idea to enjoy it as a snack- Rajma podi sundal. This is an easy make to add the necessary  goodness. With the ready made Sundal podi (Sundal podi– click here for the recipe)
Everything gets even better as it is low oil and low glycemic index.
I do make my portion of soaked and cooked Rajma ( kidney bean) for the week as a prep.  It appears as Sundal most of the time or as a rajma curry.  Either way, try and include some in your diet too.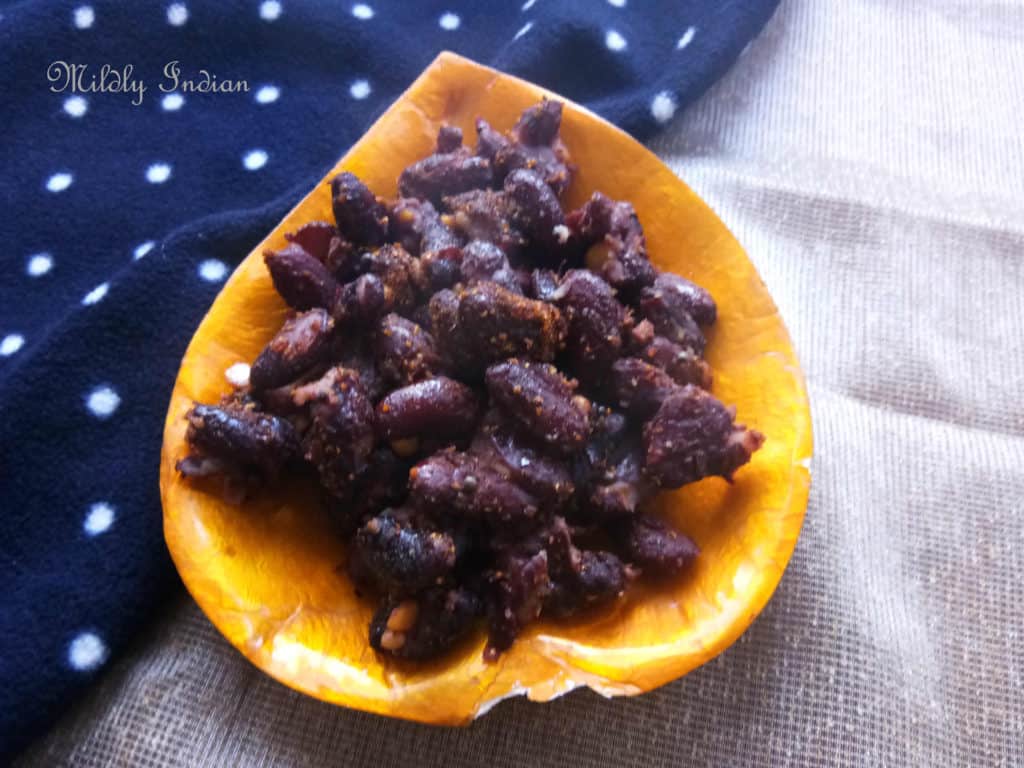 Try out this no onion no garlic, perfect for fasting and 'Navratri naivedyam' rajma Sundal recipe here to make your 'golu' days happier too.
Try out some more healthy mineral rich recipes from the links below
or check out the special diets page for extensive collection to suit your diet.
Print Recipe
Rajma podi sundal
Yum
Soak the dry kidney beans in water, covering them and an inch above the level of kidney beans, for about 6 hour till they swell up to double the size.

Into a pressure pan, add the soaked beans a pinch of salt and 2 cups of water.

Cover and pressure cook for 3 whistles. Simmer for another 7 minutes. remove from heat and set aside to cool.

Salt check and serve warm.
If using canned beans, drain out the water , wash off the excess salt and use directly with the podi and herbs.