This month I want to do dishes predominantly from the cuisine from my home state, Kerala. Blessed with lush forests, backwaters and plenty of coconut tree lined beaches Kerala is a tourist heaven. What goes along with all the lovely scenery is, of course, the love for the local cuisine.
 The local cuisine that has been highlighted many a time on my blog leans heavily on the usage of coconut. But, I know a few who are sensitive to coconut and hence avoid this cuisine totally. Hence this erisherry recipe is perfect for them and the others too coz it is, after all, a good swap.
Erisherry is traditionally prepared on feast ( sadhya) days and is a semisolid, preparation. The predominant flavour of the traditional dish is, of course, the coconuts (quite a good amount) that get added with cooked vegetables like raw plantain, pumpkin or papaya. These are absolute favourites among the Kerala tastes as these are easily grown in the backyard. The one with the raw papaya is my absolute favourite.
Now for the swap
I guess it is time to reveal my secret ingredient now… Almonds. Almonds make the perfect swap for coconuts. They have a textural similarity and when roasted give out the aroma similar to coconuts.
On the other hand, I am not so keen on cashew nuts coz they tend to be creamier and make the dish overall more sticky(trust me … I have tried): walnuts, macadamia, pine nuts too wouldn't work coz my guinea pigs sniffed it and singled it out. So the only one that passed this test and the texture was, of course, the almonds.
Why Raw Papaya?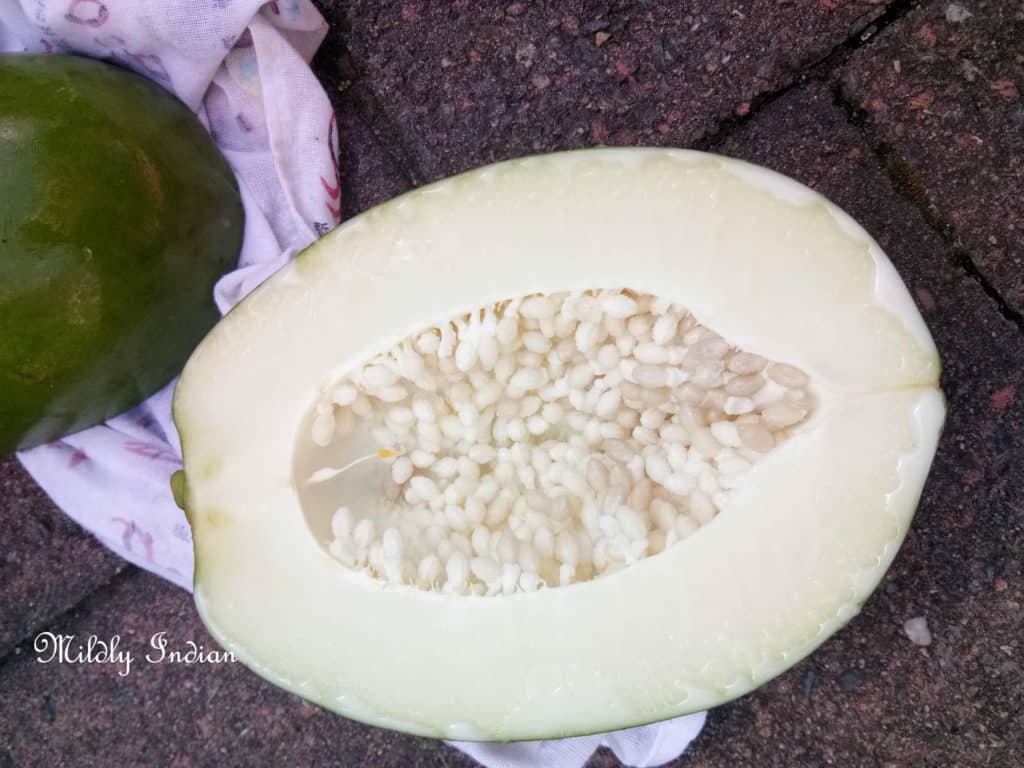 Raw papaya holds an important place in the Asian cuisine. Known world over for the Thai raw papaya salad, this fruit before it ripens features in many Kerala dishes mostly in a steamed or cooked form. Being readily available the incorporation of this in the local diet indeed is inevitable.
Some of the benefits other than the familiarity which attracts me to this dish  are listed here
The enzyme content of papain and chymopapain help to break down the fat and protein content in the diet.
With higher potassium content than the ripe papaya, the green ones, therefore, are a superior choice
Papaya, widely known as a skin rejuvenator is useful in the green form too.
The fibre content aids cleaning of the intestines and
Quite a lot of local herbal medicine recommends the use of green papaya in steamed or cooked form for aiding better lactation in breastfeeding mothers.
With these two bonuses teamed together, there is none better than the recipe itself.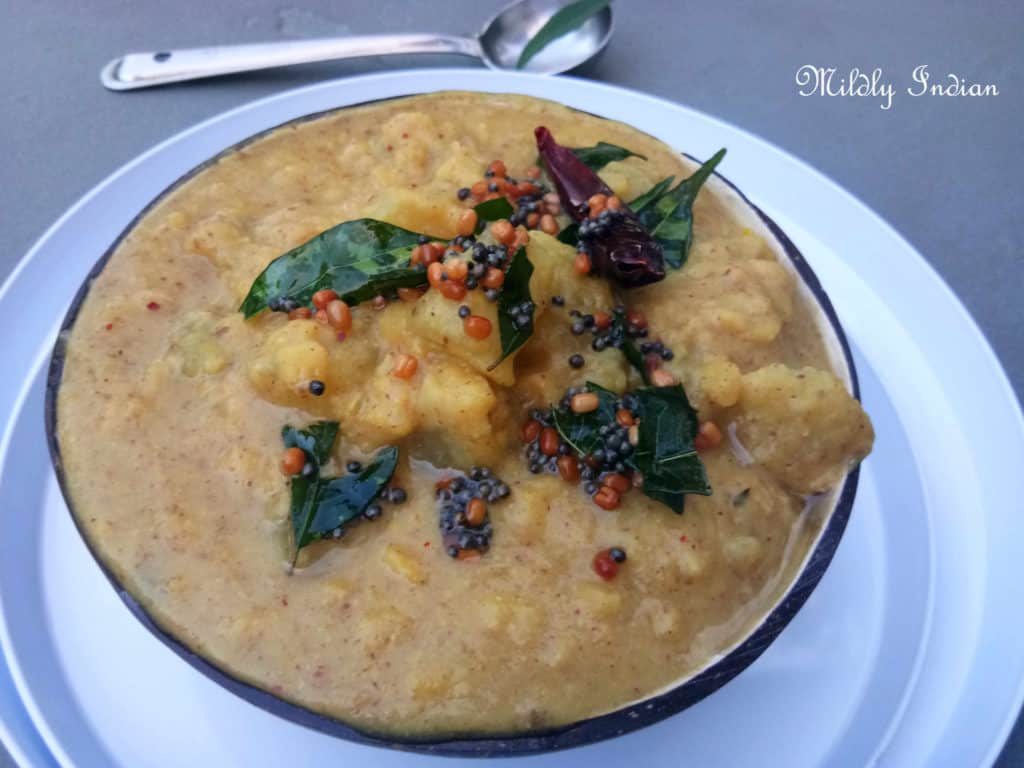 For a complete simple meal, this raw papaya erisherry served with steamed rice and 
rasam
 tastes phenomenal.
in case you are still looking for the traditional recipe with coconut, take a look at the notes at the end of the recipe details. Here is what it looks like with coconut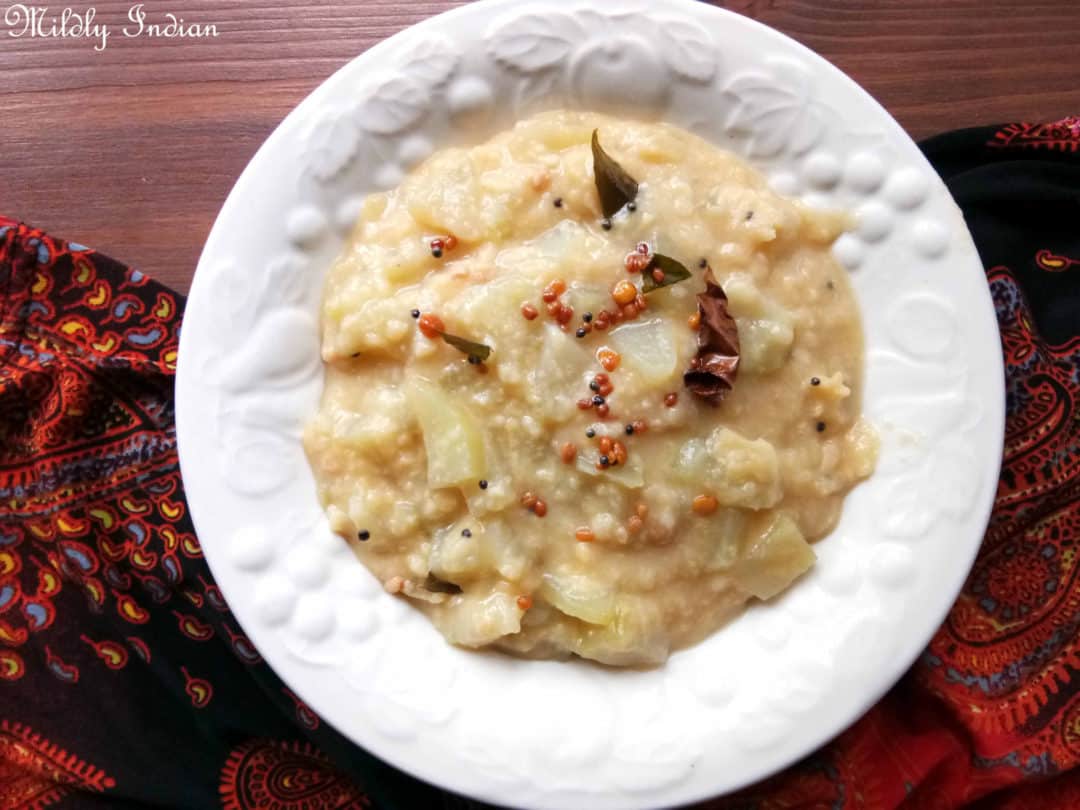 Don't miss such unique recipes and insights, subscribe (with a promise from us not to drain your data)  and keep enjoying the weekly updates. You could follow us on Instagram, Facebook or Twitter.
 Not for long,,, will be back with more soon.
 Till then, Enjoy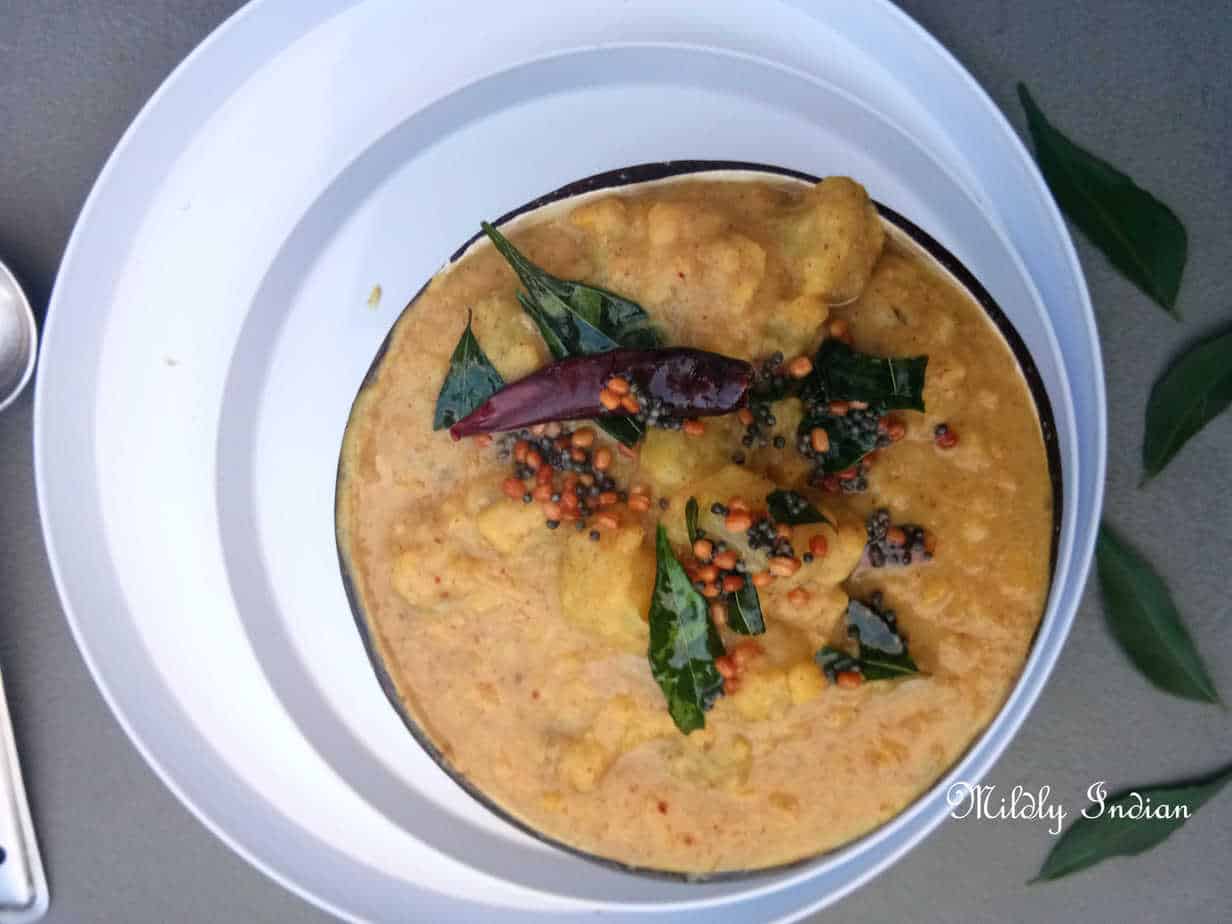 Raw papaya erisherry, a coconut free recipe
A sadhya style recipe made delectable in a coconut free mode
Ingredients
to pressure cook
1

cup

tur dal

(pigeon pea)

2

cups

raw papaya

cubed

1/4

tsp

turmeric powder
To powder
10-12

almonds

roasted

1

tsp

cumin seeds

1-2

dry red chilli
to add while mixing
1-2

cups

warm water

salt to taste
tempering
1

tsp

cooking oil

1/2

tsp

mustard

1

tsp

Urad Dal

10

curry leaves

1

dry red chilli
Instructions
Wash and clean the raw papaya. Remove the peel ( a bit thicker as the peel is quite bitter)

Core the young seeds by scraping with a spoon and dice the pulp into 1 inch cubes. Set aside two cups of this.

Wash one cup of tur dal ( pigeon pea), add three cups of water, turmeric powder and the cubed papaya into the pressure pan.

Seal the pressure cooker as per instructions and set on medium heat. Following two whistles simmer for about 7-10 minutes.

Let the pressure release naturally and open the cooker.

Meanwhile, Into a spice mill add 10-12 roasted almonds, cumin seeds and red chillies. powder them into a smooth finish.

Now, add this powder to the cooked vegetable and dal mix.

Add salt and warm water 1/4 cup at a time till a thick but scoopable consistency is achieved. Mix well.

In a small tempering pan( common in most indian houses, best made of cast iron and well sesaoned) add the oil, mustard seeds, red chiili and urad dal. Set on medium heat and allow the mustard to splutter. Remove from heat and add the curry leaves.

Add this tempering to the curry and serve hot with rice or flat breads.
Notes
For the traditional coconut version, add two tbsp of fresh coconut in the place of the almonds. Also, add 1 tbsp to the tempering and roast well till golden and add that to the final mix.